Editors handpick every product that we feature. We may earn commission from the links on this page.
The Audiobooks We Can't Get Enough Of
Jake Gyllenhaal narrating The Great Gatsby? I'm all in.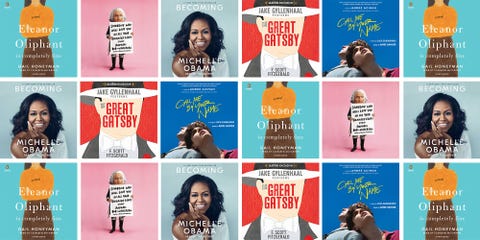 Design by Susanna Hayward
I have to honest: I was anti-audiobook for a long time. Growing up, I relished the feeling of holding a book and absorbing the world on its pages. My bookshelf was my pride and joy for several years, until, well...I just didn't have the time to read anymore. Life got busy, I wanted to spend my money on my other things, and I no longer had the attention span I had when I was younger (these days, I blame TikTok). So I finally went over to the dark side, a.k.a downloaded my first audiobook. That's when I realized how amazing the format is, and how easy it was to fit my love for books into my everyday life. There are a ton of great audiobooks out there with narrators who have the ability to stop you in your tracks, no matter what you're doing. Ahead, I complied a list of audiobooks you should add to your reading list (or queue) in 2020. Get ready to be taken to a world far beyond the four walls of your humble abode. Don't forget your earbuds.
'Circe' by Madeline Miller
One of the most famous characters from Homer's Odyssey finally gets her own narrative. As the daughter of the sun Titan Helios, Circe is banished to a deserted island, when the other gods discover she has the power of witchcraft. Miller's beautiful story makes Greek mythology accessible and reminds us how much female strength it takes to survive in a man's world.
'Born a Crime: Stories from a South African Childhood' by Trevor Noah
Born to a white Swiss father and a black Xhosa mother during apartheid, Trevor Noah's birth was punishable by five years in prison if authorities found out about him. The Daily Show host narrates his coming-of-age story in South Africa with such wit, affection, and strength.
'Daisy Jones & The Six' by Taylor Jenkins Reid
This novel follows the fictional band Daisy Jones & The Six, a well-known band in the '70s who broke up at the height of their popularity—but no one knows why. The narration feels like an in-depth interview that includes a wide range of voices. Taylor Jenkins Reid has the ability to write a great story (see: The Seven Husbands of Evelyn Hugo) that makes her characters feel so real, you'll find yourself Googling if the made-up tale happened IRL.
'Slouching Towards Bethlehem' by Joan Didion
Academy Award-winning actress Diane Keaton reads these classic essays from Joan Didion's first nonfiction book from 1968. The collection of essays discusses America in the '60s and the counterculture of the Haight-Ashbury district of San Francisco. A form of therapy to me is hearing Keaton recite Didion words.
'Someone Who Will Love You in All Your Damaged Glory' by Raphael Bob-Waksberg
One of my favorite TV shows is Netflix's BoJack Horseman, so I was delighted to discover that creator Raphael Bob-Waksberg decided to write a book filled with wacky fictional stories of the same dark nature. I enjoyed this audiobook so much, I bought a physical copy so I could highlight all my favorite quotes. That, my friends, is love in the 21st century.
'Becoming' by Michelle Obama
The former First Lady invites listeners into her world as she tells stories from her childhood all the way through to her days alongside her partner, Barack Obama, in the White House. It's been in the top 10 of the Audible charts for over 80 weeks, proving that her story, narrated by Michelle herself, deserves to be listened to by all.
'Stay Sexy & Don't Get Murdered' by Karen Kilgariff and Georgia Hardstark
When they weren't busy talking about murder on their hit true crime podcast My Favorite Murder, hosts Karen Kilgariff and Georgia Hardstark wrote a memoir! Sure, it's basically like you're listening to an extra, extra long podcast episode of theirs, but with humor this good, you won't even notice.
'Is Everyone Hanging Out Without Me? (And Other Concerns)' by Mindy Kaling
Narrated by Kaling, this is your chance to listen to the comedian's always-compelling stories, from when she was in a Ben Affleck–impersonating Off-Broadway performance to her thoughts on the perfect amount of fame.
'Eleanor Oliphant Is Completely Fine' by Gail Honeyman
Eleanor Oliphant struggles with appropriate social behavior, but Raymond, the IT guy from her office, doesn't seem to mind. Together they save Sammy, an elderly man who's fallen on the sidewalk, and the three become unlikely friends. Soon to be a major motion picture produced by Reese Witherspoon, Eleanor Oliphant Is Completely Fine is a story you'll go into thinking you're going to hear one narrative—and you'll leave with something more.
'Call Me by Your Name' by André Aciman
This story of summer love between two men set in Northern Italy in 1983 will bring tears to your eyes. If Armie Hammer ever decides to give up acting for another calling...well, the man should narrate books because I've never heard a voice so soothing. It also helps that he played Oliver in the 2018 film of the same name alongside Timothée Chalamet, which also made me feel a lot of things.
'The Great Gatsby' by F. Scott Fitzgerald
Maybe you had to read the book in high school about a newcomer moving to New York in 1922, or maybe you watched the 2013 film adaptation with Leonardo DiCaprio just to say you "read it." (Guilty!) But if you're finally looking to dive into one of the most famous novels written of all time, look no further. They say "Jake Gyllenhaal performs" for a reason; this audiobook delivers the story you thought you knew like no other.
'The Flatshare' by Beth O'Leary
Tiffy and Leon share an apartment, but they've never met because they have conflicting schedules. They start leaving each other notes over roommate-like things...but then the notes start to get personal. Both of them begin to ask themselves: Can you fall in love with someone you've never met? Hailed as the new Jojo Moyes, O'Leary will not only make you feel giddy but might have you second-guessing your feelings about your roommate.
Ever since I heard that John told a story in this book about seeing the Queen of England slap her nephew when he ignored her, I knew this was a memoir I needed to invest in. Narrated by Taron Egerton, who played John in his biopic Rocketman, Egerton's voice is the glistening cherry on top of an already wonderful tasty sundae.
'Little Women' by Louisa May Alcott
If you're still riding the high of seeing Great Gerwig's adaption of Louisa May Alcott's novel Little Women, then do I have a treat for you! Mrs. March herself, Laura Dern, and a cast of characters bring this timeless novel about sisterhood to life, and it's exactly as wonderful as you think it'll be.
•••
For more stories like this, including celebrity news, beauty and fashion advice, savvy political commentary, and fascinating features, sign up for the Marie Claire newsletter (subscribe here).
This content is created and maintained by a third party, and imported onto this page to help users provide their email addresses. You may be able to find more information about this and similar content at piano.io