40 Couples From the '90 Day Fiancé' Franchise and What They're Up to Now
So much happens when the cameras stop rolling!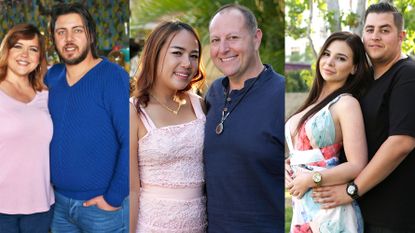 (Image credit: TLC)
I'm a sucker for a good reality TV show. There's something about watching other people's drama, knowing I'm so far removed from it, that it makes it fun? One of my favorites is TLC's 90 Day Fiancé. If you're unfamiliar with this beautiful hot mess of a show, let me explain! Basically, two people from two very different parts of the world fall in love, whether through talking in an online chat room, a chance encounter on a mission trip, or a one-night stand that turned into something more. Regardless, despite the hundreds of miles between them, these two people want to make it work. So, they apply for a K-1 visa here in the U.S., and if approved, they have just 90 days to get married. It's exactly as chaotic as it sounds—but, funnily enough, it has lasting results. Seven seasons and seven spin-off show laters, including 90 Day Fiancé: Happily Ever After?, 90 Day Fiancé: Before the 90 Days, 90 Day Fiancé: What Now?, 90 Day Fiancé: Pillow Talk, and 90 Day Fiancé: The Other Way, a lot of couples have had a chance to tell their love story. Now, the question is: How many couples stayed together after the cameras stop rolling? Ahead, check back in with 40 of your favorite couples from the 90 Day Fiancé franchise. Get ready for all the piping hot tea.
Angela Deem and Micheal Ilesanmi
We're first introduced to this couple when Angela flew from Georgia to Nigeria to meet Michael in person. By the end of the trip, they were engaged. The couple is known for their arguments, to say the least, but that didn't stop them from getting married.
The couple married in Nigeria in January of 2020, and the wedding will be broadcast on the latest season of 90 Day Fiancé: Happily Ever After. "Getting rid of him is not easy. Because that's real love, you know," said Angela in an interview with Entertainment Tonight. Let's face it, being on the show four times, he could have moved on a while back. I've learned that he really truly does love me."
Eric Rosenbrook and Leida Margaretha
Leida and Eric got engaged two days after meeting IRL after Leida answered a personal ad that Eric left on an international website. In retrospect, this is a totally normal amount of time 90 Day Fiancé-wise.
After arriving in America, Leida and Eric's daughter, Tasha, got into multiple nasty arguments, which led to Leida getting a four-year restraining order against Tasha. Despite the drama, the couple is still married today, and are raising Leida's son together.
Paul Staehle and Karine Martins
The pair met online, and Paul went to go visit Karine in her home country of Brazil after hitting it off. Shortly after, the couple got engaged and married. Since then, they've celebrated their second wedding anniversary, but just that month, Karine discussed filing for divorce per Reality TV World, and this wasn't the first time.
The couple welcomed their son Pierre in March of 2019, and recently announced they are expecting another child! Paul announced the news on his Instagram story, according to Cheat Sheet.
Steven Frend and Olga Koshimbetova
While on a summer vacation in the U.S., Olga met Steven. Less than a month later, the couple found out they were expecting. So, as you probably remember, when Steven went to Russia to be there for the birth of their son, he informed Olga he didn't actually file for the K--1 visa...when he said he did.
On the show he said he wanted to get to know her more and make sure they were compatible. They eventually got approved and were married in August of 2019. Olga has mentioned on Instagram that she would like another child, but it won't be for a couple of years.
Ashley Martson and Jay Smith
In Jamaica for a wedding, Ashley met Jay. Six months later, she returned, and by the end of the vacation, they were engaged.
Just three days after their 2018 Las Vegas wedding, Ashley caught Jay using dating apps. A source close to the couple told Us Weekly that they were calling it quits. "At this time, my client is personally focused on herself and her personal life and her children. After giving someone so many chances, you learn to grow and see the better for yourself. She wishes Jay nothing but the best."
As of March, the couple has reconciled and are back together again, according to E! News.
Kalani Faagata and Asuelu Pulaa
Kalani was vacationing in Samoa when she met Asuelu, an activities director at the resort she was staying at. After two visits to the country, she got pregnant with their first son, Oliver. They got married in September 2018.
In the days leading up to tying the knot, Kalani found out she was expecting their second child, another boy. Kennedy was born on May 7, 2019. They are still together.
Brett Otto and Daya De Arce
Using an online dating service, Brett met Daya, who's from the Philippines. They were married in 2015 and welcomed a baby girl, Isabella, two years later.
They keep their life relatively quiet, but you can learn more what they're up to today on Brett's blog: The K1 Experience.
Fernanda Flores and Jonathan Rivera
Jonathan and Fernanda met when he was on vacation in Mexico. After three months of dating, he proposed. The couple, despite their 12-year age gap, applied for the K-1 visa and got married.
In January 2019, Jonathan told followers of their split. "Fernanda and I will remain friends. I think you give everything in a relationship—in a marriage—that you can. I will give everything I can to the next person in my life," he said, according to E!.
Fernanda had her own side of the story and took it to YouTube nearly five months later to explain their divorce.
"I found a lot of stuff—not just underwear," Fernanda said. "Sex toys, pictures, movies, and stuff. Dude, you're supposed to have left your past behind and start fresh with me. I know you're a single man. I know that you're older than me…but I wasn't understanding why. I realized not everything is how it seems."
Fernanda was recently linked to Bachelor in Paradise alum Clay Harbor, but according to Harbor, per InTouch Weekly, they're just friends.
David and Annie Toborowsky
While working and living in Thailand, David met Annie, 24 years his junior. Despite their age gap and financial issues (a close friend of David's had to pay her dowry), the couple got married back in the United States. Today David works at a national marketing company and teaches online while Annie runs a Thai cooking business, according to Cheat Sheet.
Nicole Nafziger and Azan Tefou
Like many 90 Day couples, this duo met online. Nicole traveled to Morocco to go visit Azan, and sparks flew! She later moved to his country after his K-1 visa was denied, but left to go back to the U.S.—but not before calling off their wedding (twice!).
From social media, the couple appears to still be together.
Robert and Anny Spring
After eight hours of bliss in the Dominican Republic, Robert proposed to Anny. On the season finale of the seventh season of 90 Day Fiancé, the pair got married despite the fact Robert had doubts, like, hours before the ceremony. They welcomed their first child together, a daughter, born in July 2020.
Russ and Paola Mayfield
While working in Colombia, Russ met Paola, and fell in love. Paola moved to Russ' hometown in Oklahoma (and, for a short time, lived with his parents) before they got married.
They didn't last long in the state and moved to Miami so that Paola could pursue a career in modeling. She's now a certified personal trainer and has her own company, Super Pao Fit. The couple welcomed a son, Axel, in January 2019.
Tania Maduro and Syngin Colchester
Tania and South Africa-based Syngin were supposed to be a one-time thing, but then it turned into something more. The two got married and got matching tattoos to honor the occasion. As of now, the couple is still together.
Ed and Rosemarie
After meeting online, Ed traveled from sunny San Diego to the Philippines to meet his 23-year-old girlfriend, Rosemarie. When he got there, the pair fought over Rose's past, taking STD tests, and a bunch of other things.
At the end of the season, Rose left the relationship, and Ed headed back home single. At the tell-all, Rose told host Shaun Robinson that she wanted "zero contact with him."
Alan and Kirlyam Cox
On a Mormon mission trip in Brazil, Alan met Kirlyam. The couple got married and had their son, Liam, in October of 2017. The couple now live in North Carolina.
"We love each other so much, and now we get to love something that we both helped create," said Kirlyam to People. "We look forward to all the happiness Liam will bring into our lives and the lives of our families."
Deavan Clegg and Jihoon Lee
Deavan met Jihoon, who lived in Seoul, South Korea, on a dating app. After three months of chatting online, he came to the United States. On the last day of his trip, the couple found out they were pregnant.
Their son Taeyang was born in the United States in April 2019, but they later married in South Korea. Despite trust and financial issues, as seen on the show, the couple appears to still be together.
Mike and Aziza Eloshway
Mike and Aziza, who is Russian, met through a language-learning website and got married on October 5, 2019. The couple has one daughter together, Olivia Joan, who was born in January of 2019.
Evelyn Cormier and David Vázquez Zermeño
Then 18-year-old Evelyn met 27-year-old David online through Facebook, they said on the show. But according to In Touch Weekly, some evidence came to light that they met long before the TLC show.
The pair married in October 2017 in New Hampshire. The couple is still together and are parents to an adorable dog.
Jorge and Anfisa Nava
Jorge and Anfisa met on Facebook, according to their TLC casting tape. Despite constant fights throughout their season, the couple did get married. According to People, in February of 2018, Jorge was arrested for transporting 293 pounds of high-grade marijuana.
He was released in May and is living in Arizona, per Blast. From Instagram, he looks like he has a new girlfriend. During that time, Anfisa competed in and won a bikini competition, and has continued training. She is currently not dating anyone, according to recent Instagram comments.
Anna Campisi and Mursel Mistanoglu
The two first met online on a beekeeper's Facebook page. After a couple months of talking, Mursel proposed to her despite having never met each other in real life. Soon Mursel left Turkey to come to Anna's home state of Nebraska.
The couple had their fair share of obstacles from both sides of their families but married in a backyard wedding hours before Mursel's K-1 visa expired. Together they help run Anna's business, Beauty And The Bees Honey, a business featuring a range of honey-based products.
Chantel Everett and Pedro Jimeno
While on vacation in the Dominican Republic, Chantel met Pedro. Despite both sides of the family, not supporting the marriage, the pair got married anyway. Divorce rumors swirled around September of 2018, but according to In Touch Weekly, they were back together by December.
The couple got their own spin-off show, The Family Chantel, and is set to premiere a second season sometime soon. From snooping around their socials, both haven't posted a photo of each other in a while. Perhaps we'll leave more in the second season of their show?
Danny and Amy Frishmuth
After meeting in Australia during a bible trip, Pennsylvanian Danny and South African Amy fell in love. At first, some of Danny's family didn't accept Amy.
Regardless of the family drama, they tied the knot in July 2014. They live in Texas with their two children, Jedidiah and Anna.
Narkyia and Olulowo Lathan-Shodipe
These two met online on a dating website for plus-size women and had an instant bond. There were some major red flags at first, like Olulowo lying about being a Nigerian prince.
The couple initially broke up. They eventually reconciled and got back together and were married in February 2017. Narkyia announced they would be expecting a baby girl on Instagram this September.
Chelsea Macek and Yamir Castillo
While volunteering in Nicaragua, Chelsea met Yamir. They soon moved in together in Chelsea's parent's house and got married. Just a month and a half after they tied the knot, Chelsea filed for divorce in November of 2016, due to Yamir wanting to pursue a music career in Chicago.
On September 13, 2017, what would've been their first anniversary, he posted an Instagram tribute to his ex-wife. "Just because two people aren't together any longer doesn't mean you cannot have a relationship with that person," he wrote. "Although we no longer have the bond that united us, there's no hate!"
Danielle Mullins and Mohamed Jbali
From the wonders of the internet, Danielle met Mohamed. The two soon got engaged, prompting Mohamed to move from Tunisia to Ohio.
After arriving, we quickly saw how both sides of the couple had been lying to each other. Shortly after they got married, Mohamed fled. Danielle revealed that she paid for Mohamed's K-1 visa, their wedding, and their 2017 divorce!
Emily and Sasha Larina
Emily met Sasha at a local gym in Russia when she was living there and teaching English. They quickly fell in love and found out they were pregnant. Things got interesting, though, when Emily found out Sasha had a son with each of his previous wives.
David, their son, was born in Russia on November 18, 2018. They then moved back to Emily's hometown in Oregon and had a beachside wedding there.
They're still married, and Emily wants viewers to know the Sasha they saw on the show isn't the one she knows. "For a while, I was disappointed that the world didn't get to meet the Sasha I know," she wrote on Instagram. "The man I know is always thinking about how he can be a better provider for his family. The man who sees something in the store and says, 'I want to send this to my father, son, brother, etc.' The man who doesn't have a lot of possessions because he's so giving... I've come to terms with everything. I'll keep the real you to myself."
Justin and Evelyn
Californian Justin met Colombian Evelyn at a 2013 rugby match in her home country. Just after a week, they had to part ways, but that didn't stop him from taking her with him to the U.S. later.
They recently celebrated seven years together just this month; Evelyn marked the special occasion with a cute post on Instagram.
Loren and Alexei Brovarnik
While on a Birthright trip to Israel, Loren met Alexei. Annoyed with long-distance, Alexei soon moved to Florida to be with Loren. The couple then married in America and Israel and now live in Miami.
In October 2019, the pair announced they were expecting a child together. Their son Shai was born on April 14. Alexei became an official U.S. citizen this year in January, according to a congratulatory Instagram post from Loren.
Molly Hopkins and Luis Mendez
Another vacation romance story that doesn't end well. Molly met Luis while on a tropical getaway in the Dominican Republic.
They married in secret during the 90-day K-1 visa period, but divorced in May 2018. Luis remarried just five months after their divorce, per E! News. Molly continues to focus on her children and her lingerie business, Livi Rae Lingerie.
Kyle and Noon Huck
While researching a trip to Thailand, Kyle met Noon via Facebook. The pair soon met up IRL when he took his vacation there.
Kyle proposed during a parachuting trip, and they were married in a traditional wedding in a Buddhist temple. They now live in Portland together per Noon's Instagram account.
Melanie and Devar
Melanie was on vacation in Jamaica when she met Devar. They quickly fell in love and got engaged. Today, they are still happily married and welcomed a daughter, Avah, to their family in November 2017, who can be seen all over Devar's Instagram.
Fernando and Carolina Verdini
Fernando and Carolina met in Colombia while they were both on other dates! Comical, truly. Before the end of this trip, he proposed to her.
While most of their social media is private, they seem to still be together. Fernando Twitter bio reads, "Love my wife," so that's always a good sign!
Josh and Aleksandra Strobel
While on a mission trip for the Church of Jesus Christ of Latter-day Saints in Prague, Josh met Russian Aleksandra. Josh waited a whole year before asking out his now-wife due to not being allowed to date while on the mission trip.
He proposed to her in Russia, and the couple got married in the U.S. According to Reality TV World, they have two children together and live in Australia, where Josh attends medical school at the University of Queensland.
Elizabeth Potthast Castravet and Andrei Castravet
Elizabeth met Moldovian Andrei when he was working as a bouncer in Dublin. He soon moved to Florida to be with Elizabeth, but the couple found some major resistance from her family about the relationship.
They got married in December 2017 in America and had their first child, Eleanor Louise Castrave, on January 23, 2019. Their second wedding can be seen on the latest season of 90 Day Fiancé: Happily Ever After?
Matt and Alla Fedoruk
These two met through an online dating website and talked for six months before he visited her in Kiev, Ukraine. He proposed in 2015, and Alla and her young son moved to Kentucky. They were married in 2016.
They're still together and had their first child together, Emmalyn Grace Ryan, on April 29, 2020.
Michael Jessen and Juliana Custodio
Michael met Brazilian model Juliana in Croatia at a yacht party. Despite their age gap (20 years), the pair had an outdoor wedding in Connecticut that was shown on the show. The couple is still married today and post tons of cute throwback photos all over their socials.
Rebecca and Zied
Rebecca met Tunisian Zied online, while she was separated (but not entirely divorced) from her Moroccan ex-husband. As seen on the show, by the end of her trip to his home country, they were engaged.
They finally got married this year on April 19, according to In Touch. This means Zied's visa was approved, and he most likely lives in Georgia with Rebecca.
Larissa Dos Santos Lima and Colt Johnson
After connecting over social media, Brazilian Larissa met up with American Colt in Mexico. He soon popped the question, and they were married in June 2018.
Just four months later, they filed for divorce after numerous run-ins with the law due to cases of public fighting. As of now, they both appear to be single.
Mike Youngquist and Natalie Mordovtseva
Normal by 90 Day Fiancé standards, the couple met through friends. Throughout their journey on the show the couple fought about children, religion, and money to the point where most fans thought they wouldn't make it, but they did.
According to Soap Dirt, Mike proposed to Natalie, and they married in a local church in Sequim, WA, before her K-1 visa expired in mid-April of this year.
Blake Abelard and Jasmin Lahtinen
After meeting on a dating app, Blake and Finland Jasmin formed a strong connection. By his third trip to her home country, he knew she was the one.
At the end of their season of 90 Day Fiancé, the couple got married. They're still together, but Jasmin told Soap Dirt that they aren't planning on having children anytime soon.
Bianca Rodriguez is the Fashion & Luxury Commerce Manager at Hearst Magazines, covering fashion, beauty, and more for Cosmopolitan, Elle, Esquire, Harper's BAZAAR, and Town & Country. She likes lounging about with a good book and thinks a closet without platform sneakers is a travesty.