The Gabrielle Union Movies We Can't Get Enough Of
I'm popping the popcorn as we speak.
Gabrielle Union is an icon to me for reasons I could take hours out of your day to explain. But because time is of the essence, I'll keep it short and sweet: She likes to keep it real, her relationship with her children makes more than a majority of the staff at Marie Claire swoon, her beauty secrets are divine, and she's been making movies and TV shows we can't get enough of for decades. Since popping up in Black sitcoms such as Moesha and Sister, Sister and starring in iconic '90s staples like She's All That to 10 Things I Hate About You, the actress has made a name for herself in Hollywood.
More recently, she's shown her incredible strength in speaking up about standing up against racism and holding people accountable in Hollywood. "These racist institutions and systems have done an amazing job at keeping us very fearful of speaking up, asking for equality, and asking for accountability, because they have shown us time and time again that we are disposable," she told Marie Claire in our October digital cover story. "They will discredit and malign you, and you will never work again.…Being blackballed in this industry is very real."
Assuming you're like me and simply can't get enough of her, here are 12 of her movies starring the pop culture icon that we just can't get enough of.
'Bring It On'
Release date: August 25, 2000
Starring: Kirsten Dunst, Gabrielle Union, Eliza Dushku, Jesse Bradford, Clare Kramer, Nicole Bilderback, Shamari Fears, Natina Reed, and Tsianina Joelson
Union's part: You know it! You love it! You want some more of it! (Def not a cheer in the movie, but bear with me.) Union, as Isis, the cheerleading captain of the East Compton Clovers who sets out to lead her team to Nationals, is simply unforgettable.
'Abandon'
Release date: October 18, 2002
Starring: Katie Holmes, Gabrielle Union, Benjamin Bratt, Charlie Hunnam, Zooey Deschanel, Tony Goldwyn, and Will McCormack
Union's part: She's Amanda Luttrell, the totally cool and smart best friend of Katie Burke (Holmes), who is often the voice of reason in this crazy psychological mystery.
'Tyler Perry's Daddy's Little Girls'
Release date: February 14, 2007
Starring: Idris Elba, Gabrielle Union, Louis Gossett Jr., Tasha Smith, Tracee Ellis Ross, Malinda Williams, Terri J. Vaughn, and Cassi Davis
Union's part: She's a hotshot lawyer who just took on the case of a single father and mechanic, Monty (Elba), to help him get back sole custody of his three daughters. They may or may not fall in love in the process.
'Sleepless'
Release date: January 13, 2017
Starring: Jamie Foxx, Gabrielle Union, Michelle Monaghan, Scoot McNairy, Dermot Mulroney, T.I., and David Harbour
Union's part: Dena (Union) is in the process of getting a divorce from policeman Vincent Downs (Foxx), but some high-risk situations concerning the well-being of their son bring the couple back together again.
'The Honeymooners'
Release date: June 10, 2005
Starring: Cedric the Entertainer,Gabrielle Union, Mike Epps, Regina Hall, Eric Stoltz, and John Leguizamo
Union's part: In this revamp of the popular '50s sitcom, Union is Alice Kramden, a waitress and wife to Ralph Kramden (Cedric the Entertainer.) She has the money (and a plan) to get her and her husband out of the city, but someone(s) might get in the way of things.
'10 Things I Hate About You'
Release date: March 31, 1999
Starring: Heath Ledger, Julia Stiles, Joseph Gordon-Levitt, Larisa Oleynik, Gabrielle Union, and Andrew Keegan
Union's part: She's the best friends of "It Girl" Bianca Stratford (Oleynik), none other than Ms. Chastity Church! Unfortunately for Bianca, she doesn't know that she and Chastity have the same taste in guys.
'Bad Boys II'
Release date:
Starring: Will Smith, Martin Lawrence, Jordi Mollà, Theresa Randle, Gabrielle Union, Michael Shannon, and Joe Pantoliano
Union's part: The second movie of this action-packed franchise features Union as Marcus Burnet's (Lawrence) sister Sydney who has a thing for his detective partner Mike Lowrey (Smith) and is keeping a dangerous secret.
'Think Like a Man'
Release date: April 20, 2012
Starring: Michael Ealy, Kevin Hart, Meagan Good, Jerry Ferrara, Regina Hall, Gabrielle Union, Romany Malco, Taraji P. Henson, Terrence Jenkins, Jenifer Lewis, Lala Anthony
Union's part: Ready for her immature boyfriend to seriously commit, Union reads a self-help book that's said to give her all the answers. (This rom-com is based on Steve Harvey's book Act Like a Lady, Think Like a Man, btw!)
'Love & Basketball'
Release date: April 21, 2000
Starring: Sanaa Lathan, Omar Epps, Debbi Morgan, Dennis Haysbert, Gabrielle Union, and Alfre Woodard
Union's part: Shawnee plays an upperclassman who Monica (Lathan) and Quincy (Epps) meet in college at USC. She stirs up some trouble as she convinces Monica to hookup her lifelong best friend.
'Cadillac Records' (2008)
Release date: December 5, 2008
Starring: Adrien Brody, Cedric the Entertainer, Beyoncé, Columbus Short, Gabrielle Union, Jeffrey Wright, Emmanuelle Chriqui, Yasiin Bey, and Eamonn Walker
Union's part: In this biopic about the rise of Chess Records in the 1950s, Union plays Geneva Wade, the wife of blues icon Muddy Waters.
She's All That (1999)
Release date: January 29, 1999
Starring: Freddie Prinze Jr., Rachel Leigh Cook, Matthew Lillard, Paul Walker, Gabrielle Union, Anna Paquin, Dulé Hill, Kevin Pollak, Jodi Lyn O'Keefe, and Lil' Kim
Union's part: Union plays Katarina "Katie" Darlingson, one of the devoted minions to mean girl, Taylor Vaughan (O'Keefe). The outfits and one-liners she sports are legendary.
'Breaking In' (2018)
Release date: May 11, 2018
Starring: Billy Burke, Richard Cabral, Ajiona Alexus, Levi Meaden, Gabrielle Union, Seth Carr, and Jason George
Union's part: She plays badass mom Shaun Russell, who will do anything to get into her late father's tech-savvy home where her children are held hostage by a group of burglars.
Celebrity news, beauty, fashion advice, and fascinating features, delivered straight to your inbox!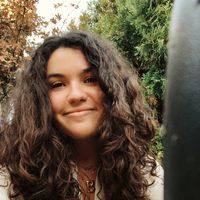 Bianca Rodriguez is the Fashion & Luxury Commerce Manager at Hearst Magazines, covering fashion, beauty, and more for Cosmopolitan, Elle, Esquire, Harper's BAZAAR, and Town & Country. She likes lounging about with a good book and thinks a closet without platform sneakers is a travesty.