The 22 Best Action Movies of 2021 (So Far)
This winter's biggest films include a lot of kicking ass.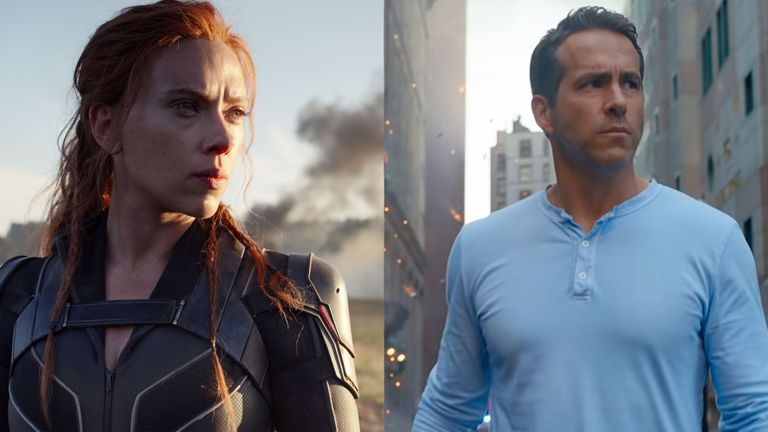 (Image credit: Disney)
By Kayleigh Roberts , Neha Prakash , Quinci LeGardye published
Movies offer us an escape from reality and a chance to get lost in worlds that have something the real world is missing. Rom-coms give us a chance to indulge our inner romantics and enjoy the comfort that comes with knowing a happy ending is guaranteed. Horror movies and thrillers let us vicariously experience some danger without, you know, any actual danger. Science fiction and fantasy movies can transport us to entirely different worlds or even universes. And, of course, action movies let us imagine what life would be like with more excitement, adventure, and, usually, explosions.
From superhero movies to spy sagas to epic franchises like The Fast and the Furious, action movies are a Hollywood staple, especially during the spring and summer (a.k.a. blockbuster season). Because these movies tend to have big budgets and rake in hundreds of millions of dollars (sometimes even more—it's not super uncommon for a tentpole action movie to bring in upwards of a billion dollars), movie studios are pretty picky about when to release them. In 2020, for example, we saw that "any time during a pandemic" was definitely not when studios wanted to release their big action movies. With many theaters across the country (and the globe, for that matter) closed and movie ticket sales down even when theaters happened to be open (because people—understandably and responsibly—weren't jazzed about sitting shoulder-to-shoulder in a dark room packed with strangers for two hours amid a pandemic), many studios opted to delay the release of their biggest and most potentially lucrative titles.
The result: 2021's action movie slate is stacked, and a lot of the titles on it are ones we've been dying to see for so long now that "highly-anticipated" doesn't even begin to cover it. And, as if the amazing slate of movies weren't enough, a lot of the most anticipated action movies of the year feature—or, even better, straight-up star—strong, kick-ass women (and it's about damn time, TBH).
'Chaos Walking'
Release date: March 5, 2021
Starring: Daisy Ridley, Tom Holland, Mads Mikkelsen, Demián Bichir, Cynthia Erivo, Nick Jonas, and David Oyelowo
Why it's worth watching: Based on the YA novel series of the same name, this sci-fi adventure is wildly inventive and unique. The series takes place on a planet where all of the women appear to have died and men's thoughts broadcast like a radio show for all to hear. When a girl (Daisy Ridley, leaning into her ability to play badass sci-fi women) lands on the planet and her thoughts aren't audible, a boy (Tom Holland) realizes the danger she's in and joins forces with her.
'Boss Level'
Release date: March 5, 2021
Starring: Frank Grillo, Mel Gibson, Naomi Watts, Annabelle Wallis, Ken Jeong, Will Sasso, Selina Lo, Meadow Williams, and Michelle Yeoh
Why you should watch it: If you love a good time travel/action/mind-f*ck, then Hulu's Boss Level, about a former special forces agent who gets trapped in a time loop of his own dearth, is definitely for you.
'Nobody'
Release date: March 26, 2021
Starring: Bob Odenkirk, Connie Nielsen, Christopher Lloyd, Gage Munroe, RZA, Michael Ironside, and Aleksey Serebryakov
Why it's worth watching: Better Call Saul and Little Women star Bob Odenkirk is an actor star no one suspected, but he perfectly plays a "nobody" who's secretly a former assassin. When a Russian crime lord comes after his family, he has to reveal his dark side in this brutally compelling film.
'Godzilla vs. Kong'
Release date: March 31, 2021 (in theaters and on HBO Max)
Starring: Alexander Skarsgård, Millie Bobby Brown, Rebecca Hall, Brian Tyree Henry, Shun Oguri, Eiza González, Julian Dennison, Kyle Chandler, and Demián Bichir
Why it's worth watching: It's a modern take on the classic creature feature (and featuring two of movie history's most iconic creatures, at that). Plus, the always amazing and inspiring Millie Bobby Brown is back for this one (she was also in 2019's Godzilla: King of Monsters), and her presence is always a bonus.
'Mortal Kombat'
Release date: April 23, 2021 (in theaters and on HBO Max)
Starring: Lewis Tan, Jessica McNamee, Josh Lawson, Tadanobu Asano, Mehcad Brooks, Ludi Lin, Chin Han, Joe Taslim, and Hiroyuki Sanada
Why it's worth watching: Nostalgia. Pretty much any time a classic franchise gets a modern reboot, we're here for it.
Those Who Wish Me Dead'
Release date: May 14, 2021 (in theaters and HBO Max)

Starring: Angelina Jolie, Nicholas Hoult, Finn Little, Tyler Perry

Why it's worth watching: Angelina Jolie makes a triumphant return to the big screen that will remind you why she's an A-lister (and make you miss those Tomb Raider films).
'Army of the Dead'
Release date: May 21, 2021 (on Netflix)
Starring: Dave Bautista, Ella Purnell, Omari Hardwick, Ana de la Reguera, Theo Rossi, Matthias Schweighöfer, Tig Notaro, Nora Arnezeder, Hiroyuki Sanada, Garret Dillahunt, Raúl Castillo, and Huma Qureshi
Why it's worth watching: Zombie fans will love this Zack Snyder film, which is in Ocean's Eleven-style heist in a dystopian Las Vegas filled with intelligent, fast-moving zombies called alphas. Add in Tig Notaro being an overall badass and you have a fun, thrilling watch.
'Infinite'
Release date: June 10, 2021 (on Paramount+)
Starring: Mark Wahlberg, Chiwetel Ejiofor, Sophie Cookson, Dylan O'Brien, Rupert Friend, Jason Mantzoukas, Jóhannes Haukur Jóhannesson, Tom Hughes, Wallis Day, Toby Jones, and Liz Carr
Why it's worth watching: If you have access to Paramount+, add this one to your watch list. The movie is about a man living with hallucinations who discovers those "hallucinations" are actually visions from his past lives.
'F9'
Release date: June 25, 2021
Starring: Vin Diesel, Michelle Rodriguez, Tyrese Gibson, Chris "Ludacris" Bridges, John Cena, Jordana Brewster, Nathalie Emmanuel, Sung Kang, Helen Mirren, and Charlize Theron
Why it's worth watching: The Fast and the Furious franchise is enormous at this point—so big, in fact, that the latest installment features legends like Charlize Theron and even Dame Helen Mirren, who add A+ level talent and some always appreciated additional female energy to the traditionally largely male-driven franchise.
'Black Widow'
Release date: July 9, 2021
Starring: Scarlett Johansson, Florence Pugh, David Harbour, O-T Fagbenle, William Hurt, Ray Winstone, and Rachel Weisz
Why it's worth watching: Fans have been calling for a Black Widow movie for literally years now. The character has always been a fan favorite in the MCU and it was honestly a crime that it took this long for us to see Scarlett Johansson lead her own Marvel movie. Also, the movie will kick off Phase Four of the MCU, if you care about such things. Read our cover story about Black Widow.
'Gunpowder Milkshake'
Release date: July 14, 2021 (on Netflix)

Starring: Karen Gillan, Lena Headey, Carla Gugino, Michelle Yeoh, Angela Bassett, Paul Giamatti

Why it's worth watching: It's a cheeky assassin movie with a killer female cast that will give you feminist Kingsman-meets-Promising Young Woman-meets-Charlie's Angels vibes.
'The Suicide Squad'
Release date: August 6, 2021 (in theaters and HBO Max)

Starring: Margot Robbie, Idris Elba, John Cena, Viola Davis, Nathan Fillion, Pete Davidson, Sylvester Stallone

Why it's worth watching: Equal parts action and comedy, this James Gunn-helmed supervillain film gives its DC comics source material its silver screen due.
'Free Guy'
Release date: August 13, 2021
Starring: Ryan Reynolds, Jodie Comer, Joe Keery, Lil Rel Howery, Utkarsh Ambudkar, and Taika Waititi
Why it's worth watching: Ryan Reynolds as a video game NPC who becomes hilariously self-aware? YES, PLEASE. (We know—we had you at "Ryan Reynolds.")
'Sweet Girl'
Release date: August 20, 2021 (on Netflix)
Starring: Jason Momoa, Isabela Merced, Manuel Garcia-Rulfo, Raza Jaffrey, Adria Arjona, Justin Bartha, Lex Scott Davis, and Marisa Tomei

Why it's worth watching: The cast includes incredible talent like Jason Momoa and Marisa Tomei and the movie gives us major Taken vibes—it focuses on a man out to avenge the death of his wife, while protecting his surviving daughter.
'Shang-Chi and the Legend of the Ten Rings'
Planned release date: September 3, 2021
Starring: Simu Liu, Awkwafina, Tony Leung, Meng'er Zhang, Fala Chen, Florian Muntenau, Andy, Lee Michelle Yeoh, Wah Yuen, and Ben Kingsley
Why it's worth watching: You don't need to be an MCU scholar to get wrapped in Marvel's latest origin story. Inspired by Kung Fu cinema and Chinese mythology, Shang-Chi is a fun ride that introduces two great new heroes (the titular star and his antihero sister).
'No Time to Die'
Planned release date: September 30, 2021
Starring: Daniel Craig, Rami Malek, Léa Seydoux, Lashana Lynch, Ben Whishaw, Naomie Harris, Jeffrey Wright, Christoph Waltz, and Ralph Fiennes
Why it's worth watching: It's going to be Daniel Craig's last go as Bond, so it's sure to be iconic.
'Venom: Let There Be Carnage'
Planned release date: October 1, 2021
Starring: Tom Hardy, Woody Harrelson, Michelle Williams, Reid Scott, and Naomie Harris
Why it's worth watching: The MCU isn't the only superhero game in town and if you like your comic book movies a little edgier and darker, this is for you.
'Dune'
Planned release date: October 22, 2021 (in theaters and HBO Max)

Starring: Timothée Chalamet, Zendaya, Oscar Isaac, Josh Brolin, Javier Bardem, Jason Momoa, Stellan Skarsgård, Rebecca Ferguson

Why it's worth watching: Arguably the most highly anticipated film of the year (and the most anticipated novel adaption of the decade), Dune is an epic sci-fi film sure to be filled with striking, unexpected action scenes.
'Eternals'
Planned release date: November 5, 2021
Starring: Angelina Jolie, Richard Madden, Kumail Nanjiani, Lauren Ridloff, Brian Tyree Henry, Salma Hayek, Lia McHugh, Don Lee, Kit Harington, Gemma Chan, and Barry Keoghan

Why it's worth watching: It's the next Big Thing in the MCU, and the cast is bonkers. Angelina Jolie's character, Thena, sounds particularly badass (she's described as "a fierce warrior more comfortable in battle than any other place, she has the ability to use cosmic energy to form any handheld weapon she can think of. Often surly and aloof, she forges an unlikely friendship with Gilgamesh that spans centuries.")
'Spider-Man: No Way Home'
Planned release date: December 17, 2021
Starring: Tom Holland, Zendaya, Jacob Batalon, Benedict Cumberbatch, Benedict Wong, Marisa Tomei, Jon Favreau, J.K. Simmons, Willem Dafoe, Alfred Molina, and Jamie Foxx
Why it's worth watching: The latest Tom Holland Spider-Man flick was already sure to be epic, before the trailers revealed that he'll be fighting against several past Spidey villains (including Green Goblin and Doc Ock!).
'The King's Man'
Planned release date: December 22, 2021
Starring: Ralph Fiennes, Gemma Arterton, Rhys Ifans, Matthew Goode, Tom Hollander, Harris Dickinson, Daniel Brühl, Djimon Hounsou, and Charles Dance
Why it's worth watching: It's a prequel to the popular Kingsman franchise (and also, look at that cast!).
'Matrix 4'
Planned release date: December 22, 2021 (in theaters and on HBO Max)
Starring: Keanu Reeves, Carrie-Anne Moss, Jada Pinkett Smith, Lambert Wilson, and Daniel Bernhardt
Why it's worth watching: The first Matrix movie redefined what we thought about special effects—and that was 22 years ago. Just imagine what a visual spectacle the new installment will be.
Kayleigh Roberts is the weekend editor at Marie Claire, covering celebrity and entertainment news, from actual royals like Kate Middleton and Meghan Markle to Hollywood royalty, like Katie Holmes and Chrissy Teigen. She's a Ravenclaw who would do great things in Slytherin. To learn more about her, google "Leslie Knope eating salad GIF.