13 Black Movies to Watch on Netflix Right Now
Queue up these picks before you fall victim to the Netflix algorithm.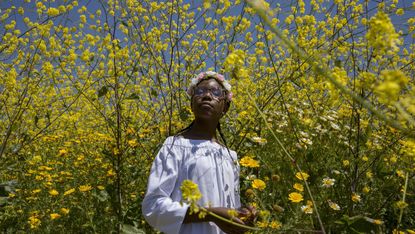 (Image credit: Netflix)
Because of the tyrannical nature of the Netflix algorithm and their vague recommendations for Black movies, I have taken it upon myself to make a list of my favorite Black films that are available on the streaming service. While compiling the list was easy, I found it difficult to write an introduction to this selection. Because, what category is more fraught than that of "Black movies?" What makes a movie Black? And why must we continue to sit around making lists about Black movies? Does this exercise accomplish anything?
Well, there are two answers to that last question. One, the relative lack of Black movies–and by that I mean movies with Black people in front of or behind the camera–compels me to make lists that highlight movies which may have slipped under the radar or evaded awards season recognition. Two, the more attention we can draw to ambitious Black movies, the more likely it is that the industry finances and produces them.
In fact, a report by Professor Stacy L. Smith and the Annenberg Inclusion Initiative at USC Annenberg School for Communication and Journalism revealed that Hollywood has only made minuscule strides in their attempt to diversify their industry. Titled Inequality in 1,300 Popular Films, the report examined 57,629 characters in 1,300 top films from 2007 to 2019, and showed that there is a consistent lack of representation for diverse groups.
The lack of representation goes beyond the distribution of speaking roles in a movie. According to the report, only 6.1 percent of directors were Black, and that's not even mentioning the underrepresentation of other groups in the study.
Some people only think about Blackness in the immediate aftermath of a protest movement or during Black History Month, which tends to perpetuate the same racist institutions that we must abolish. Or worse, people see these lists as a way to "educate" themselves about Black lives, as if the humanity of Black people wasn't already a given. As if Black people don't fall in love, struggle to pursue their dreams, or fight inner demons.
The movies I've included are more than just a list of my faves. Two of the films–The Burial of Kojo and Atlantics–take place in Ghana and Senegal, respectively, and use magical realism to tell haunting, yet hopeful, stories about capitalism and trauma. There's a selection of documentaries, some of which take a searing look at racist violence, while one of them is a celebration of Black musical traditions. But all of these films reflect the multiplicity of Black experiences that manages to make the personal political. Here's my list of Black movies on Netflix you should watch right now.
'Moonlight' (2016)
The first time I saw Moonlight, I left the cinema gasping for breath. Gorgeously shot and acted with heartbreaking intensity, Barry Jenkins's aching film gives us three chapters on the life of Chiron, a young black boy growing up in Miami. Chiron's journey to adulthood is marked by love and struggle, but it is his community that will always support him.
'Atlantics' (2019)
Senegalese filmmaker Mati Diop wrote and directed this haunting drama about unjust labor and the strength of love. Set in Dakar, the film tells the story of a group of unpaid construction workers who attempt a fatal Atlantic crossing for better opportunities. The women left behind become afflicted with a mysterious virus that allows the spirit of the dead to possess them, using their bodies for vengeance. Souleiman (Ibrahima Traoré), one of the workers, has different ideas–he's going to reunite with his love, Ada (Mame Bineta Sane).
'A Love Song for Latasha' (2019)
This documentary short, directed by Sophia Nahli Allison, tells the story of Latasha Harlins, a 15-year-old girl who was shot and killed in a liquor store after being falsely accused of stealing a $1.79 bottle of orange juice. Told through the childhood memories of her best friend and cousin, this movie reimagines their trips to the local pool and experiences at school to tell a full picture of Latasha's life and dreams.
'The Burial of Kojo' (2018)
Set in Ghana and told through the eyes of seven-year-old Esi (Cynthia Dankwa), The Burial of Kojo may be one of the most beautifully shot films on Netflix. Written and directed by Blitz Bazawule, the movie follows Esi's journey into the spirit world to save her father (Joseph Otsiman) trapped in an abandoned gold mine. It's poetic and filled to the brim with magical realism, while still critiquing economic imperialism and embracing the power of childhood imagination.
'The Forty-Year-Old Version' (2020)
Radha Black's first film tells the story of a forty-year-old struggling playwright who seeks to reinvent herself by becoming a rapper. This hilarious movie doesn't take middle age as an endpoint, but as a moment where you can still change your destiny. And here I was freaking out about turning 30!
'Residue' (2020)
Merawi Gerima's incisive first film is the story of a filmmaker returning home to Washington D.C. only to find everything has changed. The D.C. he once knew is a gentrified nightmare and the friends he once had consider him an outsider. The movie manages to capture childhood memories with straightforward precision while still unpacking the trauma of gentrification.
'I Am Not Your Negro' (2017)
If there was ever a moment to revisit the work of James Baldwin, now is the time. Raoul Peck directed this experimental documentary that reflects on the lives and assassinations of activists Medgar Evars, Malcolm X, and Martin Luther King, Jr. The movie, told in Baldwin's own words, is a feast of images that makes visible the ongoing struggle for civil rights.
'Da Five Bloods' (2020)
Spike Lee's epic journey into the Vietnamese bush contextualizes the sacrifices that Black people have made in the service of America. This story of a group of friends who return to Vietnam to retrieve buried treasure and the remains of their fallen squad leader is one for the ages with Delroy Lindo in a career best performance.
'Homecoming: A Film by Beyoncé' (2019)
I truly cannot evangelize more about this concert documentary. There's Beyonce. There's nods to Black marching band traditions. There's musing about dreams, art, and performance. Not to mention the killer setlist. If you haven't watched this already, I'm sorry!
'Dolemite is My Name' (2019)
Film freaks like me love nothing more than a movie about making movies. Eddie Murphy stars in this retelling of Rudy Ray Moore's journey from comedian to anti-establishment filmmaker. The result of Moore's efforts is the famed blaxploitation film, Dolemite. For me, it was one of the best movies of 2019 and perhaps the most fun to watch.
'Ma Rainey's Black Bottom' (2020)
The late Chadwick Boseman and Viola Davis shine in this adaptation of the August Wilson play. Set in 1920s Chicago, this biographical movie takes place over the course of an afternoon recording session. Ma Rainey (Davis), the famed blues singer, is late to the session, where tensions boil over who has the creative control over her music. While in the other room, the band members share stories that prove to be fatal. It's pretty intense!
'13th' (2016)
In this illuminating documentary, Ava DuVernay considers the history of racism in the United States, with a focus on the prison system. While we know that racism permeates every aspect of American society and its institutions, this film does an excellent job of exploring why exactly African-Americans are disproportionately incarcerated.
'LA 92' (2017)
Released on the 25th anniversary of the Rodney King protests, this documentary creates a seemingly first-person perspective of the unrest through rare archival footage.
Marie Claire email subscribers get intel on fashion and beauty trends, hot-off-the-press celebrity news, and more. Sign up here.
Zoe Guy is the digital fellow at Marie Claire, where she covers pop culture, hot celebrity gossip, movies and TV. She's obsessed with Martin Scorsese's adaptation of The Age of Innocence, anything written by Jesmyn Ward and stan Twitter.