10 Iconic French Movies You Need to Screen Before You Turn 30
Quintessential movies for any true (or budding) Francophile.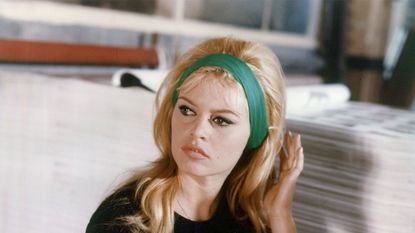 (Image credit: Getty Images)
Yes, you've probably already seen Amélie, but have you seen any of the OG black-and-white films that put French cinema on the map? Below, 10 of the best and most entertaining French movies—from New Wave icons to modern-day gems—to watch if you want to steep yourself in classic movie knowledge.
1. 'Breathless'
You can't really discuss the best of French film without mentioning director Jean-Luc Godard. He's famous for being one of the pioneers of the French New Wave movement, which changed the way directors presented their plots, with Jim Halpert-esque asides to the audience and inventive usages of color and sequencing. This one's his debut film about a man wanted for murder who holes up in the apartment of his girlfriend Patricia (played by pixie cut queen Jean Seberg).
2. 'Amélie'
One of the biggest breakout sensations from France (and practically a requirement for any French class) is Jean-Pierre Jeunet's whimsical film about Amélie Poulain, a shy do-gooder who sets out to right the wrongs of the world around her. The romantic score by Yann Tiersen inspires dreamy visions of Paris, and the sepia cinematography sets a charming scene for some of Paris' most famous landmarks, from the metro to the Canal Saint-Martin.
3. 'Contempt'
If you've always admired Brigitte Bardot's style but never witnessed one of her films, Jean-Luc Godard's Contempt is the place to start. Pristine Wes Anderson-worthy backdrops set the scene for this story about a failed playwright whose marriage to a beautiful typist (Bardot) hits the rocks after he signs on to help out with the script of a big production.
4. 'Belle de Jour'
Legendary actress Catherine Deneuve's claim to fame is this movie about a Paris housewife who secretly begins spending her afternoons working in a brothel. Even if you don't have the attention span for subtitles, it's a classic for fashion lovers (honestly, everyone in this movie is well-dressed) and beautifully filmed.
5. 'Jules and Jim'
One of the most iconic love-triangles in film history is this story of an Austrian student named Jules and a Frenchman named Jim who both fall for the same impulsive woman, Catherine, in the days before World War I. The soundtrack is on point, it's filmed by the legendary director François Truffaut, and it's worth watching for Jeanne Moreau's performance as Catherine.
6. 'A Woman Is a Woman'
This quasi-musical by Jean-Luc Godard film follows a stripper (played by Anna Karina, Godard's real-life wife) who desperately wants to get pregnant. When her boyfriend refuses to impregnate her and suggests his best friend instead, things get complicated. It's one of Godard's most fun and inventive movies, with lots of color and funny musical cues.
7. 'The Diving Bell and the Butterfly '
Director Julian Schnabel (a man who famously loves to wear pajamas on the red carpet) swept up accolades for his work on the The Diving Bell and the Butterfly. The fascinating film takes the viewpoint of a man who's suffering from locked-in syndrome and can only communicate by blinking one eye. It's an adaptation of former French ELLE editor Jean-Dominique Bauby's memoir, which took 200,000 blinks for him to finish.
8. 'The Artist'
Though it was filmed in 2011, The Artist is intentionally styled after the silent films of the '20s. This charming story about love and fame (featuring one of the most talented dogs in movie history) follows the relationship of an aging film star who falls for a young ingenue named Peppy Miller that begins to overshadow his career.
9. 'Children of Paradise'
Considered by many to be one of the best films in French history, Children of Paradise takes a theatrical account of a woman who is sought after by four different men: an actor, a criminal, a count, and a mime. If you're a fan of musicals and lively theater productions (and romance, duh), this one's for you.
10. 'Blue Is the Warmest Color'
One of the more controversial films of recent years is Blue is the Warmest Color, a coming-of-age story about the relationship between a French teenager and the blue-haired art student she falls for. The acting in this film is superb, it's beautifully shot, and makes the cut for one of the best movies of all time.
Celebrity news, beauty, fashion advice, and fascinating features, delivered straight to your inbox!