Paris in Pain: A Report from Inside Friday's Horrific Attacks
Marie Claire France features editor Catherine Durand on the night that changed her—and her country—forever.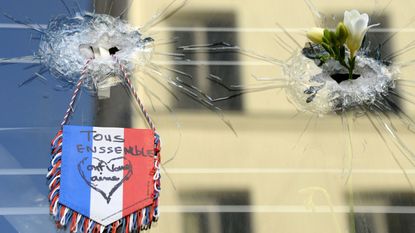 (Image credit: Archives)
This Friday the 13th is beautiful for November. As I often do at the end of the week, I'm at the Au Quais wine bar owned by my friend Alain Hing, just a few steps away from the Saint Martin canal, in a popular area of the 10th arrondissement. There's quite a crowd on the heated terraces of the Petit Cambodge restaurant and the Carillon café. They're young, trendy, joyful.
It's 9:20 p.m. and I'm sipping an excellent Beaujolais when a deafening sounds stops us cold. "It's just fireworks," say the bar patrons. Immediately I think of gunshots. A blast, then two, then three.
It seems to go on forever. Alain, who had gone to see what was happening, runs back shouting, "Catherine, call the police, people are dead!"
I leave the bar. In front of the café, amongst toppled chairs and shards of glass, are bodies laid out on the sidewalk. Just minutes earlier we'd been drinking, smoking, chatting, laughing, but now a strange silence takes over. Our small group is rendered mute by fear, in a state of shock, faced with a true war zone. Then sound returns. I hear cries, a man's sobs. Two firefighters arrive. Word goes round that the attackers are spreading more death, gunning down other cafés from their black car.
We learn from text messages that suicide bombs have exploded at the Stade de France. This is war and I have one sole obsession: to make sure my son Marty is safe. I don't want him to take the Metro to leave the school where he's rehearsing a play. I call his father, ask him to go pick up Marty in a taxi. Then police swarm the place, close off the area, shout orders. We help evacuate the injured before going back into the bar, where we lose all sense of time. Glued to our phones, we reassure our loved ones and follow the events that are bloodying Paris.
Alain Hing closed his bar for the weekend, out of respect for the victims, but has promised that we'll keep our date next Friday, in the company of a bottle of good wine. Because we refuse to succumb to fear, and because we French, we Parisians, are fiercely attached to our freedom. Why did terrorists strike in the heart of the 10th arrondissement, where I've lived for 25 years? As Anne Hidalgo, the mayor of Paris, explained, "The areas that were hit, the sites that were targeted, are beloved places in this Paris we love, this Paris that belongs to everyone, this open Paris. Our way of living together is intolerable to fundamentalists who want to reduce all of mankind to silence."
We won't be silent, and here at Marie Clarie, where we've never stopped defending women's rights, so painstakingly acquired, we will continue to defend our right to think, to love, to live.
Translated from French by Kirsten Edwards.
Celebrity news, beauty, fashion advice, and fascinating features, delivered straight to your inbox!