Ready the Wine: Here Are the Top Book-Club Picks of 2015, Summarized in Emoji
So interesting you'll save the relationship gossip for later.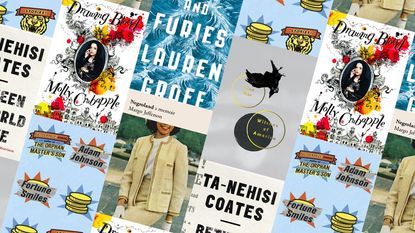 (Image credit: Courtesy, design by Katja Cho)
Marie Claire Newsletter
Celebrity news, beauty, fashion advice, and fascinating features, delivered straight to your inbox!
Thank you for signing up to Marie Claire. You will receive a verification email shortly.
There was a problem. Please refresh the page and try again.
Maybe you're a book-club devotee, or maybe you're using your New Year's resolutions as incentive to finally, finally start one. Either way, the prospect of picking the book of the month can be daunting—I would know.
I host the Lit Up Show, a weekly literary podcast where I interview some of my favorite writers about their new books, so when my turn to choose my monthly club's next selection recently rolled around, I thought "Easy." Obviously, I'd impress my pals with a choice that would have us chatting into the wee hours of the night, right? Wrong. Turns out a one-on-one discussion with an author isn't the same as sparking an entire group's imagination, particularly when you're competing with real-life dating drama, the cheese plate...and vino.
Since then, I've thought long and hard (and done some pretty serious polling) about what makes for the best book club pick. (Hint: sexy, controversial, and of-the-moment books are guaranteed great conversation.) Here are my six picks to get the party started—with emoji breakdowns, of course.
Do mysticism, paganism, nature worship, Voodoo, sex rituals, and spell-casting pique your curiosity? (If not, we may have to check your pulse.) Charting her five-year investigative journey into the occult, Mar's unique book blends in-depth profiles of some of the most renowned modern-day witches and pagan priestesses with stories of her own questioning of faith. This book will make you ask what you believe in and why.
Crabapple's words (and illustrations) in her memoir will ignite the adventurer and activist in you. At 17, sketchpad in hand, Crabapple traveled alone to Paris and Morocco, and upon her return to America, studied art, posed nude for artists, and danced burlesque, eventually becoming the Toulouse-Lautrec of the infamous New York nightclub the Box until the Wall Street crash of 2008. The resulting Occupy protests catapulted her work into a new type of witness journalism. Since then, she's traveled to Syria to interview refugees and written about subjects such as Guantanamo and the labor camps of Abu Dhabi. If that's not enough, she also touches upon her sex-worker activism, her relationship with her body, and feminism. With sentences like "My tits could be on the internet, but not my vulnerability," this book is likely to incite intense convo, so get ready.
Prepare to be challenged, changed, and to have your heart ripped out by Coates's powerful letter to his adolescent son about what it means to be a young black man in America today. Coates obliterates the idea of the American Dream and forcefully makes us confront race with searing clarity, his writing vivid and arresting. The book recently won the National Book Award for nonfiction and Toni Morrison calls it "required reading." In other words, we'd all be much better off if every single person in America read this book.
Can we ever really know another person, especially the one you love most? Groff's lavish and propulsive novel will have you asking yourself this question over and over again as you savor each twist and turn. The story explores the 24-year marriage of one couple—the universally adored Lotto and the glamorous-though-reserved Mathilde—who marry at 22, just two weeks after an electric meeting at a college frat party. The scenes of them luxuriating on the beach, days after being married, are some of the sexiest prose around.
Adam Johnson, winner of the 2013 Pulitzer Prize for his acclaimed novel The Orphan Master's Son, spins six stories so fully formed they feel like novellas. In the title story "Fortune Smiles," a defector from North Korea who has escaped to Seoul grapples with his conscience and his new life. In another, a former warden of an East German prison is confronted by his past when a series of packages keep arriving at his door. The story "Interesting Facts" is a mind-f*ck—excuse the term—but there is no other way to describe complexity, rage, and beauty of this story. And hey, you don't have to take my word for it—Johnson recently won the National Book Award for fiction for this masterful collection.
Could there be a more provocative title for a memoir? The winner of the Pulitzer Prize for criticism turns her piercing intellect inward as she examines and reflects upon her rarefied upbringing in Chicago's black elite of the 1960s and '70s. If you're thinking that sounds heavy, think again. Jefferson's humor is cheeky and mischievous, her thoughts unfiltered and raw, and her willingness to speak the unspoken truths about race breathtaking. Just wait for her quips about men and sex. Here you have a book that is not only deeply honest about its author's personal struggles with depression, but also one that gives much-needed context for the civil rights movement, Black Power, and feminism.
Follow Marie Claire on Instagram for the latest celeb news, pretty pics, funny stuff, and an insider POV.
Celebrity news, beauty, fashion advice, and fascinating features, delivered straight to your inbox!