Watch This Woman Effortlessly Make American Ninja Warrior History in a Mini-Skort and Sports Bra
Meet Jessie Graff, new favorite human/superhero.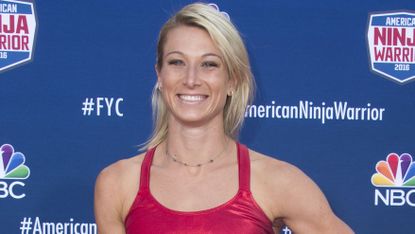 (Image credit: Getty Images)
If you're not already familiar, American Ninja Warrior has undeniably raised the bar for game shows by sending contestants through impossible obstacle courses and severely testing athletic ability for our viewing pleasure.
On Monday, Stuntwoman Jessie Graff made show history after becoming the first woman to complete Stage 1 in the show's national finals. And if being a #GIRLBOSS wasn't enough, Graff conquered the obstacle course with 12 seconds to spare wearing a custom-made, Green Lantern costume in all its sparkling, mini-skort glory.
The 32-year-old Graff, who's done stunts on Supergirl (how fitting), went on to the finals after running record time in Los Angeles. At the finals, she flew through the course without even a stumble causing many onlookers to claim the sequence was "too easy."
Cue the side-eye.
Regardless, Graff's talent, and body rivaling Teyana Taylor (opens in new tab)'s, is an inspiration to female athletes everywhere as well as the rest of us normals. In an interview with USA Today (opens in new tab), Graff said she wants her appearance on the show to demonstrate female power. "My first year doing Ninja Warrior, I didn't really know what it was about. After that, when so many people were like, 'I didn't know women could do that,' I thought, 'Then, we better show you."
Watch her destroy Stage 1 below.
Follow Marie Claire on F (opens in new tab)acebook (opens in new tab) for the latest celeb news, beauty tips, fascinating reads, livestream video, and more.
Simedar Jackson is an esthetician, content creator, and lover of sci-fi fiction living in Brooklyn, New York. She is passionate about creating space for Black and Brown people in the beauty and wellness industries by providing access to culturally nuanced education and services that meet their needs. You can find them doing their skincare routine, reminding friends to reapply SPF, and watching reruns of Love Island.