Inside Michelle Obama and Meryl Streep's Epic Trip to Liberia and Morocco
A chat with CNN's Isha Sesay about the documentary that's going to make you cry.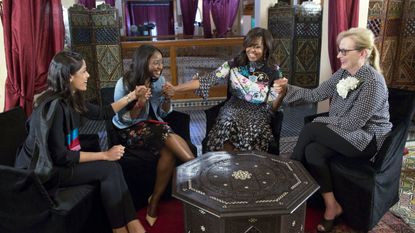 (Image credit: Amanda Lucidon)
Marie Claire Newsletter
Celebrity news, beauty, fashion advice, and fascinating features, delivered straight to your inbox!
Thank you for signing up to Marie Claire. You will receive a verification email shortly.
There was a problem. Please refresh the page and try again.
Girl Power takes on a whole new, even *more* awesome meaning in the new documentary We Will Rise: Michelle Obama's Mission to Educate Girls Around the World by CNN Films, premiering on CNN this Wednesday, October 12. The film follows Meryl Streep, Freida Pinto, and CNN journalist Isha Sesay as they meet dozens of girls in Liberia and Morocco who are fighting for their right to an education, fighting for the opportunity to better themselves and their loved ones, fighting to prove that they can do it. It's an immensely moving journey that is at times heartbreaking but always hopeful. And let's not forget the woman behind all of this: First Lady Michelle Obama. During the second half of the film, the girls get the chance to sit down and speak with Mrs. Obama to talk about the issues they confront each day and their hopes and dreams for their futures. It's right around the time you'll realize you're out of tissues and start weeping into your newly damp sleeve.
We rang up Sesay to talk about the making of the film, memorable moments, and what it's like to stand next to the First Lady. Read it all (and see an exclusive clip) below.
Marie Claire: I just watched the documentary and I feel like my first question should be: How did you not just cry the entire time? (Like, you know, I did, slumped down at my desk.)
Isha Sesay: It was a mixture of wanting to bawl my eyes out and, at the same time, puffing my chest out with so much pride for these girls. In the midst of their day-to-day struggles that they are still so determined to move forward and to make something of their lives. And I have a nonprofit called W.E. Can Lead, which works with adolescent girls in Sierra Leone (where I'm from), where we're building confidence and leadership capacity. So I know these issues, I'm aware of their hardships; they have their own individual stories, but I was aware of the issues and the themes. For me, actually doing the film, it was just so much pride. And when they were speaking to First Lady Michelle Obama in Liberia, I mean, I thought my heart was going to burst.
MC: Tell us the origin story for We Will Rise.
IS: CNN Films had been in talks with the White House about various projects and this one came up organically. The documentary group worked with people on the ground in both countries and put out feelers to U.S. Agency for International Development and to the U.S. Embassy for people to nominate girls for the film. And they came back with a whole stack that they just profiled. And then it was just a case of spending time. There were pre-interviews. They spoke to the girls. They kind of narrowed the pool. And then we went out and we spent time with lots of girls, again a further narrowing down the pool, and then you see the girls in the film. I was at my desk when I got a call asking whether I'd be interested. And, as you can imagine, I was like, "Yes! Yes! Yes!" I'm still pinching myself.
MC: What hopes did you have for the film? What did you want audiences to see?
IS: Just how much these girls want an education, how much they value it, how much they are willing to go through to get one. I really wanted to capture the tenacity and their heart. And also what it means for them to be chosen to spend time with the First Lady. I did a big sit-down workshop where they're all sitting down on the floor in Liberia and Monrovia, which is captured in the film, and there was one girl, and I don't think it's in the film itself, who says to the group: "I can't believe that I was chosen. I was chosen to be part of this group and to meet the First Lady. Whenever anyone doubts me, or what I can achieve, or what I can do…" She was basically saying it was a testament to the fact that, I'm on the right track, and being chosen to spend time with the First Lady of the United States isn't just a photo op. This is something that's going to have a real tangible effect on them as they move through the world. And every time they doubt themselves and what they can do, they will go back to the moment that they were chosen and that they're on the right track.
MC: Most memorable moment during filming?
IS: Spending time with Raphina. And being in her room that she shares with other family members. And seeing the school bag that she cherishes and prizes so greatly and her opening that bag and having her show me her books and talking to me about her hopes and dreams. Spending time with her in her surroundings and seeing her hardships; she does all of the housework, she cleans the house, she goes to the market and then she cooks, and then she has to go to school, and then she comes back and she studies with this narrow, claustrophobic hallway. Seeing that truly made such a deep impression on me. But also seeing her joy and her light. It took all my self-control not to just weep. You just want to wrap your arms around each and every girl and say, "It's gonna be alright. You're going to be amazing in this world."
MC: And what lessons have you taken away from the project?
IS: Just on a personal note, no matter how bad you think you've got it, there are people who are moving mountains and going through the valleys every day to make something of themselves. It was a reminder of just the tenacity and strength of women and girls around the world. I just came away even more committed to doing the work that I do as a journalist at CNN and in my own personal space with my nonprofit to continue to tell the stories of women and girls and to continue to pour into girls. What I saw firsthand in Liberia and Morocco, it was another reminder of the difference that makes. The film is a lesson to us all, whether you're in Africa or sitting in Brooklyn, to pour into those around you, to speak words of encouragement to girls around you and to encourage them to dream and to strive.
MC: Okay, we have to ask: What's it like to work with, even just be in a room with Michelle Obama?!
IS: You struggle not to just have your mouth open the whole time. Because it is kind of jaw-dropping Like, let's not get jaded about it in any way, shape, or form. She's the First Lady of the United States. She's an incredibly accomplished woman in her own right. And she is this magnificent being. And when she walks into a room, her light and her energy just floods it. I had this moment with her at the end of the Morocco shoot where she was being incredibly kind and lovely to me about my work and my commitment to these issues. And I actually had to say to her, in a really nerdy way, "You're not going to make me cry. I'm not going to cry speaking to the First Lady." I completely lost my cool because w when she fixes on you and you experience one-on-one her warmth and her generosity of spirit, it's really overwhelming...And when you see her with the girls and you see her in these various settings and you see how everyone just melts and how she has the impact to really shape and inspire. It's really something to see up close.
MC: What do you think her White House legacy will be when she moves out in January?
IS: Being committed to lifting people up and being a voice for those that aren't often heard. She's been an incredible advocate for women and girls. That more than 62 million girls are out of school is an issue that needs champions. And she's a great champion.
Watch an exclusive clip below, then tune in to CNN on October 12 at 9 p.m. EST:
Follow Marie Claire on Facebook for the latest celeb news, beauty tips, fascinating reads, livestream video, and more.
Celebrity news, beauty, fashion advice, and fascinating features, delivered straight to your inbox!
As deputy editor, Jen oversees Cosmopolitan's daily digital editorial operations, editing and writing features, essays, news, and other content, in addition to editing the magazine's cover stories, astrology pages, and more. Previously, Jen was a senior editor at Marie Claire. Before that, she worked at GQ.