Chrissy Teigen's Holiday Advice: Don't Make Turkey
Plus, why she's so excited to dress up Luna.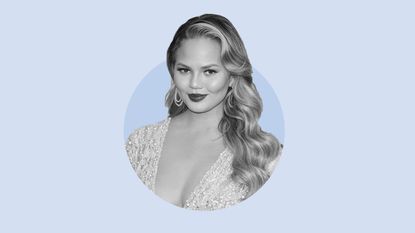 (Image credit: Design by Betsy Farrell)
Marie Claire Newsletter
Celebrity news, beauty, fashion advice, and fascinating features, delivered straight to your inbox!
Thank you for signing up to Marie Claire. You will receive a verification email shortly.
There was a problem. Please refresh the page and try again.
Chrissy Teigen is pretty much everyone's pick for Celebrities You'd Want to Be Best Friends With. And it makes total sense. She's hilarious, speaks her mind, and truly understands the appeal of dressing up your kid in adorable costumes and sharing with the internet at large. (Bless you, Chrissy. Bless you.) Not to mention—she loves food just as much as us normies. So before she hosted a King's Feast in partnership with Stella Artois, we sat down with the Blender War-starter to talk all things delicious, her favorite holiday traditions with husband John Legend, and why she can't stand turkey. (No, really.)
Marie Claire: This is the first year where you'll get to celebrate with baby Luna—are there any traditions that you're excited about starting or continuing with her?
Chrissy Teigen: Omigosh. Well, I don't know why we do this—I blame my dad and his Norwegian heritage, but we actually open presents on Christmas Eve. And I'm really excited to be able to do that [with Luna]. Because for me, the night of Christmas Eve is just so much...like, I enjoy mornings, but am I a morning person in the way that I want to wake up early, run downstairs, open presents, have photos taken at that time? No. And it's always like that—it's too bright for me, I'm such a nighttime gal. To be able to cook like a big Christmas Eve dinner and then go plop on the couch just so full and open presents—I don't know, there's something about that. I want to drink wine while I open presents! I want to drink a Stella Artois! I honestly just want to lay back and relax and not have to wake up in the freezing cold mornings.
Marie Claire: Are there any dishes you typically serve?
CT: I love anything hearty and I'm very vocal about my hatred for turkey. I just, I will never understand people's love for turkey—and everyone will cry out, 'Well, you haven't made it the right way!' and it's like, no I have. I have deep-fried it, I've done the beer can turkey, I've done everything possible—I've had the fancy stuffing inside, I've had the Stove Top Stuffing inside—no! It's bad, any which way. The only way in which it was kind of tolerable was when we burned the crap out of it accidentally after deep frying it, and it was blackened and the inside was kind of raw still. So we sliced it up, I bought a ton of canned gravy, we sliced it into big chunks, I poured canned gravy over it and threw it in the oven—it was like this weird, smothered turkey situation, but also it had like poached itself in the oil, a slow poach, so it was so, so juicy and so, so good. And that's the only acceptable way to eat turkey.
But like, I go ham now. I go ham for a lot of the holidays and then I love like a beef stew or something—which is why I am so jealous Chef Bart Vandaele and our Host to Remember event tonight for our King's Feast, we were throwing ideas around for what we'd do as our main dishes, and I was like "Oh, well I really want to do a beef stew," and he was like "I'm doing one!" and I was like shit! I love, love, love beef stew and it goes so well with a cold beer. But I got to go to Belgium with Stella years ago, and see where it all happens, and it was in this beautiful factory that was literally fit for a wedding and we drank Stella with mussels there, so I was like, I'm going to do my own spin on the King's Feast mussel, with like Thai flavors—so it's a kind of Tom Kha Gai coconut-based soup with mussels. Which will also go really well with beer. So we'll see which one is better! [laughs]
MC: Well speaking of your disdain for turkey—is there anything else you hate preparing for the holidays or you hate making yourself?
CT: Well, I'm not a big desserts person. But I do love doing like sweet potato pies and things. Like that stuff I love, I've just never been big taste-wise on desserts so it's not something I get excited about. Unless I totally see something on Pinterest that looks different—like the other day I saw on Pinterest somebody had done an apple pie but they had just done like [Pillsbury] Poppin' Fresh cinnamon rolls as the crust, so they like layered that on top of the apple pie. And I was like oh I love that, and I thought well I love making cinnamon rolls so what if we put apple pie filling in the cinnamon roll and then roll it up and then slice it so my mind goes in those types of directions but desserts don't particularly excite me in terms of eating...I like a dirty ice cream sandwich. Easy. Plus crust and all that it stresses me out. I'd rather spend my time making like 15 sides, which is honestly what I do during the holidays. I'm a sides person.
MC: I feel like everyone gets excited about the sides—you have like the littlest piece of protein or main on the plate and then it's just sides covering the rest.
CT: Yes! Exactly. And covered in gravy. Although my sister is so different. She needs everything to be separate and like compartmentalized and she won't mix anything—and for me it looks like I put everything in a blender. Mashed potatoes, cranberry...everything.
MC: Now that Luna is here, do you think she'll be excited or intrigued by anything in particular?
CT: She's just excited to do this all day: [blows a raspberry]. The other stuff—eh. But the pediatrician did say she's just starting to make her consonant sounds, so that stuff's really cute and *I'm* excited about it. But yeah she doesn't know what to be excited about besides like waking up and exploring something new every day—whether it's like a spoon or a whatever. But there's things that we're excited for—like, we're excited to get her a little Christmas dress...as I'm sure you saw, Halloween for us was just so much fun, so I can't wait to dress her up in the most embarrassing outfits for the rest of time. As long as she lets me.
MC: Are there any musical holiday traditions that you guys partake in? I'm assuming with John there has to be some favorite tunes...
CT: It goes back and forth! If we're spending the holidays in Ohio with John's family sometimes you know we'll do things for Thanksgiving and such—last one we were at was in John's church basement, and everyone brings something amazing and it's a free for all and you're just going down the line and there's so, so, so much food or you know Christmas is usually at his dad's house and they definitely have some musical memories there. Growing up, music wasn't very big in my family, none of us are really capable of singing, but of course everyone in John's family is so insanely talented and has such a beautiful voice and so they really do do that, like the first time I ever saw them gather around the piano and just breakout in song I was like, is this a movie? This doesn't seem real at all. I couldn't believe people really did this, but yeah so when we're with his side of the family that stuff happens, when it's with my side? Yeah, not so much. We'll be watching football, it's a much more TV-oriented household than his.
MC: Is there anything you do during holiday time that's unique to your home?
CT: I don't know that it's unique, but I will say I'm still that person who gets most excited for stockings. I've always been that way. And I think there's something about our family, we are just like—we're not into the huge things. And I do believe when you go into adult mode, I believe everything is for the kids. Even with my parents, maybe like I'll get mom like a great purse, dad—a fabulous fishing vest, because that's all he wants. That or a video game, he loves playing video games on his computer, but yeah we just don't tend to go all out. Even with John...there's something that every single year he can expect from me which is his computer bag that he carries. It sounds so lame, calling it a computer bag, but it's usually some Tom Ford, suede, big, thick gold zipper just man bag. And he always gets one every year, and I work so hard to find the perfect one all year. So that's the expected one, but yeah I'm just not here for a lot. I'm not huge into jewelry, or anything. So there's just not much I personally want in the first place, and I think anyone on my team would tell you that I actually hate receiving gifts, it makes me very uncomfortable for some reason, I just—yeah at that point, it's for the kids. So that said I just love stockings, I've always been a stocking girl since the very beginning. When I was little that was the first thing I looked at, the only thing I cared about was all the little dumb things I would get from like Spencer's Gifts. Little pocket magic tricks and stuff. I still love that stuff. For me, it's still the little things like that.
MC: Now right now you're working on your second, follow-up cookbook to Cravings: Recipes for All the Food You Want to Eat. How's it going to be different from the first one?
CT: I think it's naturally leaning towards simpler stuff—I mean, obviously we have a baby, but I never wanted like a 20-minute meal type thing just because I feel like you can taste a 20-minute meal. But when thing's are easy, I prefer them to be simple, in the way that they have less ingredients or you can replace things with something that's a bit easier—you know, when you tell people to use 3 tablespoons of thyme, and you're picking it, it's like that's a lot of *actual* time spent. So just to be able to replace things with like a dried ingredient and still have it taste fresh and wonderful is really important to me but we're definitely naturally getting into this simpler mode. And also like a lot of my tastes have changed, and it doesn't have anything to do with dieting or I don't know...I just don't know what happened. I was pregnant for a bit making the last book, or I was doing IVF or one or the other, but the things I wanted then are just not the things I like now. I mean, I'm still not a salad girl. I'm still not into things like that, I still like really hearty things, but these days I really have to be craving it to really stomach it. And those things will be like ramen, pho, for some reason they're always like noodle-based dishes or soups that I love, anything like Fall-flavored soups I could always go for, but for me to want like brussels sprouts or something...I'm not covering everything in cheese...and it really isn't a health thing, I just don't have the taste for it in the same way.
MC: And is there anything else coming up or projects that you're excited for?
CT: Well, the book is definitely taking a lot out of us right now. But we start Lip Sync Battle we start filming again in March, and it's obviously airing now on Wednesday nights, and it's so much fun to see because our contestants this season are just bonkers and you get to see them in ways you've never seen them before. Like Lupita [Nyong'o], she's just a beautiful woman and Oscar-winning, I mean she's like a *proper* actress—so to have her on our stage being goofy and sexy and silly it's so cool to see. So yeah, that's fun to see. And John and I are finishing up our home right now, and getting ready to actually host parties and do that again. Because that's what we've always been, we've always been the ones being like, 'Do you guys want to come over? It's football Sunday let's do this.' We're so used to having a lot of people in our house all the time, it's kind of like this open-door policy, so I can't wait for it to be officially done and have people swing by and enjoy. Because what is a home without a lot of people and a lot of love?
Follow Marie Claire on Facebook for the latest celeb news, beauty tips, fascinating reads, livestream video, and more.
Celebrity news, beauty, fashion advice, and fascinating features, delivered straight to your inbox!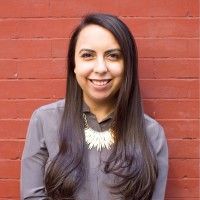 Samantha Leal is the Deputy Editor at Well+Good, where she spends most of her day thinking of new ideas across platforms, bringing on new writers, overseeing the day-to-day of the website, and working with the awesome team to produce the best stories and packages. Before W+G, she was the Senior Web Editor for Marie Claire and the Deputy Editor for Latina.com, with bylines all over the internet. Graduating from the Medill School of Journalism at Northwestern University with a minor in African history, she's written everything from travel guides to political op-eds to wine explainers (currently enrolled in the WSET program) to celebrity profiles. Find her online pretty much everywhere @samanthajoleal.