Campus Confidential: How Colleges Continue to Keep Rape Cases in the Shadows
Lawyer Crystal Riggins was dismissed by Stanford University after criticizing its handling of sexual assault. In this exclusive interview, she speaks out about universities today.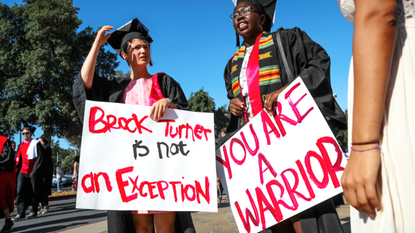 (Image credit: GABRIELLE LURIE/AFP/GETTY IMAGES)
In February 2016, Stanford University launched a pilot program to retain lawyers to provide up to nine hours of legal counseling per person for students who are victims of sexual assault and for the students accused. In a story published in The New York Times on December 29, one of those attorneys, Crystal Riggins, who worked exclusively with victims, expressed frustrations with the university's requirements that a three-member panel adjudicating such cases must rule unanimously for the perpetrator to be punished. (Stanford and Duke University are the only top-tier colleges to require a unanimous vote.) "The process is complex and takes a long time," Riggins told the Times. "It is very difficult to get a 3-0 decision from a panel, and these young women are terrified and traumatized and just want it to be done."
"Stanford-sponsored Title IX attorney"; the other lawyers in the program remain. Students were outraged by the decision—this past February, the undergraduate senate unanimously passed a resolution condemning Stanford's decision and demanding that Riggins be reinstated. The administration has not reversed its decision, but students can still hire Riggins on their own dime.
As the university continues to grapple with its handling of sexual assault—this month marks the one-year anniversary of Stanford alum Emily Doe's powerful letter to her rapist, Brock Turner, going viral—Riggins talks about her dismissal, the students she represents (she has two ongoing cases at Stanford and three others at colleges throughout the Bay area), and what all universities can and should be doing better when it comes to handling sexual assault on campus.
Marie Claire: Why have you focused on representing victims?
Crystal Riggins: I feel very strongly about representing those types of clients because they need help. Institutions and processes are set up to help victims, but often they don't feel that they have a voice or they feel that the institutions and processes are actually working agains them.
MC: Why do you think a unanimous-ruling policy is not what's best for victims?
CR: Because in combination with everything that a victim is going through, the idea of having to have every person in the room believe you and believe you in exactly the same way so that the accused student is punished can be difficult and hard to internalize.
MC: And that's why you felt you had to speak out against it?
CR: Yes, although I really didn't feel like I was speaking out against Stanford—I was speaking on behalf of my clients...I felt it was a fair comment, and I stand by it.
MC: You've also said that universities in general "keep pushing [sexual assault] under the rug, and that doesn't make campus any safer." Can you elaborate?
CR: The tide has changed. When I [worked on a rape case in 2007], we would get super-offensive comments about the victim. But now we're not getting that. People aren't asking, "What was she wearing?" and that shows a shift in public opinion and being more sensitive to victims.
I'm not sure universities realize the shift in public perception, because we still see these news stories coming out about colleges being really insensitive to victims. You're seeing more people reporting the crimes, which is great, but then you're seeing these responses, so then the question becomes: Are universities doing enough? That's a valid question to ask.
MC: What do the students you represent struggle with the most when going through the university process?
CR: The guideline [from the Department of Education] is that these cases should be resolved within 60 days. But I have had cases that have lasted anywhere from several weeks to seven months. For a victim of trauma, even drawing this out for a month is unthinkable.
MC: What types of cases are you seeing?
CR: I am seeing a lot more dating-violence cases, which is problematic in college when the students are literally housed together in coed dorms. Universities are becoming more aware of that scenario, but it's difficult for them to make the appropriate accommodations for students when their lives are so intertwined. I'm also seeing more revenge porn, when someone is threatening to release photos or videos of intimate moments. What do we do about that? Universities may not have the answer to whether they can order a student to destroy the images or whether there needs to be some sort of criminal or civil process.
MC: What do you say to those who think police, not colleges, should be handling rape cases?
CR: Students say, "I don't want to be in class/dorm/library/ dining hall with the person who raped me," and many times, [the school's process] is the only way victims get to affect their daily lives and surroundings. There's not a process in criminal or civil court that gives these women that opportunity.
RELATED STORIES
MC: What do you make of the fact that universities have to balance protecting students with protecting the schools' reputations?
CR: I don't see why they couldn't develop a reputation for treating students fairly. They should want their reputation to be that, when a person is found responsible for sexual assault, they take appropriate steps so that the perpetrator is not an ongoing threat to the campus.
MC: How did you feel when you Stanford dismissed you? And when students condemned the decision?
CR: I try not to take things personally, but this work is very personal to me, so this has been a very hard time for me. To have that kind of outpouring of support was awesome, and I was super-thankful that students took it upon themselves to say something.
MC: What are universities doing well when it comes to addressing sexual assault, and what needs to improve?
CR: I think universities are doing a better job at trying to understand what their obligations are, which is the first step. But we still see institutional failures at every level, so universities need to put in place safeguards and the appropriate training to prevent that from happening. To address these issues takes a coordinated response. Yes, it's difficult and complex and there's often little agreement about what the right approach is, but without comprehensive change, we're going to see the same problems.
The law requires a victim-centered approach, so policies, procedures, and protocols should all strive toward that and be empathetic about what has happened and the fact that this is a trauma. For whatever reason, we treat sexual-assault victims differently [from victims of other crimes], and that's not fair.
This article appears in the June issue of Marie Claire, on newsstands May 16.
Kayla Webley Adler is the Deputy Editor of ELLE magazine. She edits cover stories, profiles, and narrative features on politics, culture, crime, and social trends. Previously, she worked as the Features Director at Marie Claire magazine and as a Staff Writer at TIME magazine.