The Coolest Way to Show Off All Your Summer Pics
You know, in case you can't commit all of them to Insta.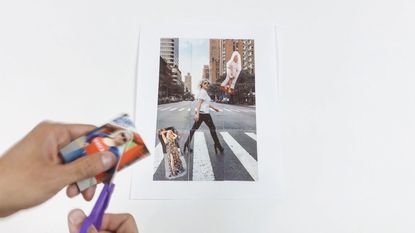 (Image credit: Kevin Lu)
As August brings darker days and fewer frosé-filled summer nights, it might just be time to take a stroll down memory lane vis-a-vis your camera roll. As you edit out the moments you might not want to remember, don't forget to favorite all those goodies because we've got some ideas for you on how to bring them back IRL style.
To get the creative juices flowing, photographer/videographer Kevin Lu and I hit the print button on the Sprocket (opens in new tab), HP's portable photo printer, and took to the web for some of the coolest content out there.
First, if you haven't seen @mydaywithleo's Instagram, it's insane. We did our own version inspired by his work with our photos from Panorama Music Festival (opens in new tab), the perfect summer backdrop for all that denim wear.
Second, if you're really into old-school vibes, or just love OK Go's "The One Moment" video, we've got you covered there, too. Check out the perfect way to turn those still moments into memories you can replay, again and again.
Third, if you're into next level scrapbooking, here's one for you. Inspired by @tumblr's #adorbs collages, made to celebrate celebrity birthdays (like Selena Gomez and Ariana Grande), we grabbed our scissors and *actually* did the cut and paste.
And what's summer recap without a little (or a lot) of fashion? Here's the looks from the videos so you can go ahead and shop...
Cinq à Sept T-Shirt, $175
BUY IT: cinqasept.nyc (opens in new tab)
[image id='e60327e2-9e90-4e3e-9e5d-855e7680a4a3' mediaId='597d7cfc-b3cf-4775-ba29-d373c374a505' caption='' loc='C' share='true' expand='true' size='M'][/image]
Rag and Bone Jeans, $350
BUY IT: rag-bone.com (opens in new tab)
Adriana Degreas Swimsuit, $295
BUY IT: net-a-porter.com (opens in new tab)
Re/Done Skirt, $230
BUY IT: shopredone.com (opens in new tab)
Zimmermann Playsuit, $590
BUY IT: us.zimmermannwear.com (opens in new tab)
Raquel Allegra Hoodie, $310
BUY IT: raquelallegra.com
Lem Lem Dress, $375
BUY IT: lemlem.com
Tanya Taylor Dress, $895
BUY IT: tanyataylor.com (opens in new tab)
GRLFRND Shorts, $198
BUY IT: revolve.com (opens in new tab)
L'Agence Denim Jacket, $290
BUY IT: intermixonline.com (opens in new tab).
Follow Marie Claire on F (opens in new tab)acebook (opens in new tab) for the latest celeb news, beauty tips, fascinating reads, livestream video, and more.