Just a Typical Day of Women Inspiring Women
At the first-annual WIE symposium, such female leaders as Arianna Huffington and Sarah Brown took the stage to discuss some seriously interesting topics.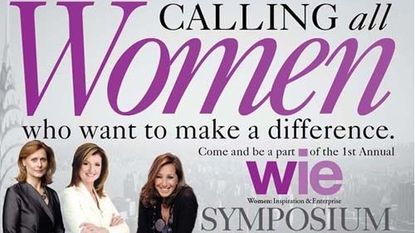 (Image credit: Courtesy of Women: Inspiration & Enterprise)
Can women have it all? As clichéd as the question has become over the past few years, it's one that has defined a generation of female leaders and innovators looking for more in the limited time they have.
On Monday, the first annual Women: Inspiration and Enterprise (WIE) Symposium, hosted by the White Ribbon Alliance, helped to answer that question … with a resounding, "Yes. Yes, we can."
The hosts — Sarah Brown, wife of the former British Prime Minister Gordon Brown, designer Donna Karan, and Huffington Post cofounder Arianna Huffington — brought together women from around the world to discuss the important issues facing their gender. From a girl as young as 12 years old (Nthabiseng Tshabalala, a South African activist) to such household names as Diane von Furstenberg and Ashley Judd, the roster of awe-inspiring panelists discussed such diverse issues as the role of women in technology and the need for global empowerment in an age where childbirth death is an intolerable risk in many developing countries.
But it wasn't all so serious. Some highlights from the day:
Talk about women inspiring women.
Click here for more information on WIE and the White Ribbon Alliance.
Tell Marie Claire: What women inspire you? And, do you think women can have it all? Share your thoughts in the Comments section below!