Meet China's Oprah Winfrey
Yang Lan was once told she wasn't pretty enough to be on TV. Today she presides over a media empire and is one of China's wealthiest and most famous women.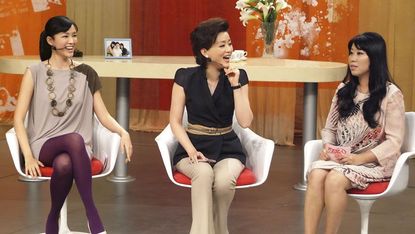 (Image credit: Courtesy of Yang Lan)
Marie Claire Newsletter
Celebrity news, beauty, fashion advice, and fascinating features, delivered straight to your inbox!
Thank you for signing up to Marie Claire. You will receive a verification email shortly.
There was a problem. Please refresh the page and try again.
Yang Lan was a senior in college when she went to an open casting call for a variety show in Beijing — and beat out 1,000 other contestants. The show became the most popular in China within the year, garnering more than 200 million regular viewers. Now, at 43, Yang is one of China's biggest celebrities: She's the host of two popular TV talk shows, and she runs a media empire, Sun Media Group, with her husband, Bruno Wu. Forbes estimates the couple's wealth at $300 million. Lan's also an advocate for women, recently speaking at an Asia-Pacific Economic Cooperation Women and the Economy Summit in California about fighting discrimination against women around the world. We asked about her role in a changing China.
Do you model your shows on Oprah? What kind of subjects do you tackle?

On my show One on One, I interview leaders from around the world — in politics, business, art. My other show, Her Village, is more like The View. On this show, I have two girls — one is a Korean girl who has lived in China for 15 years, and the other is a young model-actress — who host the show with me, so we give different perspectives. Most of our guests are women, and we talk about subjects such as public awareness of breast cancer or using social media to help mothers find children lost to human trafficking.
Do you have to worry all the time about censorship?

Well, it is not an easy job to manage a privately owned media company in China. You have to walk very fine lines, politically and also business-wise. In China, the rules of the market are not always that transparent. So it's very hard. Also, the national TV networks are all owned by the government, so our shows are subject to censorship by the networks. Every now and then, we are told that certain subjects cannot be talked about. There are frustrations. In some respects, China is not marching forward — it's bouncing forward, sometimes two steps forward and one step back. Still, compared with when I started my career, there is much more freedom and openness. I try to remain optimistic.
How did you beat out those 1,000 other contestants for your first TV show?

The national network was looking for a fresh face for a prime-time quiz show about traveling around the world. The producers wanted a sweet, pure college girl to play a supporting role to a male host. At the audition, I challenged them by asking, "Why do women have to be a supporting role on television? Why don't you think women can have their own independent ideas?" That remark, I was told, made a very deep impression on the executive producer. When the candidates were narrowed down to just two, I was told by one of the insiders that I fit all the criteria, but I was not beautiful enough. So in the final round of auditions, I was a bit angry, and I said, "On Chinese television, we have smiling faces, but we don't have very authentic ideas." Ten minutes later, they said, "Yang Lan, you are chosen."
You have two children, but China has its famous one-child policy. How were you able to have two kids?

My husband is a U.S. citizen, so by law, we were permitted to have more than one child.
You met your husband in New York when you were in graduate school at Columbia. How did you wind up there?

In 1994, after four years of talking about travel on my first show, I realized I knew so little about the world — I knew so little about myself. I decided to quit my job and pursue a postgraduate degree in New York. That's when my popularity in China hit the roof: I remember a major newspaper saying that many people would kill for the position I had, but that I had the courage to step into a world that is basically unknown. Later, I returned to China, and to television.
Where do you get your chutzpah?

My grandma. She always told me, "To be a woman, you have to learn how to stand on your own feet." She really meant that because in her time, most Chinese women had bound feet, so they couldn't stand or walk for too long. My grandma, an illiterate village girl, stopped in the middle of her binding process and ran — she escaped an arranged marriage at the age of 17. She traveled to Shanghai, where she made a living in a sewing factory. She had the courage to seek freedom and to really be herself.
Celebrity news, beauty, fashion advice, and fascinating features, delivered straight to your inbox!
Abigail Pesta is an award-winning investigative journalist who writes for major publications around the world. She is the author of The Girls: An All-American Town, a Predatory Doctor, and the Untold Story of the Gymnasts Who Brought Him Down.