The Ending of 'Sweet Magnolias' Season 3, Explained
In the new 10-episode installment, each of the trio's relationships—and their friendship itself—is tested.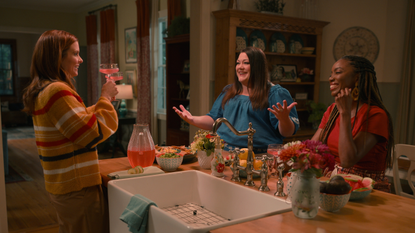 (Image credit: Courtesy of Netflix)
Every now and then, TV fanatics need to take a break from stressful, high-stakes dramas like Succession and The Bear, and escape into a small town where any problem can be solved with the help of a community text chain and a good margarita. Netflix's Sweet Magnolias is the ultimate comfort binge, as it provides lots of low-stakes drama and comfy conversations (though at points the platitude-laded dialogue can get a bit saccharine). However, the series is the perfect fit for anyone looking to follow lifelong besties Maddie (Joanna Garcia Swisher), Dana Sue (Brooke Elliot), and Helen (Heather Headley), as they live and love in the lovely town of Serenity, South Carolina.
Season 3 of the comfort watch is returning after several major cliffhangers at the end of season 2, including Erik's surprise proposal and a brawl that landed Maddie's boyfriend Cal (Justin Bruening) behind bars. In the new 10-episode installment, each of the trio's relationships and their friendship itself is tested, as they also continue to get ensnared in local politics. (And don't worry, the teen cast has plenty to do as well.) Read on for our breakdown of how the season ends, and how the finale sets up a possible season 4.
Helen ends the season single after giving things another shot with Ryan.
First things first, we need to talk about the aftermath of Ryan's Ryan (Michael Shenefelt) sudden reemergence and proposal. There's years of history between the two—at one point Helen says it's been her life's dream to be with Ryan—so, while she turns down his proposal, she does decide to try dating him again and see where things progress. She takes him back with the condition that he settles down in Serenity with her, and at first it seems that the nomad is ready to put down roots. However, eventually Ryan admits that he doesn't feel a place for himself in Serenity. He leaves again, ending the relationship with Helen for good.
This sequence of events places a toll on both Helen's relationship with Erik (Dion Johnstone) and with her fellow Magnolias. As soon as Helen tells Erik that she would always regret if she didn't try things again with Ryan, the pastry chef breaks up with her and makes it clear that he doesn't even want to be her friend. The two exes spend the season having uncomfortable encounters, though the ice seems to be melting by Erik's return to Sullivan's in the finale (more on that later). The two have a sweet conversation ahead of the ceremony, and it seems like he wants to approach her during, but he holds back (probably because he's been seeing someone new).
As for the Magnolias, the trio has a brief mid-season rift after Maddie hints that she thinks Helen is only pretending to be happy with Ryan. During the argument, Helen says that Maddie's gaze feels like judgment, which undoubtedly hurts from a lifelong friend. When Ryan and Helen break up, she doesn't even tell Maddie or Dana Sue, instead leaving town for a bit to spend time with her mother Bev (hi, Janet Hubert!). The brief sojurn is healing, and Bev helps her stubborn daughter realize that both Maddie and Dana Sue only had helpful intentions. After Maddie sends some sweet letters, the Magnolias are back together with a couple of episodes to spare.
After all of that, Helen mostly spends the finale as the supportive friend organizing Dana Sue and Ronnie's (Brandon Quinn) vow renewal. She does get a surprising moment with Peggy (Brittany L. Smith), hinting that next season may see the two teaming up on a campaign! Earlier in the season, Mayor Lewis abruptly resigned and moved to nearby Castlewood instead of facing the recall. In his absence, journalist Peggy discovered that there may have been malfeasance regarding the town funds, and she becomes determined to investigate how the Lewises abused their power. After the Magnolias spent several throwaway scenes wondering who they should support as the new mayor, Helen realizes in the finale that Peggy would make an excellent candidate. Not only that, the lawyer offers to manage her campaign. Looks like Helen would be very busy in season 4, if Peggy decides to run.
Dana Sue and Ronnie's vow renewal becomes a town celebration.
The bulk of this season's drama came courtesy of Kathy, the mystery woman who returned to town and slashed Dana Sue's catering van tires in the season 2 finale. It turns out that Kathy is actually Ronnie's sister, who has a decades-long grudge against her sister-in-law, and the other Magnolias. Kathy believes that she is the one who deserved to get the restaurant back in the day, but town matriarch Miss Frances told the realtor that she was untrustworthy, and the building went to Dana Sue instead, becoming Sullivan's. Kathy has returned to take what she deserves through the suffering of the Magnolias: She becomes manager of a nearby eatery and attempts to steal Dana Sue's second-in-command Erik away to her place.
Two important things about Erik's headspace in this dynamic: He has no idea about Dana Sue and Kathy's relationship, and he's been in a tough spot ever since the demise of his and Helen's relationship. In a decision that he later sums up as trying to "run away from his problems," Erik takes a break from his role at Sullivan's, with Dana Sue saying he can come back anytime. He then starts consulting for Kathy, and sticks with the job for a while before ultimately deciding that he didn't want to work for her as a chef. After Dana Sue and Erik learn the full scope of what's happened, he initially turns down her offer to return to Sullivan's, as he feels he's betrayed her and doesn't deserve her friendship. (Which, he didn't even know who Kathy was, so it definitely could've been worse). Eventually, Erik returns with a peace offering in the form of a vow renewal cupcake tower, and Dana Sue accepts on the condition he returns to work.
Throughout the season, the once-estranged Dana Sue and Ronnie had been going to couples counseling with Pastor June (Tracey Bonner) and working on their marriage, getting to such a strong point that they decided to renew their vows. However, a wrench is thrown into the plan when Kathy trashes the Sullivan's kitchen in retaliation for Erik turning her down. Ronnie knows that all his sister wants is money, so he writes her a check with some of the money Miss Frances left the Sullivans. This gets Kathy to leave town, but that money was also earmarked for the vow renewal. However, once Maddie and Helen start seeking vendors around town for party supplies, many of their neighbors offer to provide food and venues for free, as long as they can attend the gathering. So the vow renewal quickly goes from a rager to an intimate (inexpensive) affair, to a town-wide celebration.
Maddie and Cal strengthen their relationship.
The immediate aftermath of Cal's fight and subsequent arrest is settled pretty quickly in the premiere, with Helen getting him out of jail in the season's early minutes. The real conflict is within his and Maddie's relationship after she learns about his past and anger issues. The two decide to institute a no-touching rule and build a foundation as friends before they jump back into the relationship, giving them some genuine rom-com moments and a strong bond throughout the season. They even handle the brief return of Cal's ex Vicky (played by Bruening's IRL wife Alexa Havins); when she invites them out to dinner to announce her new engagement, Maddie dismisses her and tells her to get over Cal. The season ends with Maddie and Cal stronger than ever.
In another sweet career note, Maddie gets inspired by her daughter Katie (now played by Ella Grace Helton), whose letter-writing idea helped mend the Magnolias' friendship, and the mom decides to write a children's book with her daughter, asking her own mother Paula (Caroline Lagerfelt) to illustrate the multi-generational venture. While Paula agrees, she later announces at the vow renewal that she's going to leave Serenity for a while. Her newly-divorced former flame Jimmy has bought a house and commissioned her to paint several murals inside, and Paula feels secure enough that Maddie and the kids are good to go off with her new man.
Annie breaks up with Jackson, and finds comfort in Ty.
There are significant developments on the teen relationships front this season. Ty (Carson Rowland) spends most of the season discovering his interests outside of baseball, and he eventually decides to take a gap year from college to learn about woodworking, with Maddie's approval. He also patches things up with his ex Cece (Harlan Drum), who's now staying with Helen after her family moved away, and he seems interested in his new stats tutor (who isn't into him, but that could change). However, there's still the matter his lingering chemistry with Annie (Anneliese Judge).
Annie spent the season sneaking around with Jackson (Sam Ashby), after his mother (and the Magnolias' enemy) Mary Vaughn forbid her children from dating their children. At first the secret dating goes smoothly, with Ty serving as Annie's chauffeur to Castlewood after Jackson's family moves away, but Jackson and Annie are found out when she gets into a fender bender while they're on a date. Dana Sue becomes furious at Annie for lying, grounding her for the near future, and Annie realizes she's been lying to everyone she knows for the relationship. That's enough to make her dump Jackson in the finale, and she immediately runs into Ty's arms for comfort as Cece watches nearby, setting up a future love triangle (which will be especially rough since Cece and Annie have become friends).
Also, a brief update on our favorite drama king Kyle (Logan Allen): he finally realized his season-long secret admirer wasn't Nellie, but instead was Annie's friend Lily. He and Lily get together in the final episodes, and it's very sweet.
Kathy apologizes and leaves town (with Bill?!).
One very surprising development within the Kathy storyline is her budding relationship with Maddie's ex-husband Bill (Chris Klein). They connected (somehow unseen by the nosier Serenity residents) throughout the season, and their romance coincided with Bill wanting to be there more often for all of his children. However, that ship had mostly sailed, as Ty and Kyle are busy teenagers, Noreen (Jamie Lynn Spears) doesn't want him around their newborn TK, and his grown son Isaac (Chris Medlin) also didn't want anything to do with him. (Sometimes I forget how much drama this show contains until the "Issac's Bill and Peggy's son" thing comes up.) By the end of the season, Bill makes an interesting decision when he shows up unannounced to the vow renewal with Ronnie's sister.
Surprisingly, Kathy's there to bury the hatchet. She gifts Ronnie their family's tea set, which has been passed down from first daughter to first daughter, and she gives a teary apology to Dana Sue as well. (Kathy's motivation seems to be finally getting her money and some light nudging from Bill, but that's a pretty quick resolution to literal decades of vandalism-inducing anger.) Kathy and Bill then announce that they're on the way out of town, though Bill tells Maddie that his departure is temporary, and to tell the kids that he's only a call away. This is a big change for Sweet Magnolias; with all three of the legit antagonists gone (Bill and Kathy to wherever and Mary Vaughn to Castlewood), who will instigate the drama of next season? Guess we'll have to wait to see what the writers have in store for a possible season 4.
Marie Claire email subscribers get intel on fashion and beauty trends, hot-off-the-press celebrity news, and more. Sign up here.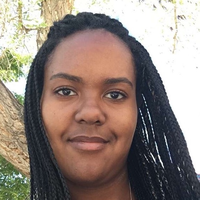 Contributing Culture Editor
Quinci LeGardye is a Contributing Culture Editor who covers TV, movies, Korean entertainment, books, and pop culture. When she isn't writing or checking Twitter, she's probably watching the latest K-drama or giving a concert performance in her car.