Are Alexa and Brennon From 'Love Is Blind' Still Together Now?
They said "I do"!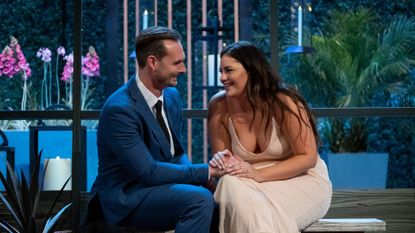 (Image credit: Courtesy of Netflix)
The first couple to get engaged in Love Is Blind season 3—the first of five couples in this season's cast who agree to get married without ever seeing each other—are Brennon Lemieux, a 32-year-old engineer, and Alexa Alfia, the 27-year-old owner of an insurance agency. "Alexa is making me a believer in this process," Brennon says in an on-camera interview. In the next scene, he's shown proposing to Alexa: "I want to spend every day of my life trying to make you happy in any way I can...Will you marry me?"
The second episode opens with the season's first big reveal, when Alexa and Brennon finally get to see each other in person. (Alexa puts it best: "What the fuck?" is the first thing she says as the doors open.) Brennon proposes once more, and Alexa once again says yes. "I have zero words," she says in an on-camera interview. "I'm like, obviously, really happy."
What happened to Alexa and Brennon on 'Love is Blind'?
The first four episodes of the season, which dropped on Netflix October 19, follows Alexa and Brennon's journey from the pods to Malibu, where they spend their first real time together as an engaged couple. For the most part, Alexa and Brennon appear to be one of the most promising couples within those first episodes, but there's one early hint at potential trouble in episode four. Speaking about their families, Alexa tells Brennon that her family doesn't hold back—"Even with the kids, [we're like], Stop being such a f***king p****y right now"—and Brennon looks a little concerned, saying, "With our kids, I'm definitely, like, Sit up straight for every meal. You know what I'm saying?"
"No," Alexa responds.
As the couple meets each other's family and friends, it becomes clear that they grew up in very different ways. Brennon shares that his family lived in poverty at points during his childhood, where Alexa obviously comes from money (with a huge, gregarious network of family and friends). Alexa's father even told Brennon that he was afraid Alexa's fiancé wouldn't be able to provide the lifestyle that she's used to. However, when Alexa asks Brennon for a prenup, he readily agrees, and they still seem like the strongest couple when it comes to overcoming their differences.
Though Alexa and Brennon are still the fan favorite couple of the season, one guarantee about Love is Blind (and its sister show The Ultimatum) is that the wedding days will bring some surprising decisions. The audience doesn't see everything that happens between the couples on camera, and judging by the preview for the finale, something could change Brennon's mind. While Alexa's calmly preparing for the ceremony, telling her mom that she would be "shocked beyond repair" if Brennon got cold feet, the man himself says that he doesn't feel like himself on the wedding day. We also get a brief shot of him crying with his parents outside of the venue.
Luckily for Alexa and Brennon believers, the actual wedding day goes smoothly in the finale! (Netflix tried it with the crying clip, so props if you never doubted.) The couple makes it to the altar and exchange very beautiful vows before they both say yes. Also, as of the reunion, they are still together and happy (but more on that below).
Once the show began airing, both Alexa and Brennon began sharing sweet posts reflecting on the experience. They've highlighted the importance of several moments on the show, including Brennon meeting Alexa's family and their first in-person meeting after the pods. The captions read like either a happy couple remembering their engagement, or a pair who have split but remember their relationship with fondness.
Are Alexa and Brennon still together?
During their reunion appearance, the married couple looked in love and confident as ever, sharing that they've gotten through some issues as newlyweds. Though there was some conflict when they first moved in together, Alexa said that they got through it with this absolute gem of advice: "Don't let roommate problems become marriage problems."
The couple also opened up in an interview with Extra, revealing their rings and sharing that they haven't been wearing them out in public before the finale. "We had a full year and a half to really be, like, confident in our relationship before putting it in the public eye because people can be assh*les," Alexa said.
The pair also said that they're putting in the work to keep their marriage happy and the romance alive. "We talk constantly about the ins and outs of everything," Alexa told the outlet. "Like every few months, we'll check in with each other, like, 'Do I need to do anything more as a wife, as a husband, as a partner?'"
So with that, the fan-favorite couple of Season 3 are a married pair. Congrats to the happy couple!
Celebrity news, beauty, fashion advice, and fascinating features, delivered straight to your inbox!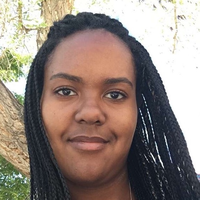 Contributing Culture Editor
Quinci LeGardye is a Contributing Culture Editor who covers TV, movies, Korean entertainment, books, and pop culture. When she isn't writing or checking Twitter, she's probably watching the latest K-drama or giving a concert performance in her car.