Are Jackie and Marshall Still Together After 'Love Is Blind'?
The pair have spoken out about their [spoiler] in Episode 10.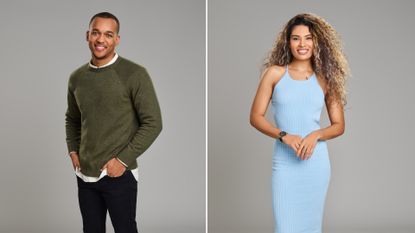 (Image credit: Netflix)
During her time in the pods, Jackelina "Jackie" Bonds, a 27-year-old dental assistant on Love Is Blind season 4, was "really conflicted" about choosing Marshall Glaze, a 27-year-old marketing manager, or Josh Demas, a 31-year-old project engineer. Ultimately, Jackie chose Marshall, in large part because she felt that Josh didn't support her when she was struggling with her decision. "Marshall is just the better choice for me," she said at the time in a confessional. "He is emotionally available. He's able to handle my spiciness, my attitude. He knows how to basically make sure that I'm feeling good and solid."
The two got engaged and had a sweet first meeting post-pods, with Jackie joking with the rest of the Love Is Blind season 4 cast in Mexico that she and Marshall had quickly connected physically, too. But after that, things got bumpy—and judging by the trailer for the rest of the season, it's about to get bumpier.
What happens between Marshall and Jackie on 'Love is Blind' season 4?
Jackie and Marshall seem to have an instant connection in the pods, with Marshall later saying that Jackie was the only person he saw himself with. Of course, part of the LIB process is speed-dating multiple people at once, and Jackie becomes torn between Marshall and project engineer Josh. When it becomes clear that Josh is also all in on Jackie, Marshall fights for her, clearly expressing his interest and the life he wants to build with her. Soon after, Jackie decides to commit to him as well.
The pair later get engaged, and they quickly hit it off when they meet in person and in Mexico. By the end of the Mexico trip, they appear solid and determined to make their relationship work in the real world.
But Jackie is worried about returning to real life and outside pressures throughout the trip, and during one of their Mexico dates, she admits to Marshall that though she recognizes that he is good for her, she's worried she will revert to her old ways and end up pushing him away. Later that night, Jackie breaks down and begins crying, saying that she has to "go back to that s---" at home, and she has "so many people to take care of." Marshall is comforting and supportive throughout the breakdown, and gives her space when she asks, before she opens up to him again. The couple have a good time for the rest of the vacation, though they do have conversations about what will happen to them in the real world, where Jackie is clear that she wants to be all in with Marshall.
Following the LIB premiere, Jackie revealed in an Entertainment Weekly interview that she was dealing with a lot back home that she couldn't ignore while on the show.
"My father, he's sick," she told the outlet. "He has cancer, so I have to take care of him when I go home every weekend. I make sure that my parents are good, the bill is paid—my dad can't work no more. I have a lot of family stuff that I have to tend to. Family always comes first. And also, my brother being released from prison, it's like I have another person to take care of."
"My life is not for someone who can't be up to par in supporting me, and just making sure that you understand my life and knowing that this is always going to be a part of me," she added. "That was an emotional moment for me because I didn't feel like, at that moment, Marshall was up to par and ready for all of the reality that I have back home."
Once they arrived back in Seattle, the couple move in together and began blending their lives, with Marshall introducing Jackie to his family. However, they end up having an off-camera fight that was previously teased, and Marshall spends the night away from their apartment. In his testimonial, he calls their relationship "bleak" (oof) and says Jackie told him to "boss up" and be a man. Once they begin arguing again as he enters the house, we learn that Jackie's comment was related to wanting Marshall to be more aggressive in the bedroom, but Marshall is focused on the emasculating comment. At one point Jackie comments, "You didn't wanna sit here and talk. You're like, 'I'm leaving.'" Marshall replies, "What else am I supposed to do? Sit in my feelings and sleep next to someone who said I was not man enough for this?" Then, as the fight goes on, Marshall admits that he didn't see Jackie as his dream woman, but as a "project" with "potential."
From this argument, their relationship seems to quickly dwindle (with the fight possibly being a moment of no return). They arrive to Chelsea's birthday separately, and Josh also shows up and starts hitting on Jackie, telling her she should dump her "M.B.A. cry boy" for him. Once they arrive back at their apartment, Marshall asks Jackie what she needs from him, but Jackie brings back up the "boss up" comment without giving examples, brushing it off because she's tired.
By the episode 9-11 drop, it's clear that Jackie and Marshall won't make it to the altar. While all the other cast members are attending their suit and dress fittings (including Marshall), Jackie decides to skip and meet up with Josh instead. During the chat, Jackie admits that she found Josh attractive when she met him at Chelsea's party, and she admits that Marshall is "too sensitive" for her and couldn't "boss up." When Josh tells her that he wants them to be together, Jackie admits that she made the wrong choice and wants to date him now. Jackie and Josh end the meeting with a kiss, and soon after, Marshall leaves the suit fitting and goes to talk with her.
Later that day, Jackie tells Marshall that what she felt in the pods was real, but that she's now emotionally drained and that Marshall needs a lot of security. Marshall admits that he's emotional, but also points out that he has tried to adjust to her level of discussion. Finally, Jackie admits that she can't be with him because she's attracted to Josh, and that she "just saw" him and he confessed his feelings. (Before this moment I wondered if this timeline was edited, but it does seem like she met with Josh during the dress and suit fittings. Or maybe she was talking about just seeing him at Chelsea's party?) She says that she doesn't know whether she'll now be with Josh, but she is sure she can't be with Marshall. (Marshall also asks for the ring back, but Jackie says she's going to keep it, because she accepted it in good faith in the pods.)
Though Jackie doesn't appear in the rest of season 4, Marshall does attend one of the weddings! He's on hand to celebrate Brett and Tiffany's nuptials, and he has a sweet moment with Brett where the men continue their bromance that has been forming all season. While the touching moment centers on their friendship and Brett thanking Marshall for his support throughout the process, Marshall does admit that it's a bit rough seeing what could've been. Of course, Brett assures that what is meant to be will be, and that Marshall and Jackie just weren't met for each other.
Are Jackie and Marshall still together?
Rather than the season's other spoiler-free couples, it became pretty clear that Jackie and Marshall did not make it past the experiment after a recent spotting in Seattle. Per the Love Is Blind subreddit, a TikToker spotted Jackie and Josh attending a baseball game together ahead of the episode 9-11 drop. Soon after, an alleged text conversation between Jackie and some friends from last May was anonymously leaked, where Jackie sent a selfie video of herself and Josh with the caption "My baby." (The original posts with the texts was deleted from Reddit, but several TikTokers have included them in recent posts.) As of now, Jackie has not confirmed the authenticity of the texts, nor has she publicly denied allegations that she was dating Josh during the show's filming.
Further down in the conversation, Jackie allegedly tells her friends that she didn't like some of Marshall's behaviors, including him twerking on the bed and using language like "yasss," saying that Marshall can be "sweet." She also tells her friends not to mention at the wedding that she thinks Marshall has a "sugar in his tank," adding "we gotta make it stretch for tv." The phrase "sugar in his tank" has commonly been a euphemism for a straight man having feminine or heterosexual traits. After the leaked alleged conversation went viral on Reddit and TikTok, Marshall seemed to subtweet Jackie, writing "The only 'sugar' I got goes on those f*cking pancakes."
While the whole Marshall-Jackie-Josh love triangle is sure to be a main topic of conversation during the live reunion special on April 16, Marshall and Jackie have also given several interviews about their breakup as of April 7. While speaking with Entertainment Weekly, Jackie said that her date with Josh did not happen on the same day as the tux fitting, and that she and Marshall had already broken up at that point.
"When Marshall was at his suit fitting, I was not on the date at that time," she told the outlet. "That date was on a whole different day. When he was at the suit fitting, I was actually at the townhome waiting for him to come back so I could break up with him. And when I went on the date with Josh, I'd already had that conversation with Marshall. We were already broken up."
Jackie went on to say that she has no beef with Marshall, and said that she chose Marshall in the pods because he was a different type of guy than the ones she usually dated, which have been more like Josh. "I was just like, 'Okay, let me go and see if this [works],'" she said. "And Marshall taught me a lot. Marshall was like, 'You need to be considerate of others, you need to be more open.' He actually showed me genuine love. Marshall really did love me, and now I know how I should be treated, how I should be carrying myself, how I should be mindful of my person. It wasn't all like, 'You can go burn in hell!'"
As for Marshall, the marketing manager revealed to Entertainment Weekly that he actually didn't know about Jackie and Josh's date until season 4's airing. "I learned that today," he told the outlet. "I had an adverse reaction when I first heard it, but it is what it is at this point. I can't go back and try to reconcile those feelings that I already have. Personally, I've moved on, so thinking about the timeline and how it worked out, it just makes sense. So that's a piece of information that I was missing before. But now I have it and I'm still moving forward."
He also told EW that he felt the relationship he thought he had with Jackie in the pods never translated to the real world. "When we got back to Seattle, I felt like I was waiting for her to come around the entire time," he added. "It was never a time that I felt like that we were in the same kind of relationship status that we were in the pods. How it ended was very abrupt, I will say that. Then really, just the fact that it never got to the point that I was expecting, that was also very hard for me."
He also said that the breakup was the last time he spoke with Jackie, in case anyone needs to feel more impatient for the reunion to come.
Celebrity news, beauty, fashion advice, and fascinating features, delivered straight to your inbox!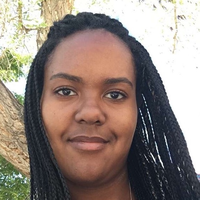 Contributing Culture Editor
Quinci LeGardye is a Contributing Culture Editor who covers TV, movies, Korean entertainment, books, and pop culture. When she isn't writing or checking Twitter, she's probably watching the latest K-drama or giving a concert performance in her car.