Are Johnie and Chris Together Now After 'Love Is Blind' Season 5?
The couple reunited after the pods—but are they still dating a year later?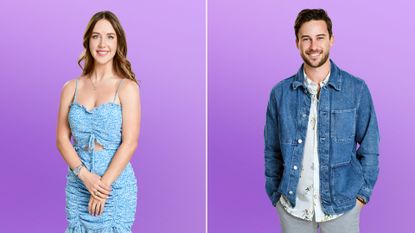 (Image credit: Monty Brinton/Netflix)
For the past few seasons of Love Is Blind, some of the most surprising developments have been from couples who didn't make it through the traditional proposal-Mexico-cohabitation-altar. (See the post-altar breakup between Raven and SK and the surprising reunion of Bliss and Zack). In season 5, Johnie Maraist and Christopher Fox were a couple whose initial connection didn't withstand the love triangles of the pods, with Johnie choosing instead to explore her connection to Izzy Zapata. However, Johnie and Chris ended up reconnecting when the cameras weren't rolling, and by episode 7, they're officially boyfriend and girlfriend. Did this relationship last the test of time? (Or at least the year between season 5's filming and premiere.) Read on for what we know about Johnie and Chris's relationship.
What happens between Johnie and Chris on 'Love is Blind' season 5?
Lawyer Johnie and project manager Chris made a quick and easy connection in the pods, and they even share some sentimental moments as Chris opens up about his past. However, while Chris seemed solely committed to Johnie, she was also interested in sales professional Izzy, whom she admits is her no. 1 in the pods. After some consideration, Johnie ends things with Chris to explore her connection with Izzy. Chris is devastated, but he respects her decision. However, things shift when Johnie opens up about the things in her past that made her what she described as a "walking red flag," including dating someone with addiction and marrying someone she didn't really love. After she shares this, Izzy begins having second thoughts, and he eventually breaks things off with Johnie and gets engaged to entrepreneur Stacy.
After things end with Izzy, Johnie felt increasingly worried that she might have let go of someone who genuinely cared about her. She decided to re-enter the pods with Chris to try to restart their connection, and while Chris was open to the thought, he also admitted that it felt horrible to be the second choice. Also, following Chris and Johnie re-entering the pods, Izzy and Chris ended up comparing notes about their conversations with Johnie, and Izzy especially felt that she was telling the two men different things. In the end, Chris felt too conflicted, and decided not to propose to Johnie as they both left the pods heartbroken.
Fast-forward to the pod-people reunion party in Houston, and a lot has happened off camera. While everyone else was off in Mexico and moving in together, Johnie and Chris met in person at the airport and soon began dating. At the party, Johnie reveals that they're officially boyfriend and girlfriend. Her mom even met Chris, and Johnie explains through happy-emotional tears that the elder said within the first five minutes that Chris was the best guy Johnie ever dated. Johnie seems to just want to let bygones be bygones and move on from all the pod drama, but unfortunately, Stacy and Izzy don't agree. While Stacy is still pissed at Johnie for talking bad behind her back when they were both interested in Izzy, Izzy brings back up the mixed messages Johnie told both Chris and Izzy, and says that it's concerning that she's now with Izzy. Johnie leaves her conversation with Izzy in tears, after he says everyone thinks she's "sketchy as f--k." Later (when the party continues into a new weekly drop), Izzy sits Chris down and warns him about Johnie's sketchiness, saying that he doesn't want Chris to be taken advantage of by her. Chris doesn't seem at all concerned by this. Eventually both Johnie and Stacy make their way over to the conversation, where Stacy and Izzy team up on Johnie. The important takeaway (besides Izzy and Stacy's subsequent fight when they get home) is that Chris and Johnie seem solid throughout the events.
Are Johnie and Chris still together?
Both Johnie and Chris attend the reunion, where they reveal the frankly wild story of what happened in their relationship. It turns out that Johnie didn't see Chris for a few weeks after the mid-season party, until eventually one of Johnie's friends told her that she'd seen Chris out with another woman(!). That marked the end of their relationship, as Chris essentially ghosted her. When asked for his take, Chris confirms that all this happened, saying to Johnie, "one of my biggest regrets is not being forthcoming with you." He's since apologized, and he's now living with the woman after dating for over a year. Also, while Johnie was devastated at the time, she's since moved on and has been dating someone for a year.
In another wild development, Johnie and Izzy also ended up reuniting shortly after filming. About a week after Izzy and Stacy split for good (and about two weeks since the weddings), he and Johnie met during a bar outing with the cast, and they ended up making out in Izzy's Jeep. "I obviously was in no position to be dating, wasn't over Stacy and it was too soon for [Johnie] for how I treated her at the end," Izzy says during the reunion. "We were not each other's person, so we stayed friends after that, we're cordial." Also, Chris was there that night with his new girlfriend, and Stacy later found out about the makeout session through friends. And with that, two love triangles come to an end.
Marie Claire email subscribers get intel on fashion and beauty trends, hot-off-the-press celebrity news, and more. Sign up here.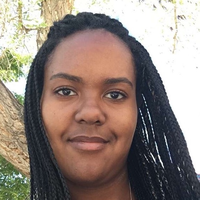 Contributing Culture Editor
Quinci LeGardye is a Contributing Culture Editor who covers TV, movies, Korean entertainment, books, and pop culture. When she isn't writing or checking Twitter, she's probably watching the latest K-drama or giving a concert performance in her car.