Are Stacy and Izzy Together Now After 'Love Is Blind' Season 5?
They survived the love triangle, but will the real world tear them apart?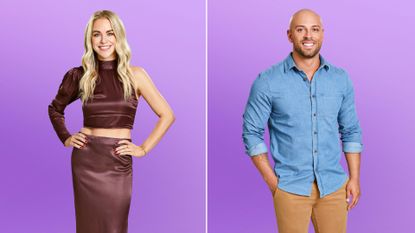 (Image credit: Monty Brinton/Netflix)
The fifth season of Love Is Blind has its fair share of love triangles, but Stacy Snyder and Ismael "Izzy" Zapata Jr. found each other in the end. The pair were one of the most easygoing pairs among the Love Is Blind season 5 cast, and Stacy stayed on Izzy's mind even as he explored connections with other women. Eventually, they left the pods as one of three engaged couples of the season, but will they make it through whatever serious issues pop up once they return to the real world? Read on for what we know about Stacy and Izzy's relationship so far.
What happens between Stacy and Izzy on 'Love is Blind' season 5?
Izzy, a 31-year-old sales professional from Houston, is a popular man when the pods are opened. Right from the start, he catches the attention of three women: geologist Lydia, lawyer Johnie, and 34-year-old pilates enthusiast Stacy. He soon realizes that he has stronger connections with Johnie and Stacy, and breaks things off with Lydia. It's not so easy to choose between the remaining two, though. While he's drawn to Stacy's confidence and their easy conversations, he and Johnie seem to have more of an emotional connection, and he even opens up to Johnie about his childhood as a Jehovah's Witness and his fear of rejection after his previous engagement. He's also both of the women's no. 1 pick, with Stacy even writing a poem about how giddy he makes her.
Though at one point Izzy says that Johnie is his no. 1, things shift when Johnie opens up about the things in her past that made her what she described as a "walking red flag," including dating someone with addiction and marrying someone she didn't really love. After she shares this, Izzy shuts down, and asks whether she thinks anyone could ever fill the role of her first love, who previously died of an overdose. Though Johnie answers that she is capable of being in love again, Izzy retreats into his head. Meanwhile, on his next date with Stacy, she gets vulnerable and opens up about how much she likes Izzy, admitting that it takes her a while to build trust, and that she's scared because she hasn't felt so much for a person in a long time. The emotional conversation takes their connection to the next level, and Izzy soon breaks up with Johnie to be with her.
In their next date after the breakup, Izzy and Stacy are excited to focus on each other. However, the mood shifts after Izzy describes his feelings for her as similar to finding a first love. When asks where Stacy's at with "the L-bomb," Stacy says that they're headed toward that direction, and she knows she'll be able to say it to him "when it's right." This gives Izzy pause, but Stacy also admits that she's just not good with sharing her emotions. Still, both of them are fully committed, and Izzy soon gets down on one knee, with her responding with an enthusiastic (straight-up yell of) "YES!" Their in-person proposal also goes smoothly, and they leave the pods engaged.
Stacy and Izzy have a very chill and romantic time in Mexico, as they're obviously attracted to each other and happy. Stacy mentions that she wants Izzy to toss her around, and at one point they do the Dirty Dancing lift, so mission accomplished. (They also meet the rest of the engaged couples, and Izzy and Lydia have a peaceful reunion.) The proverbial honeymoon ended Stacy and Izzy moved in together in the real world and see how their lives are very different. It turns out that Stacy's family is quite wealthy—though fashion girlies may have already clocked that via her accessories in the pods—and she has expectations about her husband contributing his fare share and picking up every dinner-date bill for the entirety of their marriage. She also hints that her former boyfriends and others have tried to take advantage of her family's money in the past.
While Stacy is a proud homeowner who's concerned about affording any random repairs that may pile up, Izzy is a self-acknowledged bachelor and his apartment shows that. He doesn't have a nightstand (not that big a deal). He doesn't own any non-disposable plates or cups (more concerning). The detail Stacy finds issue with is his "lost and found" drawer in his bathroom, where he keeps the detritus that hook-ups leave behind...in case they come back for it? Izzy's reasoning for why he doesn't throw these things away doesn't make sense to Stacy, and he thinks the plate thing is just her being materialistic. We also see Izzy meeting Stacy's family, who get along great with him but are also a bit amazed that Izzy has never had a passport or been to New York. At one point, Stacy's dad takes Izzy for a private chat and brings up that in an ideal world, Stacy's husband would be able to help her keep up her current lifestyle. This is where we get the "sometimes love wants to fly first class" soundbite. Despite the monetary concerns, Stacy's dad says that he likes Izzy, and seemingly gives his blessing.
The second episode drop ends with the typical post-Mexico reunion party and... yeah, this one's especially rough. While the Uche and Lydia drama is happening on one level, both Izzy and Stacy have bones to pick with Johnie, who has begun dating her no. 2 in the pods, Chris. Stacy is still pissed with how Johnie insulted her behind her back in the pods, once the women found out they were both interested in Izzy. In his conversation with Johnie, Izzy brings up the drama between him, her, and Chris in the pods, adding that he's heard some new sketchy stuff about her since they all left and that the fact she's with Chris now is concerning. He essentially calls her sketchy and a bad person until she leaves the conversation, and then he goes to Stacy afterward to brag about how the conversation went and say how relieved he is that he's with Stacy.
If the Johnie and Izzy conversation wasn't uncomfortable enough, he and Stacy are shown spending the rest of the evening pretty much ganging up on her. Stacy keeps making mean little asides about Johnie while the group's having conversations about Uche and Lydia. Meanwhile, Izzy is talking to Chris alone, and saying that though he's "happy" for him and Johnie, if he were Chris, he would still be mad about what she pulled in the pods. He even tells Chris the amount of times that Johnie said she loved him in the pods. Eventually all four are in the conversation together and Stacy and Johnie directly have it out. Stacy's telling Johnie that she's full of s--t, and Izzy's telling Johnie not to call what they went through in the pods a "breakup." After they're done talking, Johnie's crying again and Stacy's reiterating to the rest of the group that Johnie's full of s--t.
In theory, none of the above should factor that much into Izzy and Stacy's relationship, but they're still talking about it as they return to their shared apartment. Izzy keeps talking about wanting to look out for Chris, and Stacy keeps asking why he cares so much about Chris and Johnie. Izzy says again that seeing Johnie again made him so much more glad that he chose Stacy, and Stacy says she's pissed that the appreciation is coming from her being grouped in with Johnie. Stacy also wants Izzy to be grateful for her in the small, everyday moments, not only after he's "confronted with crazy." The argument then shifts into Stacy comparing the acts of service Izzy said he'd do for her in the pods versus what he's actually done now that they live together. In the releasing of tensions, Izzy also admits Stacy makes him feel that he's not good enough for her. Izzy goes off into a private room to cry, and he's still feeling hurt from the conversation when he visits Stacy at her gig teaching pilates the next day. Stacy reassures Izzy that she appreciates everything she does, and they affirm that they're still there for each other.
The rest of their time before the wedding is smoother sailing. Stacy meets Izzy's mother and it's a sweet, emotional conversation where Izzy's mom gives her approval and expresses that she just doesn't want her son to get hurt. They take a ride on a fighter jet for their final date, and they have a deep conversation about the future, and Izzy shares his excitement to not only marry her but join a big loving family. However, everything's taken a turn by their next scene, right before the wedding. Apparently, they had an offscreen conversation where Izzy revealed something to Stacy about his finances that made her feel like she can't trust him. He hadn't mentioned anything about his bad credit in the pods, and Izzy says that he wanted to wait to tell her until they could sit down and have a proper conversation about it. However, to Stacy that omission feels like a lie.
When the pair arrive at the wedding venue days later, the financial bombshell is still on Stacy's mind. While Izzy seems very confident and tells his friends that he plans to say yes at the altar, Stacy admits that though she loves him, the fact that he kept the information from her is a concern, especially when their finances had already come up multiple times. "It's not about the credit card. It's about being totally transparent in a time where transparency is absolutely needed," she tells her mom. Before they make the walk down the aisle, Izzy even gives Stacy a rhyming handwritten love note, and though it reminds her of things she loves about him, she still looks conflicted after she reads it.
Finally, they make it down the aisle, and give their emotional speeches. When it's time for vows, Izzy says yes, but Stacy says no. "I would be doing you and I a disservice right now to say yes when I feel like there's a lot of things that we need. And more than anything, we need time," she explains.
At first, Izzy says he understands and he loves her, and they share a kiss before she leaves the venue first. However, it's clear that Izzy's shaken, as he gives a testimonial in tears. When they eventually speak outside, Izzy admits that he sees returning to dating and building their relationship as "going backwards," and that a timeline didn't matter for him. "It's like she's always trying to find something wrong," he says in the testimonial. He goes on to lash out at her, mentioning that he saw past looks and money, and even questioned why Stacy was still single at 33. It's a rough jab, and his post-wedding comments will likely come up at Sunday's reunion.
"The whole point of this [experiment] is, Does it matter?," he says. "Does a credit score matter? Does the car I drive matter? Does where I go to f---ing dinner matter? None of that matters to me. It makes me wonder, 'Why are you 33 and single and not married?' I'm 29 years old and I can give you everything that a f---ing rich, 45-year-old man that you always go for and always fail with can't give you."
Are Stacy and Izzy still together?
Ahead of the finale's airing, Izzy and Stacy appeared to be on good terms based on their Instagram interactions. The pair follow each other, and per Insider, they've consistently liking each other's posts since this past summer. However, the biggest hint at the couple's relationship status ahead of the finale came not from the pair themselves, but from TMZ! On October 4, the gossip site published photos of Izzy out and about in Southern California with a blonde woman who is not Stacy. Per the article, he and the unknown woman appeared to be on a date, and Izzy shared Instagram Stories of the same outing, but without showing his companion.
At the reunion, Stacy and Izzy reveal that they officially ended things soon after the wedding. After spending some time to themselves, they went on a date a week later and realized that they weren't going to work out. Stacy explained, "I felt like we needed to start over and I feel like [Izzy was] just like, 'If we're starting over and going backwards, I don't want to do it."
The pair went their separate ways and did not speak for a year, before they eventually ran into each other at a Houston bar and reconciled. They hung out a few times after and even kissed, but they "knew it was best not to hurt each other and confuse each other again," per Izzy. They're now friends, and they even had another notable surprise run in at a cooking class that they were both attending with their own dates. Also, if anyone was curious, Izzy actually reconnected with Johnie at a Houston bar meetup with the season 5 cast, which happened about a week after he and Stacy broke up. Johnie had since broken up with Chris (who was also there with his new girlfriend), so she and Izzy ended up making out in his Jeep before they decided not to rekindle things and went their separate ways. Moral of the story: be wary of Houston bars.
Celebrity news, beauty, fashion advice, and fascinating features, delivered straight to your inbox!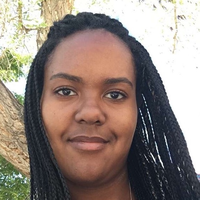 Contributing Culture Editor
Quinci LeGardye is a Contributing Culture Editor who covers TV, movies, Korean entertainment, books, and pop culture. When she isn't writing or checking Twitter, she's probably watching the latest K-drama or giving a concert performance in her car.