Are Shayne and Natalie Together After 'Love Is Blind'?
The people need to know!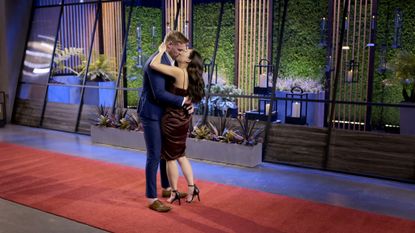 (Image credit: Netflix)
Marie Claire Newsletter
Celebrity news, beauty, fashion advice, and fascinating features, delivered straight to your inbox!
Thank you for signing up to Marie Claire. You will receive a verification email shortly.
There was a problem. Please refresh the page and try again.
The first episodes of season 2 of Love Is Blind aren't smooth sailing for Shayne Jansen and Natalie Lee. Shayne, who we're introduced to by way of Iyanna saying he's annoying, hits it off with Natalie—but he hits it off with Shaina, too, who also hits it off with Kyle. Amid the emerging love square, Natalie and Shayne make a strong connection in the pods. "I put a star by your name," Natalie says to Shayne after their first pod-date. "It was so easy to talk to you...I just liked your energy," Shayne responds.
Eventually, after they recover from an exceptionally awkward moment in which Shayne thinks he's talking to the wrong woman (I, personally, will never recover), Natalie and Shayne get engaged and get to finally see each other in person. "I feel like I've known her forever," Shayne says. They see each other, they kiss, it's all very lovely—and then real life starts. Sort of.
First, they go to Mexico, where they quote-unquote build on their connection. Then they're back in Chicago, where Shaina basically tells Shayne it isn't going to work out (oof); Natalie meets Shayne's mom; and Shayne meets Natalie's parents. (Big fan here of all the parents involved in this relationship—especially Natalie's always-optimistic dad.) The couple pick dresses and tuxes, have bachelor and bachelorette parties, and get ready for their wedding day—and that's where we left things, until the finale dropped on February 25.
Did Natalie and Shayne get married?
No. The morning of the wedding, Natalie says in a confessional, "I'm nervous, I'm stressed. Last night, Shayne and I got in a fight. It was a really bad one, and he said some really hurtful things to me...He got really, really angry at me."
The two make it to the altar, where Shayne says, "It's so hard to describe what we've been through...I love you. I do. A thousand times over. You're my best friend. There's no-one else I'd rather do this with. My entire life."
As for Natalie? "I'm so glad that we shared this journey together," she says. "I think we've grown a lot as two people who have fallen in love. I know I've grown a lot because of you. But I don't. I'm so sorry." She says quietly, "I still love you and you're still my best friend. But we have really big issues to sort through."
Afterwards, the two get into a heated discussion outside the chapel, with Natalie saying, "We can still try to work on this. I'm not closing the door on us."
Shayne then says in a confessional, "I'm f***ing hurt. I'm very hurt. I'm very sad...I said what I had to say. I don't know. I need time to process it. It's all a blur right now, like, what's going on?"
Natalie, meanwhile, says, "I feel like a weight has been lifted off my shoulders...When I was walking down the aisle with my dad, I thought about how my dad makes me feel. So safe and secure. And it's because I know that he always puts me in front of him. And I can trust him fully. And I realized I just don't have those same feelings any more for Shayne."
Are they together now?
No, although they've definitely on better terms than other couples who got engaged on the show (Shake, I'm looking at you). Natalie said in an interview with People: "A week after our wedding, we started dating again...Maybe it's not dating—we continued our engagement again. We were together for several months...I think at the end of it, we realized that we're very different people with different needs and wants that we can't fulfill for one another. We did take a break in communication after that, just to get into a better place."
Shayne, for his part, posted to Instagram: "As a man watching our story over again I'm remorseful for my actions and all I can do is learn from them to be a better man...I'm proud of being vulnerable and being as genuine as possible. I don't know what's next for us but I do know that I will never stop loving you." Natalie commented: "You are a better man ❤️" on the post.
Celebrity news, beauty, fashion advice, and fascinating features, delivered straight to your inbox!