The Cast of 'The Fall of the House of Usher'
Meet the stacked cast of Netflix's outrageous and horrifying series.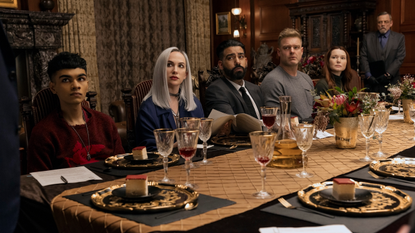 (Image credit: Eike Schroter/Netflix)
Horror fans, time to gather around the TV; Mike Flanagan's latest terrifying series has just hit Netflix. This time, the writer and director who has become a fan favorite for his creepy, bone-chilling miniseries draws inspiration from Edgar Allan Poe, in eight episodes filled with jaw-dropping, horrific scenes as well as a surprising amount of pop culture references for a Flanaverse show. Adapted from Poe's short story of the same name and filled with details from Poe's other works, The Fall of the House of Usher follows the ruthless duo of Roderick (Bruce Greenwood) and Madeline Usher (Mary McConnell), a pair of siblings who have built Fortunato Pharmaceuticals into a wealthy empire (as well as a leading figure in the show universe's opioid pandemic—there's not many degrees of separation between the Ushers and the Sacklers). When each of Roderick's children begin to die in a series of tragic events, the corrupt CEO must reckon with the secrets of his past, as well as the reappearance of a mysterious woman (Carla Gugino).
As is "Flanaverse" tradition, several of Flanagan's frequent collaborators have returned to fill out this troubled, dysfunctional family which makes the Roys look like the Brady Bunch. In addition to many familiar faces from shows like The Haunting of Hill House and The Midnight Club, the show also brings on several award-winning veteran actors, including a living sci-fi legend. Read on for an introduction to the wide-ranging cast of The Fall of the House of Usher.
The Ushers
Bruce Greenwood as Roderick Usher
Previous Flanaverse Shows: N/A
Instagram: @officialbrucegreenwood
Roderick Usher is the patriarch of the Usher family and CEO of Fortunato Pharmaceuticals. After acquiring Fortunato with the help of his twin sister, Madeline, the Usher family has found success and wealth at the cost of the greater good. An ambitious and driven man, Roderick expects the most out of his six children, giving them access to every resource imaginable — except his fatherly affection.
Greenwood is a veteran actor who currently stars as Dr. Randolph Bell in the Fox medical drama The Resident. He has also appeared in the series Mad Men and The People v. O.J. Simpson: American Crime Story, as well as numerous movies including Star Trek; Star Trek Into Darkness; I, Robot; The Place Beyond the Pines; Flight; The Post; and Kingsman: The Golden Circle. Though he hasn't appeared in any of Flanagan's Netflix series, he previously worked with the filmmaker on the 2019 adaptation of Stephen King's Doctor Sleep, and also played the titular Gerald in the 2015 horror film Gerald's Game.
Mary McDonnell as Madeline Usher
Previous Flanaverse Shows: N/A
Instagram: @theladybam
Intelligent and calculating Madeline is the brains behind both the elder Ushers and Fortunato. She loves Roderick and is always there to give him confidence and advice when he falters, but her unrelenting drive means she's also willing to step over him if it's necessary.
McDonnell is an Oscar- and Emmy-nominated actress who is best known for playing President Laura Roslin on Battlestar Galactica, and Sharon Rayder on the TNT shows The Closer and Major Crimes. She has also starred in acclaimed films including Independence Day, 12 Angry Men, Donnie Darko, Margin Call, and Scream 4.

Henry Thomas as Frederick Usher
Previous Flanaverse Shows: The Haunting of Hill House, The Haunting of Bly Manor, Midnight Mass, and The Midnight Club
Instagram: @hjthomasjr
Frederick Usher, Roderick's eldest son, is the natural heir to his father and the least equipped to lead a major corporation, which Thomas described as "a composite of Donald Trump Jr., Hunter Biden, and Fabio." Over the course of the show, his fierce jealousy and building insecurity force him down a dark path.
Thomas—one of the only actors who has appeared in all five of Flanagan's Netflix shows—started acting as a child, getting his first big role as Elliot in E.T.: The Extra-Terrestrial. Over his prolific career, he has appeared in shows and films including Gangs of New York, Dear John, To All the Boys: Always and Forever, Better Things, and Stargirl. In addition to his Flanaverse appearances, he also worked with the director on the 2016 film Ouija: Board of Evil, Gerald's Game, and Doctor Sleep.
Samantha Sloyan as Tamerlane Usher
Previous Flanaverse Shows: The Haunting of Hill House, Midnight Mass, The Midnight Club
Instagram: N/A
The second-eldest Usher sibling Tamerlane knows she'll never be the Fortunato heir (even though she's much more competent than her brother), so she has found a new career path in the health and wellness world. She has the "perfect" marriage with her fitness influencer husband Bill T, but their polished life (and her constantly anxious mind) is beginning to crumble.
Sloyan is best know for her collaborations with Flanagan (which also include the 2016 film Hush) and fellow Netflix mega-producer Shonda Rhimes, as she previously played Jeanine Locke on the early seasons of Scandal and Dr. Penelope Blake on Season 12 of Grey's Anatomy. The California native has also appeared in films and shows including In the Key of Eli, Parks and Recreation, SEAL Team, Truth Be Told, Minx, and The Morning Show.
T'Nia Miller as Victorine Lafourcade
Previous Flanaverse Shows: The Haunting of Bly Manor
Instagram: @tniamiller
Though Victorine, the eldest of the Usher "bastards," has made helping people her life's work, her true driving force is her need for Roderick's approval and affection. Her revolutionary new heart technology is still in its testing phase, but with Roderick showing interest, Victorine bends the rules of clinical trials to start testing on human subjects.
Miller is a British actress who, in addition to Bly Manor, has appeared in hit Netflix series including The Diplomat and Sex Education. Other credits include the Apple TV+ series Foundation and the BBC miniseries Years and Years, as well as the British shows Witless, Doctors, Doctor Who, and Marcella.
Rahul Kohli as Napoleon "Leo" Usher
Previous Flanaverse Shows: The Haunting of Bly Manor, Midnight Mass, The Midnight Club
Instagram: @rahulkohli13
Napoleon "Leo" Usher is the socialite among the Usher siblings, though he also helps finance video games. The playboy employs his vices to help numb the pain of his reality, but his drug use troubles his live-in boyfriend, Julius.
Kohli is a British actor who started out in stage plays and went on to appear on British shows including Holby City and Eastenders. In addition to his Flanaverse work, he's best known for playing Ravi Chakrabarti on the CW series iZombie. He has also contributed voice acting to several video games, including Fortnite: Chapter 3 and Warhammer 40,000: Boltgun.
Kate Siegel as Camille L'Espanaye
Previous Flanaverse Shows: The Haunting of Hill House, The Haunting of Bly Manor, Midnight Mass
Instagram: @katesiegelofficial
Cunning PR maven Camille has is in charge of the family's PR, and fills her days with her work spinning bad behavior into good press. She has also learned every single one of her family's dirty secrets, whether they know it or not.
Siegel frequently collaborates with her husband Flanagan, and has starred in most of the Flanaverse shows as well as his horror films Oculus, Ouija: Origin of Evil, Gerald's Game, and Hush (which she also co-wrote). She has also recently appeared in the reboots of The Time Traveler's Wife and Hawaii Five-O, as well as the films Hypnotic, and The Wrath of Becky.
Sauriyan Sapkota as Prospero "Perry" Usher
Previous Flanaverse Shows: The Midnight Club
Instagram: @sauriyann
Prospero, the youngest Usher "bastard," only recently learned of his parentage and joined the world of the ultra-rich and powerful. He hopes to use his (father's) newfound wealth to live his entire life as one long party.
Sapkota made his television debut last year, while playing Amesh in Flanagan's teen horror drama The Midnight Club. TFHU is now his second acting role. Fun fact: Last year he told Buzzfeed that it was a dream to work with Kohli, who he'd been a fan of since iZombie.
The Spouses and Grandchildren
Ruth Codd as Juno Usher
Previous Flanaverse Shows: The Midnight Club
Instagram: @ruthcodd
Roderick's second wife, Juno, is a former junkie who has struggled to gain the Usher family's respect following her recent marriage to the patriarch. She's played by Codd, who made her acting debut last year as Anya in The Midnight Club. Prior to that, she gained a fanbase of 672,000 followers on TikTok, where she shared funny stories about her life growing up in Ireland and spoke candidly about her disability. (She's since deleted her account.) Per Teen Vogue, she has previously worked as a barber, a makeup artist, a hairstylist, and in prosthetics.
Kyliegh Curran as Lenore Usher
Previous Flanaverse Shows: N/A
Instagram: @kyleighcurran
Lenore, Frederick and wife Morella's daughter, is the "best" of the Ushers, per Roderick. The granddaughter is a kind, smart, and empathic teen who makes choices based on her morals, rather than what's best for the family.
Curran is a 17-year-old actress whose first major role was playing Young Nala in the Broadway musical The Lion King (at just 10 years old). She went on to work with Flanagan for her first major film role, playing Abra in Doctor Sleep. In addition to TFHU, she also stars in the Disney+ time-travel series Secrets of Sulphur Springs.
Paola Nuñez as Dr. Alessandra Ruiz
Previous Flanaverse Shows: N/A
Instagram: @paolanunez
Though she's not an official Usher spouse, surgeon Alessandra is integral to Victorine's work. She has no idea that her girlfriend is under pressure to make sure the medical device goes to market as soon as possible.
Nuñez is a Mexican actress who has been appearing in telenovela, theater, and film roles since she was 19. She rose to fame while starring on the international hit novella Amor en Costodia, and she went on to star in the shows Pasión Morena, Destino, Reina del Corazones, and La Reina Del Sur, as well as films including Mexican Gangster, Los Inadaptados, and Dariela los Martes. She crossed over to U.S. productions with the AMC series The Son, and she's since appeared in Bad Boys for Life and the TV adaptations of The Purge and Resident Evil.
Everyone Else
Carla Gugino as Verna
Previous Flanaverse Shows: The Haunting of Hill House, The Haunting of Bly Manor, and Midnight Mass
Instagram: @carlagugino
Verna is a shape-shifter who is connected to one of Poe's most famous characters. Roderick and Madeline met this mysterious woman on a fateful night in their past, and the mysterious woman eventually returns to wreak havoc in the present day.
Gugino is one of the most familiar faces among Flanagan's projects on Netflix, as she's starred in most of the filmmaker's shows as well as the 2017 horror flick Gerald's Game. The prolific actress has also appeared in films including the first three Spy Kids movies, American Gangster, Sin City, Night at the Museum, Watchmen, and Sucker Punch, as well as the shows Chicago Hope, Entourage, New Girl, and Wayward Pines.
Mark Hamill as Arthur Pym
Previous Flanaverse Shows: N/A
Instagram: @markhamill
Pym is the intimidating lawyer and enforcer for the Usher family. The unfailingly loyal employee will do whatever is required, no questions asked, but he's a mystery to even those closest to him.
Hamill is best known for his legendary, decades-long role playing Luke Skywalker in the Star Wars franchise. He's also a prolific voice actor who has recently appeared in shows including Avatar: The Last Airbender, Regular Show, Robot Chicken, Masters of the Universe: Revelation, and Futurama. He also voiced Merv Pumpkinhead in season 1 of the Netflix fantasy series The Sandman.
Carl Lumbly as Auguste Dupin
Previous Flanaverse Shows: N/A
Instagram: @carllumbly
Dupin is a police investigator who first meets Roderick over 30 years ago, starting off a decades-long rivalry. The kind-hearted lawman is Dupin is determined to do what is right and bring "The Usher Crime Family" to justice for their role in the opioid epidemic.
Lumbly is a prolific actor who has over 150 credits across film, television, theater, and voice roles for both animated shows and video games. He's best known for his lead roles in long-running shows like Cagney and Lacey and Alias. Though TFHU is his first Netflix collaboration with Flanagan, he previously appeared in the director's 2019 film Doctor Sleep as Dick Halloran. Most recently, he appeared in several series including S.W.A.T., Altered Carbon, This Is Us, The Chi, and the Marvel Disney+ show The Falcon and the Winter Soldier.
The Past
Zach Gilford as Young Roderick Usher
Previous Flanaverse Shows: Midnight Mass, The Midnight Club
Instagram: @zachgilford7
In addition to the main storyline of the unfortunate events that befall the Usher family, TFHU also follows a younger Roderick as he ascends the ranks of Fortunato Pharmaceuticals, from the mail room to the top of the pyramid. At the time, he lives with his first wife Annabel Lee and their two children.
Gilford is a veteran TV actor who rose to fame with his role of QB Matt Saracen on the football drama Friday Night Lights. He's previously starred in shows including Off the Map, L.A.'s Finest, Good Girls, and Criminal Minds, as well as the films Dare, Post Grad, and The Purge: Anarchy. TFHU is his third time starring in a Flanaverse show.

Willa Fitzgerald as Young Madeline Usher
Previous Flanaverse Shows: N/A
Instagram: @willafitz
Playing the younger version of Madeline is Fitzgerald, a Nashville-born stage and screen actress who's an alum of Yale's drama school. She previously played Coach Colette French in the cheerleading drama Dare Me, as well as officer Roscoe Conklin in the Prime Video series Reacher. Other credits include the series Scream: The TV Series, Alpha House, Royal Pains, Younger, House of Cards, and Little Women, as well as the films The Goldfinch and Wildcat.
Katie Parker as Annabel Lee
Previous Flanaverse Shows: The Haunting of Hill House, The Haunting of Bly Manor, The Midnight Club
Instagram: @katieparkerpics
Roderick's beloved first wife Annabel Lee is the mother of Frederick and Tamerlane and his only real love. The warm and trusting woman always saw the best in Roderick, but her optimism also blinded her to the shadier parts of her husband's business affairs.
Parker is a regular on Mike Flanagan's shows and movies, having recently appeared in three of his Netflix offerings as well as his films Doctor Sleep, Oculus, and Absentia. She recently starred alongside Kohli in the indie film Next Exit. Other credits include Masters of Sex, Halt and Catch Fire, Rizzoli and Isles, Alt, and The Resident.

Marie Claire email subscribers get intel on fashion and beauty trends, hot-off-the-press celebrity news, and more. Sign up here.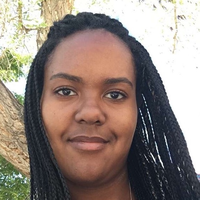 Contributing Culture Editor
Quinci LeGardye is a Contributing Culture Editor who covers TV, movies, Korean entertainment, books, and pop culture. When she isn't writing or checking Twitter, she's probably watching the latest K-drama or giving a concert performance in her car.