The Ending of 'Ginny and Georgia' Season 2, Explained
How will Georgia get out of this one?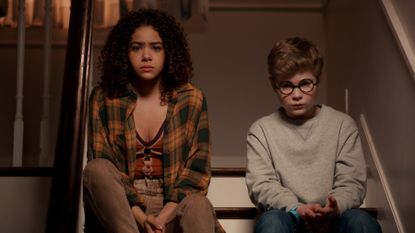 (Image credit: Courtesy of Netflix)
Spoilers ahead for Ginny and Georgia. Well, they've done it. Ginny and Georgia somehow one-upped season 1's massive cliffhanger with a dramatic finale that has completely up-ended the series. Season 2 of the Netflix hit was a whiplash-inducing thrill ride that still found time to explore thoughtful subjects like the road to recovery from self-harm and interracial family dynamics. Then it all ended with Ginny (Antonia Gentry) and Marcus (Felix Mallard) broken up (but at least more cordial), Paul (Scott Porter) learning about Georgia's (Brianne Howery) past, and Georgia in the back of a cop car!
The finale left viewers with enough unanswered questions to make the wait for season 3 unbearable (and unfortunately, we have quite a wait ahead of us). So we're reopening The Place Where We Talk At Length About What The Hell Just Happened to break down what happened and what to expect for the Millers going forward.
Why did Georgia get arrested?
For anyone left confused at the name Tom Fuller (to be fair, there are a lot of characters to keep track of), here's a refresher on Georgia's third victim. Though we know that Georgia had killed at least two people before arriving in Wellsbury—her abusive first husband, Anthony, and her yoga-guru second husband, Kenny—she eventually got caught for a crime, not of survival, but of compassion (at least in Georgia's eyes). Tom was Cynthia's (Sabrina Grdevich) husband, who had been in hospice in a vegetative state all season. In episodes 8 and 9, which served as a dual-storyline Tarantino tribute, Cynthia helped Georgia regarding Gil (Aaron Ashmore), Austin's dad who got out of prison and came to Wellsbury to connect with his son and resume abusing Georgia. When Cynthia saw Gil assault Georgia at Austin's (Diesel La Torraca) school, the realtor did her former nemesis a solid and got Gil blacklisted from ever renting an apartment in Wellsbury. She told Georgia as much during an emotional heart-to-heart between the women, where Cynthia also admitted that she wanted the limbo that the Fullers were existing in while Tom was holding on to be over.
There are three things we know about Georgia: she's kind of terrifying; she cares deeply about her friends; and she often crosses moral lines in order to help or protect said friends. So, when she sees how much Cynthia is in pain, she goes into Tom's room and smothers him with a pillow, as a way to help her now-friend. Cynthia thought that Tom passed naturally, but PI Gabriel (Alex Mallari Jr.) had been on Georgia's case for two seasons now. So when Nick told him that Georgia was in the room with Tom when he flatlined, Gabriel followed his hunch and told the cops that he suspected Georgia may have killed Tom. That's how Georgia ended up leaving her own wedding early in the back of a cop car, while the creepiest use of "Going to the Chapel" ever recorded went on in the background.
Will Georgia get away with killing Tom?
Even though we knew that Georgia was a murderer by the end of season 1, we also knew that her motives were based on protecting her family. Plus she seemed unbeatable, so seeing her actually caught was jarring. The biggest storyline of season 3 will have to be how she'll get out of going to prison, mostly because watching Ginny and Georgia: Life During Lockup edition will turn this mindless soap into way more of a bummer.
Does Cynthia know what Georgia did?
This is something I was also left wondering after my first watch: Did Cynthia think Georgia had anything to do with Tom's death? After all, we never saw her reaction; the show doesn't bring up the widow again at all in episode 10 before the wedding. At this point, it seems like Georgia's chances of staying out of jail will hinge on whether Cynthia helps prosecute her for Tom's death. Luckily, series creator Sarah Lampert has given her take on Cynthia's possible reaction to Georgia's arrest.
"Anything could happen," she told Deadline. I think that Cynthia in no means wanted Georgia to do that. I think that it would shock her to find out, and obviously we weren't with her, we don't know what happened off camera in between that scene that led to the arrest. But that would definitely be something that I think we would want to explore in Season 3."
What will happen to Ginny and Austin?
Ginny may seem wise beyond her years (or at least might think that she is), but she is still very much a minor whose guardian just got arrested. For her and Austin, there are now basic questions of who they'll live with, even before we get to how the trial will affect them. At this point, the contenders are their new stepfather Paul, Ginny's lovely dad Zion (Nathan Mitchell), and unfortunately Gil, who made it clear that he isn't going anywhere and is willing to fight for custody. Paul's proven himself to be a genuinely good guy, hearing all of Georgia's baggage and deciding to marry and protect her and her kids anyway, but he didn't sign up to be newlyweds with a murder suspect. (Remember, Ginny warned Georgia not to confess the murders to Paul.) Next season, we're going to see whether Paul meets his limit with his feelings for the Millers.
Also, someone on the show needs to pre-book a lifetime's worth of therapy sessions for Austin immediately. Not only did he learn the truth about his biological father and end up shooting him to protect Georgia, he also witnessed his mom kill Tom. Him saying, "But I didn't tell anyone," before running after the cop car was heartbreaking. I'm not sure what the laws are for forcing a child to be a witness in a trial (and G&G can play fast and loose on logic sometimes), but either way Austin is going to have it rough next season.
Will Ginny and Marcus get back together?
I'm mostly adding this to the list cause the teens' relationship is a huge storyline, and we did see progression in the finale when Ginny stopped being furious and realized Marcus genuinely needs a friend rather than a girlfriend while he's dealing with his major depressive episode. They're in a sweet place at the end of the episode, though there's no telling what drama could upend their relationship as Ginny deals with her mother's trial.
Will Marcus tell anyone about Georgia being a murderer?
This was another significant plot point in the finale, and a huge sign that Marcus might end up on the witness stand for Georgia's trial. It was a…choice when Ginny told her boyfriend the whole truth about Kenny's death, but the time bomb didn't start ticking until a cross-faded Marcus promised Georgia that he wouldn't tell anyone. Not that Marcus is stupid or a bad guy, but teenagers are gonna be teenagers, and the more people know a secret, the bigger chance it gets out.
Will Joe and Georgia ever get together?
Ginny and Georgia's series premiere in 2021 came with a lot of potential Gilmore Girls connections, and the two biggest that still stand are the "more friends than mother and daughter" relationship between G&G, and the eternal will-they-won't-they vibes between Georgia and Luke, I mean, Joe (Raymond Ablack). The pair finally talked about their childhood connection and feelings for each other in episode 9, and even though Georgia truly loves and ends up marrying Paul, it's clear that there will still be a thing between her and Joe. (I mean, Joe was shook when Georgia admitted that she thought about him.) Also, even if Georgia and Joe aren't endgame, props to the creative team for giving Joe a romantic storyline this season.
Where did Georgia get her wedding gown and cape?
So far, all we could find about Georgia's fairytale bridal ensemble is Brianne Howery's reveal that Lampert came up with the idea for the blue dress. "There was no dress I ever came across that I thought would do Georgia's wedding justice," the actress told Us Weekly. "So once she said she knew she wanted a blue one, I knew we were on the right track. And then they found this epic, I don't know, 10-15 foot train ball gown that was so big that Ginny didn't even fit in the aisle."
Celebrity news, beauty, fashion advice, and fascinating features, delivered straight to your inbox!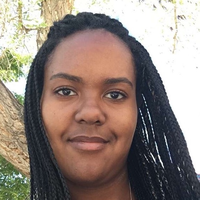 Contributing Culture Editor
Quinci LeGardye is a Contributing Culture Editor who covers TV, movies, Korean entertainment, books, and pop culture. When she isn't writing or checking Twitter, she's probably watching the latest K-drama or giving a concert performance in her car.