Is Wellsbury From 'Ginny & Georgia' a Real Place?
That idyllic Massachusetts town is just a little too good to be true.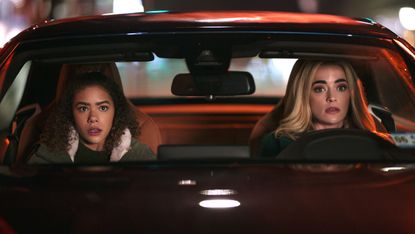 (Image credit: Netflix)
It's a well-worn cliché that a movie or TV show's setting often acts as a bonus character—like how New York City will be bravely taking Samantha's place in the upcoming Sex and the City reboot—but it's definitely true for Ginny & Georgia. The Netflix series about a mother and daughter pair settling into a new life in a new town has drawn plenty of comparisons to Gilmore Girls, including in its similarly idyllic New England backdrop.
Much like Stars Hollow, Ginny & Georgia's Wellsbury is filled with quirky characters (including a flannel-shirted restaurant owner-slash-love interest), small-town vibes, and postcard-perfect vistas. Unlike Rory and Lorelai's status as basically the princesses of their cute Connecticut hamlet, however, Ginny (Antonia Gentry) (opens in new tab) and Georgia (Brianne Howey) are met with suspicion, judgment, and casual racism after moving to Massachusetts, making it a lot less cute, to say the least.
Still, minus its very flawed residents, Wellsbury still makes a pretty spectacular backdrop for the show, offering at least a little bit of serenity amid the increasingly off-the-rails plotlines of the series. Interested in packing up your own life and moving across the country after the suspicious death of your husband? Here's what you need to know about the real-life Wellsbury, Mass.
Is Wellsbury a real place?
Sadly, in the grand tradition of Stars Hollow, Dawson's Creek (opens in new tab)'s Capeside (opens in new tab), and so many other adorable onscreen New England towns before it, Wellsbury doesn't actually exist. That said, Massachusetts is home to small towns like Wellesley and West Newbury, as Decider (opens in new tab) notes, which will get you halfway there!
But while this means you can't grab a coffee or a glass of wine (or three) at the Blue Farm Café, there's still a way to soak up all of Wellsbury's small-town vibes—you'll just need a valid passport to get there.
So, where was Ginny & Georgia actually filmed?
In a twist more dramatic than the ending of the show's first season (sort of), not only is Wellsbury not in Massachusetts, but it's not even in the U.S. The show was shot largely on indoor sound stages at Toronto's TriBro Studios, according to IMDb (opens in new tab), and the nearby Ontario town of Cobourg stood in for Wellsbury the rest of the time.
A Cobourg Now (opens in new tab) report from August 2019 warned residents that the show would be filming in several parts of the waterfront town, which has been around since 1798 and is known as "the gem of Lake Ontario." Among those locations were Audrey's In Town Fashions, which served as the boutique where Ginny gets caught taking a five-finger discount; El Camino restaurant, which was transformed into the Blue Farm Café; the defunct Nelson A. Boylen Collegiate Institute in Toronto, which became Wellsbury High; and the city's town hall, Victoria Hall, which became the Wellsbury Arts Center. The report also noted that all Canadian flags and mailboxes dotted throughout downtown Cobourg would be replaced with American ones.
How did Cobourg feel about pretending to be American?
In typical Canadian fashion, the town appeared to be very polite about being infringed upon by its neighbors to the south. An August 2019 report from the Northumberland News (opens in new tab) seemed excited about Cobourg's role in the streaming series. And the official Twitter account for the town offered up a "fun reminder" around the same time that "we are still Cobourg, Canada!" despite the American flags infiltrating its downtown.
COMMUNITY: We are still Cobourg, Canada! Just a fun reminder that @NetflixCanada2 is in town filming Ginny & Georgia. They are touching up some of our Downtown Cobourg storefronts too! 🎨 pic.twitter.com/WTRMkAjpdcAugust 29, 2019
See more
And it wasn't just the town that had to swap its maple leaves for stars and stripes: Several members of the cast of Ginny & Georgia (opens in new tab) also had to drop their "ehs" to play Massachusetts residents. Sara Waisglass, Raymond Ablack, Mason Temple, and Schitt's Creek's Jennifer Robertson, who play Maxine, Joe, Hunter, and Ellen, respectively, all hail from Canada.
Did season 2 add any new filming locations?
While the show's second season was mostly filmed in its establish season 1 locations, there were a few new locations, including Victoria Park near Coburg Beach, where Ginny had a de-stressing morning run. The famous Faneuil Hall in downtown Boston was also included as an establishing shot in the Christmas special, so the shopping mall is worth a look for any Ginny and Georgia fans based in New England.
Andrea Park is a Chicago-based writer and reporter with a near-encyclopedic knowledge of the extended Kardashian-Jenner kingdom, early 2000s rom-coms and celebrity book club selections. She graduated from the Columbia School of Journalism in 2017 and has also written for W, Brides, Glamour, Women's Health, People and more.