The Ending of 'Never Have I Ever' Season 4, Explained
Could we ever see the return of the Sherman Oaks squad?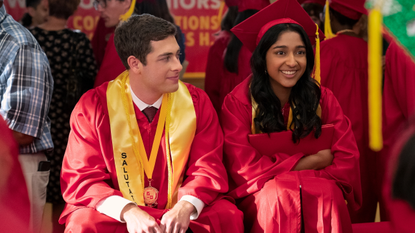 (Image credit: Lara Solanki/Netflix)
Marie Claire Newsletter
Celebrity news, beauty, fashion advice, and fascinating features, delivered straight to your inbox!
Thank you for signing up to Marie Claire. You will receive a verification email shortly.
There was a problem. Please refresh the page and try again.
After four excellent seasons, Never Have I Ever has come to an end. The delightful teen comedy from Mindy Kaling and Lang Fisher premiered in 2020, introducing viewers to Devi Vishwakumar, an ambitious teen reeling from her father's sudden death at the beginning of her high school career. Season 4 of Never Have I Ever premiered on Netflix last Thursday, with ten episodes that reminded fans how much Devi has grown from the angry, chaotic sophomore to the thoughtful, slightly-less-chaotic senior facing the last stretch of childhood, with the help of her loving family and loyal besties.
As with the best teen dramas, Devi has also contended with an epic love triangle over the past four seasons. After she broke up with uber-popular Paxton Hall-Yoshida and slept with her nemesis-turned-crush Ben Gross (plus a quick fling with newly-hot classmate Ethan), Devi finally ended up with the love of her young life and a great college in the series finale. So just who does Devi end up with? Read on for our breakdown of Never Have I Ever's final episode (and just what that "for now" at the end means).
Devi gets into Princeton!
Devi's college search was anything but smooth this season. Though she kept her heart set on Princeton for its connection to her dad, Mohan—she told her dad she wanted to be a princess when she was little, and he told her about a place called Princeton University—the super-competitive Ivy League school is incredibly hard to get into, even if you didn't accidentally send the teacher who was supposed to write your recommendation to the hospital. (Classic Devi.) Over the course of the season, Devi was deferred and eventually waitlisted for admission, as well as being denied from every other Ivy League college (a PSA for the importance of safety schools).
In the penultimate episode, Devi gets the chance to write one last essay for entrance consideration, and the Princeton admissions advisor hints that she should get personal while explaining why she has to go to that school. Devi is hesitant, but she eventually gets the push she needs from none other than Ben, and writes a heartfelt essay explaining why attending Princeton would mean honoring her dad, and herself. Then, at the very beginning of the series finale, Devi gets the news that she will be heading to Princeton in the fall!
Nalini helps Devi pack for college.
The finale starts on the final day of senior year, and surprisingly fast-forwards through graduation and the summer after (though we do learn that Devi got valedictorian and Ben got salutatorian). Devi spends the entire summer with Fabiola, who's enrolled Howard University's robotics program, and Eleanor, who graduated early to start her acting career. Devi's final weekend in Sherman Oaks coincides with her grandmother's wedding, as Nirmala's marrying the man she's been dating over the whole season. When Devi, Fabiola, and Eleanor's final night together feels like it's ending too quickly, Nirmala invites all of Devi's friends to the wedding.
Over the summer, Devi's been stalling from packing for college. Though she's excited to be going to her dream school, the teen is understandably nervous about moving across the country so far away from her family (though she'll still be close to Kamala, who has moved to Baltimore for a job as Johns Hopkins). This coincides with Devi's mom Nalini being very stressed about both preparing to fly with Devi to Princeton the day after the wedding and, you know, hosting the entire wedding in her backyard. When she realizes that Devi still hasn't packed at all during the reception, Nalini totally snaps at her daughter, before her mother-in-law reminds her that this isn't just Devi's last weekend at home, but also Nalini's last weekend with her daughter.
Eventually the mother and daughter have a very sweet moment when Nalini comes up to help Devi pack, which really ties a lovely bow on the duo's journey throughout the whole series. They went from really not understanding each other's behaviors in response to their grief over Mohan's death, to having such a solid relationship that Devi even helped Nalini get together with her new boyfriend. Part of the sadness of leaving Never Have I Ever behind is leaving one of the best mother-daughter dynamics on TV.
Devi and Ben end up together!!
So I mentioned earlier that Nirmala invited all of Devi's friends to the wedding. Unfortunately, that didn't include Ben, as he went to NYC early ahead of enrolling at Columbia University, where he spent the summer interning at a law firm ahead of college. By the end of the school year, Devi and Ben were pretty deep in their feelings for each other, but neither had told the other how they felt. Per John McEnroe voiceover, Devi and Ben didn't text that much over summer, but on the night before the wedding, she can't help but text him a pic of the old Model UN placard from all the way back at season 1.
In a case of teen-show providence, that text arrived on an evening where Ben was out at a club with his fellow interns (let's just call that teen TV logic). When Ben advises one of the guys to just tell a girl that he likes her, the guy asks whether Ben has ever done that himself, and Ben realizes he never actually told Devi. His super-romantic solution is to fly from NYC back to Sherman Oaks for the wedding(!), where he shows up by surprise and finally tells Devi he loves her. They ride off into the night, finally discuss the miscommunication that happened after they first slept together—basically they both thought the other was brushing them off and subsequently avoided each other—, and decide to give a relationship a real shot while at college. So the show ends with Devi choosing the right guy for her, Ben Gross, as they date while she goes to school in New Jersey and he's just a river away.
'Never Have I Ever' is over...for now?
Some quick updates about the Sherman Oaks squad, as a post-wedding montage shows where everyone ends up: Fab and Gears Brosnan are loving Howard, while Eleanor and Trent are somehow(?) working together in LA after Eleanor realized she wanted to direct. Nalini is still happily dating Margot's dad, Andres, and Kamala's boyfriend Manish moves with her to Baltimore. As for Paxton, the former jock had his own season of soul-searching after he dropped out of Arizona State to move back to Sherman Oaks and get a job at the high school. Though he and Devi agree that they work better as friends, Paxton does decide to enrolls back in ASU to get a degree in education and ultimately become a teacher. He also starts dating Lindsay, the cute substitute teacher at Sherman Oaks High. With that, Never Have I Ever ended, with McEnroe signing off, "for now."... "For now"???
Despite those cryptic final words, there will not be a Never Have I Ever season 5. Kaling and Fisher confirmed that season 4 was the final season since its announcement, and the show delightfully wrapped up all storylines with the young cast's graduation. Though I for one would like to believe the "for now" means Devi will make a cameo on Kaling's Max show The Sex Lives of College Girls, the cast itself explained to Tudum that the phrase just signals how the characters are still growing and learning as they continue their college lives off camera.
"'For now' means, to me, that this is just a moment in time, because the roller-coaster ride of life continues," Maitreyi Ramakrishnan says. "Devi's still a work in progress. It's very clear that this is just one of many chapters in a young woman's life, which is very exciting... Life continues and you have no idea what the f**k is going to happen." Whatever ends up happening with her and Ben, whether she does end up being the first Supreme Court Justice to also be a hip hop artist, hopefully she's happy.
Celebrity news, beauty, fashion advice, and fascinating features, delivered straight to your inbox!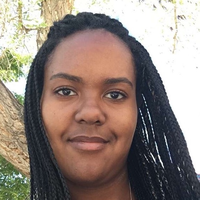 Contributing Culture Editor
Quinci LeGardye is a Contributing Culture Editor who covers TV, movies, Korean entertainment, books, and pop culture. When she isn't writing or checking Twitter, she's probably watching the latest K-drama or giving a concert performance in her car.