'Only Murders in the Building' Season 3: Everything We Know
More A-list actors are joining the Arconia crew.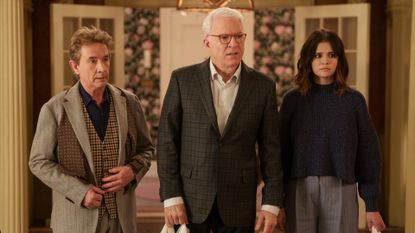 (Image credit: Craig Blankenhorn/Hulu)
Spoilers for Only Murders in the Building season 2 ahead. In a TV landscape filled with true crime documentaries and scripted series, Only Murders in the Building sticks out as a can't-miss humorous whodunnit. The Emmy-winning series has built a dedicated fan base thanks to its A-list cast—led by Selena Gomez, Martin Short, and Steve Martin—surprising guest stars, and twisting plot that thoroughly examines the true crime fandom. The finale of season 2 of Only Murders left us with a massive cliffhanger last August, and now that we're in the new year, it's time to gather the clues and hints towards the show's third season-long mystery.
Has 'Only Murders in the Building' been renewed for a third season?
Yes! The renewal announcement arrived on July 11, 2022, soon after season 2 premiered to a great fan response, solidifying its place as "the true crown jewel of our slate," per Craig Erwich, President of Hulu Originals. The early renewal also gave fans the hint that the show would continue another shocking finale cliffhanger, and the show definitely delivered.
As for when the new season will arrive, Hulu has yet to announce a release date. However, the streamer's parent company Disney has confirmed that season 3 will come out this year, so hopefully OMITB will keep the pattern of previous seasons and return by the end of summer.
What happened at the end of 'Only Murders in the Building' season 2?
The season 2 finale finally revealed who killed Bunny Folger (Jayne Houdyshell), after a season of red herrings, Arconia lore, and podcasting rivalry. Through an intricate set-up that included a killer reveal party and Charles' staged death, our trio got Cinda Canning's (Tina Fey) assistant Poppy (Adina Verson), a.k.a. Becky Butler, to confess to the murder. Poppy had killed Bunny as the first step of staging an art-heist plot worthy of her boss's attention, with the help of her romantic partner Detective Kreps (Michael Rapaport).
After Charles (Martin), Oliver (Short), and Mabel's (Gomez) arcs are wrapped up (and we learn that the success of the in-show podcast has revived Charles' acting career), the show jumps forward a year, and we learn that Oliver has been directing a Broadway play starring Charles and Ben Glenroy, played by Paul Rudd(!). As opening night begins, Ben collapses and dies in the middle of his monologue, right after he and Charles had a menacing backstage conversation. Charles' cryptic last words to Ben were, "Be smart. Stay away from her," and "I know what you did."
Who's joining the cast of 'Only Murders in the Building' season 3?
After the big finale reveal, Variety confirmed that Paul Rudd had joined the show as actor Ben Glenroy for season 3, with his death assumedly kicking of the show's next mystery.
"Paul Rudd, after making an auspicious entrance into the world of our show at the end of Season 2 as Ben Glenroy, is someone we clearly want to know more about and see in our upcoming Season 3—as he is a clear source of many upcoming questions and, as ever with our show, many twists yet to come!" showrunner John Hoffman said in a statement.
Fans also received a surprise casting announcement this week, courtesy of Selena Gomez. The actress and Rare Beauty posted a dispatch from set on her social media, which featured herself, Martin, Short, Rudd, Andrea Martin, and ... Meryl Streep! The multiple Oscar winner and acting icon's role has yet to be revealed.
Rounding out the season 3 additions is former Grey's Anatomy star Jesse Williams, whose casting was announced back in October. Per Deadline, Williams will play a documentarian with a particular interest in the same case that Mabel, Charles, Oliver are working on, assumedly Glenroy's sudden death.
Which cast members are returning for 'Only Murders in the Building' season 3?
Per Gomez's update, we know that the show's main trio of her, Steve Martin, and Martin Short will return (though there was very little question in the first place). Comedy legend Andrea Martin is also returning as Charles' love interest Joy.
While the rest of the cast is still unconfirmed, some of the other cast members who could return include Da'Vine Joy Randolph as Detective Williams, Ryan Broussard as Will Putnam, Zoe Colletti as Lucy, Tina Fey as Cinda Canning, Michael Cyril Creighton as Howard, Nathan Lane as Teddy Dimas, and James Caverly as Theo Dimas.
What will season 3 of 'Only Murders in the Building' be about?
As you can likely tell from our use of "assumedly," we have no clue where season 3 is headed past that Paul Rudd cliffhanger. The cast and crew have remained tight-lipped about the new mystery, though Hoffman has given vague hints about the new episodes. In his The Hollywood Reporter post-finale interview, the series co-creator hinted that season 3 will go deep into a "into a very particular New York."
"I would only say this show has always had a touch of theatricality to the way it tells its stories," he told the outlet. "If season one was a little more focused on the emotional storyline for Mabel and Tim Kono, and season two was a little more emotionally connected to Charles and his relationship with his father and himself, I'm very excited to both lean into the theatrical side of New York City and also into Oliver and his world."
Hoffman has also confirmed that season 3 will expand the world of OMITB into the theater through the addition of several new cast members. "The thing that felt most exciting, and it's hinted at in the end of season two: There is a certain fresh start and a whole clean slate that's occurred because of the time jump that we take," the showrunner told Vanity Fair. "It will also introduce us to a whole new collection of characters centered around the theater."
With the show's universe expanding to the theater (and the central murder not even taking place inside the Arconia), there is the question of whether Only Murders in the Building will, well, leave the building behind. However, it seems like everything will remain connected to the Upper West Side apartment complex. When Vanity Fair asked Hoffman about the change, the co-creator answered, "I will only say, hang tight. I can't give too much away; we are a show known for our twists. I can't say more."
How many seasons will 'Only Murders in the Building' have?
As the world of OMITB expands and Mabel, Charles, and Oliver remain the unluckiest podcasters in NYC, we're wondering just how long the show can go for if given an unlimited slate. Thankfully, Hoffman told The Hollywood Reporter that he's excited for the long future ahead of the show.
"I told Steve [Martin] when this idea was first brought to me by Dan Fogelman and Jess Rosenthal and Steve's idea, I was like, 'I had ideas coming out of my head about this one little idea that just kept going and going and going,' and that's been the way it's been," he said. "So, I feel bullish on many seasons ahead, if we're so lucky, and as long as they'll have us and as long as we can keep doing it, I think there's great variety [in terms of the stories that can be told]."
"I know there have been funny discussions about how many murders can there be in one building, but I think that's a fun challenge, too. So, I'm very excited. I think these characters are endlessly fascinating. I love the world we've created within New York," he continued.
Contributing Culture Editor
Quinci LeGardye is a Contributing Culture Editor who covers TV, movies, Korean entertainment, books, and pop culture. When she isn't writing or checking Twitter, she's probably watching the latest K-drama or giving a concert performance in her car.