9 Things You Didn't Know About the Brand Nicholas K
For the girls who have two lovers: the great outdoors AND fashion.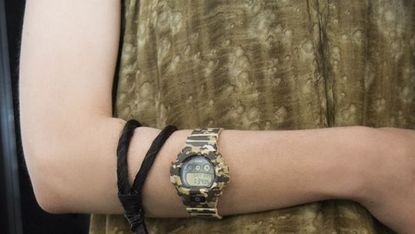 (Image credit: Courtesy of Kathryn Wirsing)
The brand Nicholas K (founded by Nicholas and Christopher Kunz) has some serious street cred, not just because they have held the first spot (9 a.m.!) during New York Fashion Week (#NYFW) at the tents for the past several seasons, but because their line is unabashedly cool—a girl can literally go from runway show to plane to hiking Kilimanjaro all in the same outfit. We caught up with the designers at their studio to find out where they pull their inspiration from season to season. And we found out more than that:
1. They are about to drop a partnership with G-Shock S Series, Casio's first watch line made specifically for women, a watch that can handle anything a girl's urban jungle can throw her way: camo + water resistant + wearable everywhere. (hint: Need a great gift idea? This is it.) $130; Details here.
2. The brother and sister team really love the outdoors: They hunt, fish, camp, rock climb, hike, you name it, they've tried it. (Chris even said he could totally handle a Bear Grylls experience. @BearGrylls, challenge?)
3. Landscapes and nature is their first point of inspiration. They couple that with the contrast of the NYC urban jungle when designing each collection. Their pieces have to be functional, wearable, and on trend.
4. When they go on vacation, they always choose the outdoors over another metropolis (sorry, Paris, but hello Brittany!).
[image id='955c0622-55ae-4371-b449-46bea41eb375' mediaId='2cc7db5c-4f92-4058-a604-860f9a04003c' loc='C'][/image]
5. The sunglasses that you'll see on the models are actually extreme sports glasses, but they maintain a vintage, wearable vibe with soft leather details.
6. The leather belts they used this season come with instructions on how to tie them.
7. Jake (their dog) has final say over everything (not really, but he was there giving us approving wags for the photos we took). And you'll see him strutting his stuff down the runway post show.
8. Nicholas creates pieces that can be worn and intermixed with new pieces each season. It's the best way to build a wearable wardrobe that you'll love for years.
9. To truly combat any urban setting, they created a wearable strappy vest that is wildly edgy and includes pockets for your phone, keys, and credit cards so you can be hands free of a bag.
Photos via Kathryn Wirsing
Celebrity news, beauty, fashion advice, and fascinating features, delivered straight to your inbox!