16 Of The Most Dead-On Lyrics About Fashion
Popular artists wax poetic about labels, style, and that ever-so-special way a woman wears her own sartorial elegance.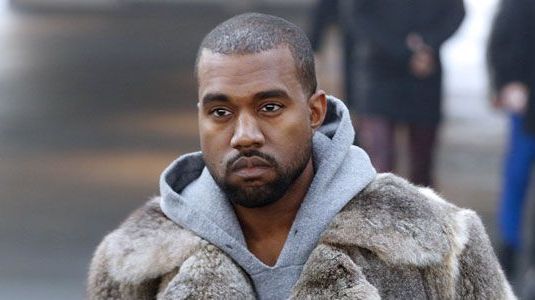 (Image credit: Getty Images)
The appeal of fashion is limitless, though very different for every person. Some see clothing as a commodity, others as creative expression, and many use their dress (or their admiration of another's) as an easy and interesting way to express sexuality. Whether conscious or not, we all find importance in clothing in some way or another. Here, 16 popular artists wax poetic about labels, style, and that ever-so-special way a woman wears her own sartorial elegance.
"Fashion" by Lady Gaga
Dress me, I'm your mannequin

J'adore Vivienne habillez-moi

Gucci, Fendi et Prada

Valentino, Armani too

Merde I love them Jimmy Choo

Fashion

Put it all on me

Don't you want to see these clothes on me
"White Dress" by Kanye West
You like pina coladas, getting caught in the rain

Or rocking flannels all summer like Kurt Cobain

Or that Dolce Gabbana with a few gold chains

And you the type of girl that probably deserve a new last name
"Fashion" by David Bowie
Fashion, turn to the left

Fashion, turn to the right

Oo, fashion

We are the goon squad and we're coming to town

Beep-beep, beep-beep
"The Oogum Boogum Song" by Brenton Wood
When you wear those big earrings, long hair, and things

You got style, girl, that sure is wild

And you wear that cute trench coat and you're standin' and posin'

You got soul, you got too much soul
"Blue Jeans" by Lana Del Rey
Blue jeans, white shirt

Walked into the room you know you made my eyes burn

It was like, James Dean, for sure

You're so fresh to death and sick as ca-cancer

You were sorta punk rock, I grew up on hip hop

But you fit me better than my favourite sweater, and I know
[image id='d2ed3398-2590-4aad-aecb-91dcea526b85' mediaId='c2727e5b-1d25-41c5-8eb2-02ff7fce4b97' loc='C'][/image]
"Blue Suede Shoes" by Elvis Presely
Do anything that you want to do, but uh-uh,

Honey, lay off of my shoes

Don't you step on my Blue suede shoes.

You can do anything but lay off of my blue suede shoes
"Fashion Killa" by A$AP Rocky
Cause everything designer, her jeans is Helmut Lang

Shoes is Alexander Wang and her shirt the newest Donna

Karan, wearing all the Cartier frames

Jean Paul Gaultiers cause they match with her persona
"Suit and Tie" by Justin Timberlake and Jay Z
This is truffle season

Tom Ford tuxedos for no reason

All Saints for my angel

Alexander Wang too

Ass-tight denim and some Dunks

I'll show you how to do this, young!
"Vogue" by Madonna
Vogue, (Vogue)

Beauty's where you find it (move to the music)

Vogue, (Vogue)

Beauty's where you find it (go with the flow)

Greta Garbo, and Monroe

Deitrich and DiMaggio

Marlon Brando, Jimmy Dean

On the cover of a magazine
"Otis" by Kanye West and Jay-Z
I made 'Jesus Walks,' so I'm never going to hell

Couture-level flow is never going on sale

Luxury rap, the Hermes of verses

Sophisticated ignorance, write my curses in cursive
[image id='b8dcd85f-7791-4378-9ddd-98a347d8cd0f' mediaId='fd86562d-2468-44f7-866b-a8f9d0d0fe7a' loc='C'][/image]
"F*ck Me Pumps" by Amy Winehouse
When you walk in the bar,

And you dressed like a star,

Rockin' your F me pumps

And the men notice you,

With your Gucci bag crew,

Can't tell who he's lookin' to
"Sharp Dressed Man" by ZZ Top
Clean shirt, new shoes

And I don't know where I am goin' to.

Silk suit, black tie,

I don't need a reason why
"Cut My Hair" by The Who
Zoot suit, white jacket with side vents

Five inches long.

I'm out on the street again

And I'm leaping along.

I'm dressed right for a beach fight,

But I just can't explain

Why that uncertain feeling is still

Here in my brain
"Fancy" by Drake and TI
Independent with the demeanor of an R-and-B singer

Naked ring finger (check)

M3 beamer (check)

Champagne rang

Triple white Jag

Closet full of brand new clothes and hand bags

Alexander McQueen, Prada, Gucci, Chanel

D&G, BCBG, Versace, Louis and BeBe
"Rich Girl" by Gwen Stefani and Eve
Think what that money could bring

I'd buy everything

Clean out Vivienne Westwood

In my Galliano gown
"Blazin'" by Nicki Minaj
I just took your whole life and redesigned it

I think I'm Marc Jacobs, I think I'm Lagerfeld

I think, without makeup you still bad as hell