Do Comfortable Heels Really Exist?
Catherine Hageman, the voice behind Small Town, Big Wardrobe, discusses her search for heels she can wear all day long.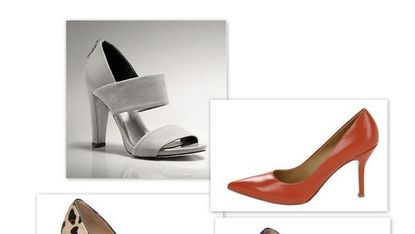 (Image credit: Archives)
The comfortable heel is the working woman's Holy Grail, and I have spent years testing countless pairs, searching for ones that don't kill my feet.
I sometimes carry my heels in my work-bag and wear flats on the way to the office, even though my walk to work lasts about two minutes. I occasionally (okay, most of the time) tote an emergency pair of flats just in case that day's heels are too much.
But, there's a part of me that wishes I was the girl who could wear very high heels all day. My friend, Caitlin, is always in at least three-inch heels. She swears her feet hurt more when she wears flats. I am infinitely jealous of her heel-wearing ability. Or pain tolerance.
Thankfully, I have found a few pairs of comfy heels, and learned that the two features to look for when buying all-day heels are a platform and a chunkier heel. These Talbots sandals (opens in new tab) may be four inches high, but their wider heels mean you'll last in them. Nine West makes some of my favorite shoes (like this red pair (opens in new tab)) and include a cushioned foot-bed. (I just ordered these leopard pumps (opens in new tab) because one cannot have enough leopard shoes). I'm newly obsessed with Target's five-inch platforms (opens in new tab) that I swear are all-day walkable.
If pumps aren't your style, wedges give height without sacrificing comfort. I own these Target wedges (opens in new tab) in black and gray (I couldn't decide!) and wear them all day without pain.
I'd love to hear if you've found some comfortable (or even simply bearable!) heels of your own. After all, part of the fun of the comfortable heel hunt is the many pairs you have to buy and try to find the perfect ones.
Catherine Hageman dispatches fashionista tendencies fit for a corporate career on Small Town, Big Wardrobe (opens in new tab).