Winter Skin Relief
Lindsay Leff suggests fixes for skin's winter blues.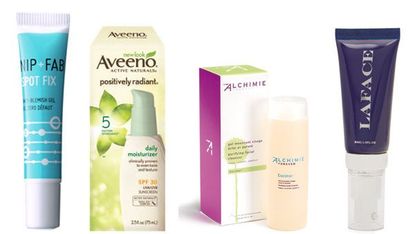 (Image credit: Archives)
Winter weather has never been kind to my sensitive skin, and although we are (hopefully) in the clear from a doozy of a snowstorm, the cold temperatures and harsh winds are doing my face no good at all. To combat this unfriendly season, I turn to my favorite winter skin relief products, sure to soothe any cold weather woes.
I hate to admit that I have gone a night without washing off my makeup, but did I feel guilt (and grime, yuck!) the next morning. I make it easy for myself with Alchimie Forever Purifying Facial Cleanser ($41) is a multipurpose gem! Packed with papaya, grapefruit, and cucumber, this yummy sounding cleanser removes makeup and dirt from the surface and beneath pores, while gently exfoliating for softer, brighter skin.
My mom taught me that it's never too early to start treating (or preventing) dark undereye circles, puffiness, and sagging caused by aging. LAFACE Laboratories Beaux Yeux ($160) is rich with apple stem cells, peptides, and hyaluronic acid proven to keep my eyes looking forever young.
While most women tend to break out in the sweat-prone summer months, my blemishes don't take the winter off. As soon as a spot begins to surface, I zap it with Nip + Fab Spot Fix ($10) an anti-blemish gel with alpha hydroxyl that quickly treats any breakout or imperfection.
It may be winter, but I still crave a slight summer glow. The easiest (and safest) way to get believable bronzy color? Aveeno's Positively Radiant Tinted Moisturizer ($12) delivers just enough color and coverage to give my winter skin a boost. It also contains SPF 30 to protect skin from harmful rays year-round.
Lindsay Leff is a beauty industry veteran who created Kiss and Wear to showcase her favorite products, dissect celebrity beauty looks, and teach others how to live with style.