Spring Must-Haves Under $50
You don't have to spend a lot to look great this spring! The Ray and the Ro share their under $50 picks.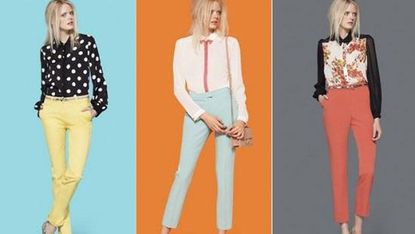 (Image credit: hercampus.com)
Spring calls for brighter colors, so shed those winter layers and opt for fun colored denim, cheerful platforms, and on-trend purple nails. Skinny belts were seen on every exit at Mulberry and with bows at Burberry, so snag a cincher that will keep your wardrobe fresh into fall. Here are a few of our hot picks, all under $50.
Ro's Must Have Spring Trend Items Under $50: I've become absolutely obsessed with the chevron and zigzag print trend that is so hot right now. One of my favorite lines, Everly, is no stranger to these patterns, and the zigzag shorts from their S/S '12 Collection are chic without a hefty price tag. I would pair these black and white shorts with a brightly-colored top to create the ultimate springy look!
1. H&M Gold Statement Necklace, $18 2. Zara Mini Party Messenger Bag, $50 3. Topshop Denim Soft Bralet, $48 4. Lush Sleeveless Chiffon Blouse, $34 5. H&M Platforms, $30 6. Everly Zig Zag Shorts, $36
Ray's Must Have Spring Trend Items Under $50: Like Ro, I'm loving zigzags and chevron, and this cute bracelet set from ASOS is a fun way to amp up your look. Add some bright, mood-lifting denim and transition any outfit into spring. If you're a little weary about the flash-factor, try a trendy purple polish for a subtler update.
1. Asos Pack Of Enamel Stack Bangles, $21 2. H&M Blouse, $13 3. Nars Diamond Life Nail Polish, $18 4. Dorothy Perkins Aqua Superskinny Jeans, $44 5. Zara Two-Tone Sandal, $50 6. ASOS Pyramid Metal Tip Clutch, $27 7. Forever 21 Double Bow Belt, $5
Best friends and blogging partners Roberta Oglakchya and Rachel Hurn-Maloney founded The Ray and the Ro to show off stylish looks, share their wishlists, and break down runway fashion.
Celebrity news, beauty, fashion advice, and fascinating features, delivered straight to your inbox!