Testing Out the Cooler Cleanse
Lindsay Leff tries out the Cooler Cleanse, and despite her "love/love relationship" with food, notices positive changes.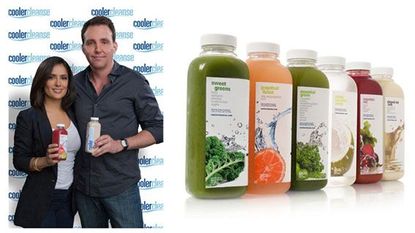 (Image credit: Archives)
When I told my friends about my plan to do a five-day juice cleanse, their collective reaction was, "Are you serious? Good luck with that!" Their shock may give you an idea of my love/love relationship with food. But no matter what my girls thought or said, I was committed. My experience? Well, with the good comes the bad.
I decided to road test the Cooler Cleanse, co-founded by Salma Hayek. Like the curvaceous actress, I was looking for an effective, but most importantly, enjoyable detox juice diet (read: one that didn't taste like grass). Every day, I was to drink six fruit and veggie juices, each of which promised to promote my health in a different way.
Despite my bias against the green bottled stuff my healthier friends call "food," I was surprised to discover that after each juice, I felt full. Did I miss chewing? You bet. But, I had never felt so energized and unbloated.
I noticed changes in my overall body, but as a beauty writer, my main concern was my face. Growing up, I had my share of skin issues, and in attempts to remedy them, tried everything: oral meds, acne creams, facials, even a chemical peel.
Before the cleanse, I had a few blemishes. After day one, the more noticeable bumps had gone down and by day two, my skin appeared smoother and more radiant. When my co-worker complimented my glowing complexion, I knew I wasn't imagining the change.
Filling my body with fewer chemicals from processed foods and more antioxidants, raw ingredients, minerals, and vitamins made my skin look better than any topical acne cream ever had. My body simply flushed out most of the impurities and toxins that can lead to breakouts and other skin problems.
Although I was feeling (and looking, might I add) great, I realized all-juice cleanses are not for me. I love food too much not to eat! But, anything that naturally improves my skin and makes me want to eat healthier is not a wasted experience in my book.
Lindsay Leff is a beauty industry veteran who created Kiss and Wear to showcase her favorite products, dissect celebrity beauty looks, and teach others how to live with style.
Celebrity news, beauty, fashion advice, and fascinating features, delivered straight to your inbox!