Beauty Products Worth Splurging On
Dara Adeeyo of Dark Berry Beauty believes for that the right beauty products, the splurge is worth it. Check out her picks for where to spend a little extra dough!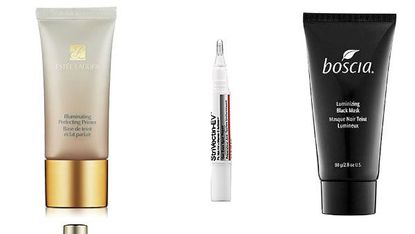 (Image credit: Archives)
Marie Claire Newsletter
Celebrity news, beauty, fashion advice, and fascinating features, delivered straight to your inbox!
Thank you for signing up to Marie Claire. You will receive a verification email shortly.
There was a problem. Please refresh the page and try again.
I am serious about skincare. I cleanse, tone and moisturize twice a day and use dermatologist-prescribed creams. So, when I find a product that is slightly pricey, but works great on my skin, I have no qualms shelling out a few too many dollars to maintain my pimple-free complexion. These are the items I think are worth spending a pretty penny on:
1. Estée Lauder Illuminating Perfecting Primer, $32 — I've tried a lot of primers, and this is by far my best find. The formula is super-soft, goes on smooth, and after just one use, I noticed my skin was radiant and that my foundation sat evenly on my face, creating a flawless complexion. Your makeup won't be going anywhere anytime soon.
2. Boscia Luminizing Black Mask, $34 — This is my favorite mask, ever. I don't use it often because I am trying to get my $34 worth, but every time I apply it, my skin feels rejuvenated. It also shrinks the pores around my nose.
3. StriVectin-EV Get Even Spot Repair, $49 — Finally! There is a dark spot corrector that actually works. Within the first two weeks of using of this product, there was a noticeable difference in my embarrassing blemish marks. It's also gentle on sensitive skin — all you do is apply it twice a day over targeted areas after you moisturize. Within four weeks, any old and new dark spots will be almost invisible.
4. Tend Skin, $50 — Although this product is meant for razor bumps and ingrown hairs, I also use it as a toner. It fights blemishes just like it does shaving-related ailments.
5. Clarisonic Mia, $133.50 — For years, I had been skeptical about this device. I just couldn't fathom spending over $100 on a facial cleansing system. But, after a friend told me she swears by it, I decided to try it out. The Clarisonic is great for sweeping all the makeup off of your face, making your skin feel freshly-clean and smooth. It's most effective when used with the cleanser provided in the package, but I pair it with various face washes.
Dara Adeeyo is a nail polish junkie who blogs her beauty diary on Dark Berry Beauty.
Celebrity news, beauty, fashion advice, and fascinating features, delivered straight to your inbox!