Beauty Essentials for the Office
Catherine Hageman believes in the motto, "always be prepared." Follow her lead, and stash these emergency fixer-uppers in your desk drawer.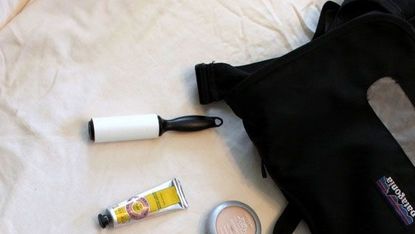 (Image credit: Archives)
I have a pretty good routine for getting ready for work in the morning, but sometimes, mid-afternoon touch-ups are inevitable. These emergency fix-its have slowly filled up my desk, and I refuse to part with a single one.
Lip gloss: I am one of those people who always has to have something on my lips, and I keep no less than 12 different products in my work bag (not to mention the two I permanently leave at work).
Nail clippers: For those annoying hangnails.
Cling spray: Much-needed and oft-used in the fall and winter.
Lint roller: One for my work-bag, one for my desk. I go through them like crazy thanks to my four animals, including a 145-pound St. Bernard.
Tweezers: Just in case I find an errant eyebrow hair that has to go.
Desk mirror: See above item.
Nail polish: In whatever color I'm wearing in case I nick my nails (which I usually do).
Hand sanitizer: Especially important during cold and flu season.
Extra shoes: One black pair, one brown, neither of which are among my favorites, so I don't mind keeping them at work.
Warm sweater: Having an extra layer is especially helpful in offices that don't regulate overall temperatures very well. Mine certainly doesn't.
Lotion: My hands are always dry. Plus, lotion smells nice.
Floss picks: Especially handy after certain lunches and popcorn breaks.
What do you stash in your work-bag and desk drawer?
Catherine Hageman dispatches fashionista tendencies fit for a corporate career on Small Town, Big Wardrobe.
Celebrity news, beauty, fashion advice, and fascinating features, delivered straight to your inbox!