It's a Brow Thing
It's not just a tweeze-and-go game for those with naturally bushy eyebrows. Lindsay Leff explains how to keep your arches in check.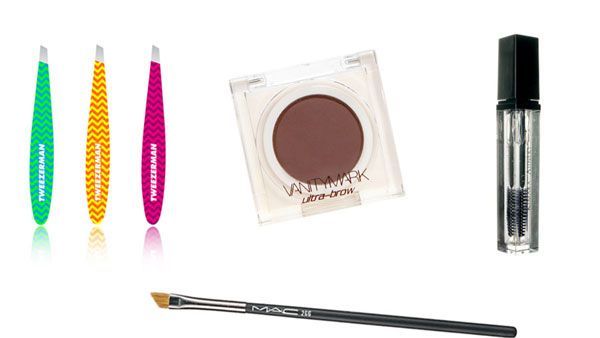 (Image credit: Archives)
As a teen, my thick eyebrows seemed like more of a beauty curse than a beauty blessing. Taking matters into my own hands, I hacked away at them, the results of which were uneven, tadpole–like things on my face. My mom was less than pleased.
Although I've grown to appreciate my full, Brooke Shields brows, it can still be a battle to upkeep their perfect shape. To do so, I rely on an arsenal of products. My goal is to ensure they never resemble Bert la Sesame Street.
To get down to the nitty-gritty, strays and all, I depend on Tweezerman Mini Slant Chevron Tweezers ($15). The angled tip makes for precise grabbing every time without (too) much wincing pain. Tweeze in the direction of hair growth to avoid breakage.
Next, I fill in any sparse areas in need of a boost of long-lasting pigment with Vanitymark Ultra-Brow Powder ($16). Available in seven hair-matching shades, there's surely a perfect fit for your arches.
Dip MAC Cosmetics' 266 Small Angle Brush ($19.50), into powder and dust over any patchy areas, as well as behind the hairs for a more natural look. Finish by brushing slightly above the brow to smooth and define the outside edge.
Finally, seal in your perfected brow shape with Kimara Ahnert Brow Set ($18). Especially great during the summer, gels have strong holding power that lasts through even the hottest days.
Lindsay Leff is a beauty industry veteran who created Kiss and Wear to showcase her favorite products, dissect celebrity beauty looks, and teach others how to live with style.