How Crocs Got Chic—and Changed the Flow of Fashion
The utilitarian shoes have gotten an upgrade from high-fashion designers.
As the 59th model walked down Balenciaga's Spring 2018 runway, you noticed her acid green slip dress first. Then the flouncy movement of its delicate fabric and its knee-high peekaboo slit. Then a slow pan to...her pair of 10-centimeter, double-decker Crocs plonking solidly down the runway like two sturdy warships below a billowing handkerchief hem.
Unexpected, given that the 58 women before her had marched in knife-point pumps and over-the-knee boots. Even curiouser that creative director Demna Gvasalia would include slingback rubber clogs in a collection of subverted workwear, like Melanie Griffith gone to Mitte.
But he's not the only designer to pair Crocs with cocktail dresses in recent seasons—Christopher Kane memorably showed tiger-striped, Swarovski-trimmed pairs for the first time exactly a year ago, before reimagining them again for this spring, dripping in diamanté.
So how did Crocs find footing among fashion's most creative after years of being sidestepped as the shoe of bleached-tipped TV chefs and moms who garden? Well, it's a funny story.
The thing about Crocs is that they were never meant for fashion girls—in every way, they were designed with function in mind, some would say at the expense of form. Hole-pocked uppers provide aeration and prevent odors, while the spongey, antibacterial body ends in a roomy toe box slightly upturned like a duck's bill to allow for comfort from constraint. When worn, the Croc visually creates a wide, foreshortened foot, like a toddler's, which runs counter to the typical (and typically feminine) pursuit of smaller and sleeker. But that is precisely the effect Christopher Kane was after, the designer said in an interview with Fast Company. (It might also explain why the "extra clunky" shoe seldom looks very cute on anyone but children.)
And in Crocs' manufacturing, too, utility and efficiency come first, though that's not to say there's no artistry involved. After popping out of a 3-D mold—based on a prototype someone had to design, mind you—the shoes expand in seconds, not unlike a pasta extruder hypnotically spiraling out rotini. This is the technology that allows the company to keep up with rip-roaring demand (according to internal numbers, 50 million pairs are sold worldwide each year) and execute its special collaboration with Balenciaga in just under 10 weeks from the initial phone call, says Michelle Poole, Crocs' senior vice president of global product and marketing. Compare this to ateliers like Valentino, who pride themselves on the hundreds upon hundreds of hours their petites mains spend pinning and embroidering and beading and chiaroscuro-ing mink onto a single couture dress.
But with Crocs x Balenciaga and Crocs x Christopher Kane (times two), are the high and low, the old and new, the man- and machine-made, meeting in the middle? (The classic tale.) And what does partnership with the most polarizing of brands mean for collab-mania, the schtick that designers keep performing of "elevating" Ikea, Hanes, the North Face, and famously 18 mass-market brands at once for Spring 2017?
It brings us to a sartorial Ship of Theseus.
Like said thought experiment (which asks if an object is still fundamentally the same after its parts have been replaced), what does it mean to take the readymade, slap a logo on, and move the decimal point a few places to the right? How much of a brand's signature jacket or bag must remain for it to retain its sense of self? Or, in the most explicit example, when you sell what ostensibly looks like a white Hanes T-shirt that's available in packs of three at Walmart for $12, but call it Vetements and price it at 10 times that, what even is it anymore?
That's one for the philosophers to grapple with, but the answer is clear to Crocs, who say they've welcomed new fans and detractors alike, while soundly rejecting the notion that the brand might reposition itself in the fashion fashion space.
"We haven't lost sight of who we are, which is a very democratic brand that really focuses on delivering style and comfort and great value," Poole says. "So while it's really exciting to create on the high end, what we will never walk away from is serving our brand loyalists and making sure that moms, kids, firemen, cheerleaders, the whole broad range of consumers who love our brand, are never disappointed."
Perhaps, then, the point is to make new friends, but keep the old, as the saying goes. To introduce Crocs to a radically different demographic that might've sneered at them before. (Beyond a few early adapters, like model Hanne Gaby Odiele and writer Pandora Sykes, fashion people have proved reluctant.) Because, historically, Crocs have been the shoe of nurses and line cooks: people who work hard standing on their feet all day to make a living. So to make them appealing to influencers and editors—whose work is far less physically demanding—is reversing the current, albeit with a (literally and figuratively) heightened version.
This is not the top-down trickle of yore, like with those much-beloved collections of Lanvin at H&M or Jean Paul Gaultier at Target—this is a different exchange program entirely, flipping the ever-invoked "bringing high design to the masses" refrain on its head.
Just as the Croc produces a grounding effect visually when paired with sheer hosiery and fine tulle and lace, it does in attitude too—one that's pervading the industry as a whole, with fashion pivoting to a consumer-first experience versus one that dribbles down a steeply inaccessible slope. (Think: New York Fashion Week slowly opening to the public or the proliferation of direct-to-consumer retailers.) So this time, it wasn't some people high up in a faraway tower who chose that proverbial lumpy cerulean sweater for us to wear—this time, we chose it for ourselves.
Marie Claire email subscribers get intel on fashion and beauty trends, hot-off-the-press celebrity news, and more. Sign up here.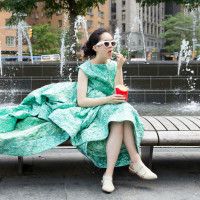 Chelsea Peng is a writer and editor who was formerly the assistant editor at MarieClaire.com. She's also worked for The Strategist and Refinery29, and is a graduate of Northwestern University. On her tombstone, she would like a GIF of herself that's better than the one that already exists on the Internet and a free fro-yo machine. Besides frozen dairy products, she's into pirates, carbs, Balzac, and snacking so hard she has to go lie down.