Coffee & Cool Girls: Meet Nicole Alyse of American Gypsy Vintage
Over a cup of iced coffee, we got the scoop on her awesome shop.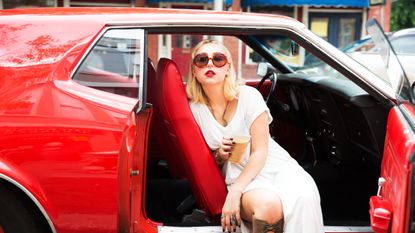 (Image credit: Kathryn Wirsing)
Who She Is: Nicole Alyse
What She Does: Co-founder of American Gypsy Vintage
Where She Lives: Brooklyn + Beacon, New York
Where You Can Find Her: @NicoleAlyseee (opens in new tab) + @AmericanGypsyVintage (opens in new tab)
What's so cool about your job?
I own a vintage boutique with my boyfriend and blog full time, so pretty much everything is cool. Most days I pinch myself because I'm living my dream job with my partner in crime. We get to travel together to do vintage buys—and shoot and blog along the way.
How'd you get started in your career?
I started buying and selling vintage and documenting my style when I was 16 on MySpace. From there, I grew a large and super loyal following (some of which still follow me to this day)! When I moved to NYC, I learned a lot about the blog world, so the brand transitioned to what it has become today.
What's your social media strategy?
Being true to myself, my followers and my style. I moved away from all vintage everything and now I showcase a healthy mix of new and vintage... I love working with contemporary brands and showing my followers pieces they can actually go purchase themselves, as opposed to strictly wearing one-of-a-kind items.
What's your social media strategy?
I usually mix vintage and designer basics. Think ACNE leather motos, vintage denim, thin vintage tees, leather booties...
What types of things do you like to do offline?
I'm never not working! But when I do have some free time, it's usually spent meeting up with my friends over coffee or brunch.
What makes you unique?
I knew from age 10 what I wanted my career to be—and I actually did it! I guess I was a pretty mature 10 year old. Also, my coffee tattoo!
Managing editor. Bona fide beauty addict. Full-time globe-trotter. Part-time DJ. Skinny leather pants lover. Exercise hater. Deep-fried tofu fanatic. Recovering red-lipstick abuser.