Anthony Williams Is Crowned 'Project Runway All Stars' Champion
In his third appearance on the franchise, the show's "King of One-Liners" wins gold.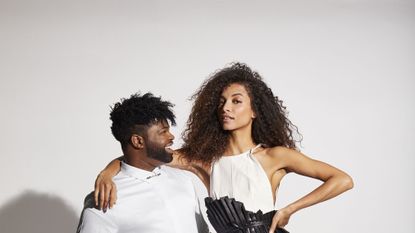 (Image credit: Allie Holloway / Studio D)
Anthony Williams is first and foremost a beauty queen. "I am a true pageant girl," says the 37-year-old designer from Atlanta. "I was a female impersonator in college [at the University of Alabama]—that's how I paid my way." Designing garments grew out of necessity: A dress he had commissioned for a competition flopped, so Williams took needle and thread into his own hands. "From that point on, I decided I would make gowns."
When his pageant career ended in 2006, Williams turned to another creative outlet: Project Runway season 7. Despite finishing fifth, a challenge win landed his blue oneshouldered dress on Heidi Klum for a cover of Marie Claire. The fan favorite returned for the first season of Project Runway All Stars in 2012 (he placed ninth), then came back this year for season 6; his evolution as a designer was evident. "Anthony had great energy on set and his designs were showstoppers," says Marie Claire editor-in-chief and All Stars mentor, Anne Fulenwider. "It was a true delight to watch his aesthetic evolve over time."
For his latest shot at stardom, Williams sought to capture the essence of timeless elegance. "Growing up, there was nothing more sophisticated than a black woman dressed up for church," he says. "There was a certain pride and confidence. I watched my mother go through a lot of situations with men and finances, but she never stopped being a lady. I learned at an early age that being a lady never goes out of style."
His muses, Rihanna and Audrey Hepburn, inspired the seven vintage-meets-eclectic looks in his finale collection, filled with hand-painted details, fitted silhouettes, and bare shoulders. Standout looks included a dress with a halter neckline and asymmetrical pleated-leather detailing, and a sculptural strapless top paired with tailored cigarette pants.
Williams is the first male black winner in the show's history (it was also the first time all three finalists were men of color). "It's a right and a privilege to be an African-American designer in the United States of America," Williams says. "No matter how hard life is, you have a responsibility to show up. I have a responsibility to be a credit to the human race, my race as African-American, my gender, and my sexuality. I want my community to be proud of me."
This story appears in the May issue of Marie Claire, on newsstands April 24.
Celebrity news, beauty, fashion advice, and fascinating features, delivered straight to your inbox!
Megan DiTrolio is the editor of features and special projects at Marie Claire, where she oversees all career coverage and writes and edits stories on women's issues, politics, cultural trends, and more. In addition to editing feature stories, she programs Marie Claire's annual Power Trip conference and Marie Claire's Getting Down To Business Instagram Live franchise.