The Item I Wear to Death: My Hi-Rise Agolde Jeans
Those bottoms in Sisterhood of the Traveling Pants have nothing on my Agoldes.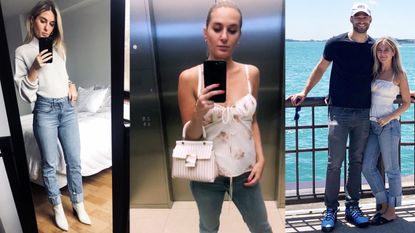 (Image credit: Courtesy)
In our biweekly series, our editors will be sharing "the item they wear to death," whether it be a basic white tee or a super-trendy jumpsuit. Prepare yourself (and your credit card) for some guilt-free shopping.
After writing about denim for almost five years, I can definitively say I've found the perfect jeans. Granted, many people believe they've found their go-to, but when I say Agolde's hi-rise jeans are perfect, I mean perfect. PER-FECT.
In the mornings, I no longer have to stand in front of my closet for 15 minutes, contemplating what to wear. I just grab my Agoldes. They're the right finish to every outfit.
Now, I think I need to address the myth that fashion girls don't wear the same thing twice. Actually, we do. If you can style it three+ different ways, you can definitely wear it at least twice, and if you're me with these jeans, twice in the same week. In August, I actually wore these every day for a week. When there are thousands of jeans out there and you happen to find the ONE pair that fits you in all the right ways, you have to really get the most of them.
I've worn these "Cherie" bottoms for an abundance of occasions, from the office to a casual Saturday afternoon to New York Fashion Week, and even out on dates. You can dress them up with a pair of black heels and a spicy tank or you can go the opposite direction and dress them down by throwing on sneakers and a t-shirt. My absolute favorite way to wear them is the office-chic route. I love wearing the jeans with a soft, casual sweater, then add polish with heeled booties.
While knowing I can wear these jeans anytime anywhere is nice, what makes them the perfect pair is how they fit. The denim does everything a girl wants them to do: The high-waisted cut sucks me in (but comfortably), the length makes my legs feel and look long, the back pockets make my butt look good, and the crop style hits in just the right place. They even hold up in the wash, never losing form, which is key. (No one likes pulling on a pair of ill-fitting, stretched out jeans.) And, as evidenced below, these jeans are highly #Instagrammable.
I could write a novel on how flattering and flawless these Agolde jeans are, but to really understand the magic, you'll just have to try on a pair yourself.
For more celebrity news, beauty and fashion advice, savvy political commentary, and fascinating features, sign up for the Marie Claire newsletter.
RELATED STORIES
Celebrity news, beauty, fashion advice, and fascinating features, delivered straight to your inbox!