The Item I Wear To Death: My Duro Olowu Silk Cuffed Pants
These pants are perfect for the Woman Who Would Rather Be In Bed, But Looks Fabulous Regardless.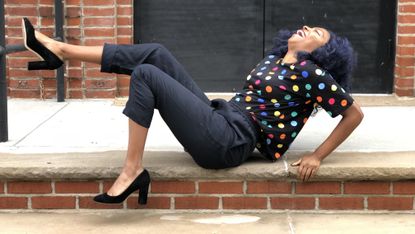 (Image credit: Rutuja Rajwade / Amanda Mitchell)
Every week, our editors share "the item they wear to death," whether it be a basic white tee or a super-trendy jumpsuit. Prepare yourself (and your credit card) for some guilt-free shopping.
"Amanda... why are you so dressed up?"
If I had a dollar for every time I was asked this question, I'd buy myself a really nice couch. I haven't been asked it enough to warrant a full millionaire's purchase, but I have been asked it enough that I'd be able to buy a solid couch from like, CB2. No Ikea couches in my house.
I am a chronic over-dresser. I'm more likely to wear a ballgown to a baseball game than I ever am to wear a baseball...costume? What is the word for what baseball players wear? I know nothing about sports.
While I may know little-to-none about sports, I do know a great deal about looking put together with just five minutes to get dressed. Not to humblebrag, but I love saying, "Oh, this? I just threw this together, pfft." Some, if not most of my favorite outfits have come together in a sleepy daze on a Friday morning. And my go-to "I don't want to try but I need to try" outfit almost always includes these black cuffed ankle pants from Duro Olowu For JCPenney. As singer Jessie Ware once said, I have entered the slouchy pants stage of my life.
Made of a silk-like polyester, these pants are somehow the offspring of a jogger pant and an ankle pant. They perfectly upgrade every single piece in my wardrobe from Nice to Effortlessly Chic. I showed up to a Super Bowl party wearing these pants and everyone asked me why I was wearing fancy clothes. They're the "Silly Rabbit, Trix are for kids" of pants!

The bottoms were part of an exclusive line for JCPenney by Nigerian designer Duro Olowu, who has also designed for the likes of Michelle Obama and Solange Knowles, so basically I am Michelle Obama now. #Blackgirlmagic, right? My mom first spotted them in the store and pointed them in my general direction, then wound up buying a pair for herself, as well, because my mother has bad days, not bad taste. Once we found out they were made by a Nigerian designer, we were even more stoked because a) good for you, JCPenney, for supporting and giving exposure to black designers, and b) Olowu's other designs are next-level fabulous–these pants were just the beginning.
I love the pants the most because they can be dressed up or down without a lot of effort. Because of the aforementioned silk-like polyester, they exude high-end nighttime vibes without sacrificing comfort; and because of the elastic waistband, they're also great for pulling on and wearing with a t-shirt or sweater for, say, long airplane rides. (Speaking from experience, of course.) These pants are perfect for the Woman Who Would Rather Be In Bed, But Looks Fabulous Regardless.
Here are the pants at the base of the Eiffel Tower:
And here they are after I went to brunch on a casual Tuesday afternoon:
I don't believe in "daytime" or "nighttime" clothing—my wardrobe is comprised of items you can take from day-to-night-to-the-next-day-because-you're-a-grown-woman-who-does-what-she-wants-including-repeating-a-chic-outfit. (Sidebar: I really hate the phrase "day-to-night." Wear whatever you want when you want to wear it! Sequins can be for 11 a.m.!)
Really, I'm never going to run home just to change an outfit or my makeup. I want to be ready and roaring to go. Also, if I go home, it's 100 percent more likely I won't go back out, so really, I'm doing this for you.

Recently, I dressed the pants up for a "I'm Coming Out, I Want The World To Know" moment:
Here's an outfit a little more appropriate for, say, dinner or date night:
Here, I tucked in a t-shirt to make the pants part of a cute work outfit:
They're also durable: I've spilled many a cocktail on them (I'm clumsy, no shame) and never have they been ruined by the sugary stickiness. They snapped back quickly.
Unfortunately, these pants were a limited run for JCPenney in 2013, and are no longer available. It's a huge bummer, because, if I could, I would buy these pants in 100 colors for the rest of my life. They're really that good, make me feel like a Parisian angel, and are comfortable as hell. I'm gonna wear these pants until they fall apart, I die, I lose them, or all of the above. I got your back, however, and I found you another option that fits the bill (but maybe not the $35 price tag).
IN CASE I'VE CONVINCED YOU TO PICK UP THIS LITTLE NUMBER FOR YOURSELF...
RELATED STORIES
Celebrity news, beauty, fashion advice, and fascinating features, delivered straight to your inbox!
Amanda Mitchell is a writer and podcaster with bylines at Marie Claire, OprahMag, Allure, Byrdie, Stylecaster, Bon Appetit, and more. Her work exists at the apex of beauty, pop culture, and absurdity. A human Funfetti cake, she watches too much television, and her favorite season is awards season. You can read more of her work at amandaelizabethmitchell.com or follow her on Instagram and Twitter @lochnessmanda.