The Item I Wear to Death: Sam Edelman's Block Heel Mule Sandals
You can literally walk for miles in these.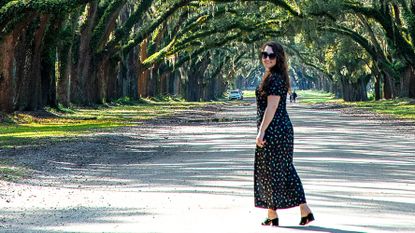 (Image credit: Wendy Hu)
Marie Claire Newsletter
Celebrity news, beauty, fashion advice, and fascinating features, delivered straight to your inbox!
Thank you for signing up to Marie Claire. You will receive a verification email shortly.
There was a problem. Please refresh the page and try again.
I'm a Californian girl. Let's get that straight. I've lived in New York City for a decade now but my ideal look is still skinny jeans, a t-shirt, and some boots (maybe a leather jacket if it's cold). Basically, the outfit you see everywhere in Los Angeles. I call it "casual and comfortable."
Growing up on the west coast, I only ever wore boots or sneakers. Heels were not my friend. In college (on the east coast) I wanted to dress up for parties, but I was horrible at picking out pumps. HORRIBLE. I would choose skinny stilettos with a narrow fit, which inevitably gave me painful blisters on my heels, pinky toes, and the bottom of my feet. The mornings-after were wretched, nursing hangovers and swollen, bloodied toes.
After leaving enough bars early and making enough emergency Band-Aid purchases at the closest Duane Reade, I finally realized that if I'm going to wear heels, they must have a chunky block heel that clocks in at three inches or less. Enter: Sam Edelman's "Stanley" mules (only 2.25 inches high!).
I almost bought these babies in the spring when Sam Edelman did a special version for Net-a-Porter, but patience is a virtue and they were a little pricey, so I waited. A few weeks later I spotted a similar style on Sam's site—on sale for $49! The rest was history. I ordered them right away and wore them with wrap dresses all summer long, and, now, with jeans for fall.
The mules are super versatile, which makes them the perfect shoe for city girls (closet space is at a premium in NYC!). They go with everything in my wardrobe and suit all occasions. I wear them to family parties, to work, even on dates. This casual-yet-fancy shoe pleases my Cali-girl soul.
But better than their versatility, they are comfortable. The truest testament to this came on a recent trip to Savannah, Georgia. I had the pleasure of walking the entire town in my new favorite shoes (I'm talking miles, people!) and at the end of the day, I felt no pain or blisters. None! (Here's a not-so-secret secret about mules: they're backless, so you can avoid any unwanted friction on your heels.)
But full disclosure: If you've tried on hundreds of pairs of shoes searching for the perfect one, like I have, you know that mules can be difficult to wear sometimes. They're either too loose, or pinch your pinkie toes, or make a slapping sound akin to thunder as you hustle through a quiet office.
Not my Stanleys, though.
These mules fit snuggly around your toes so they don't flop around, but also have stretchy sides just in case your feet swell from walking. I'm not saying these shoes will solve life's problems, but they've definitely made my life easier and a bit more magical for me. I don't know why I haven't bought a second pair already.
MORE ITEMS WE LOVE
Celebrity news, beauty, fashion advice, and fascinating features, delivered straight to your inbox!
Krystyna was the former Social Media Editor of Marie Claire where she oversaw all things social media and connected with MarieClaire.com readers. She came to Marie Claire from Racked.com, where she was the Community Manager. Before that, Krystyna was at Latina Mag and Cosmo for Latinas. She graduated with a Marketing major from Fordham University.