The Item I Wear to Death: My Wayf Wrap Dress
Here's the thing about a wrap dress: It is wildly flattering on almost everyone, can be professional enough for an office or saucy enough for date night, and yet takes nearly zero thought or planning to throw on.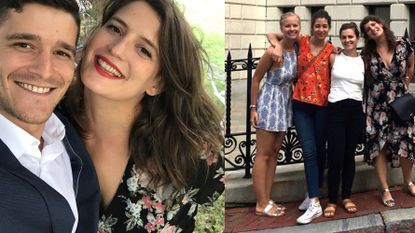 (Image credit: Author/Joe Hebert)
In our biweekly series, our editors will be sharing "the item they wear to death," whether it be a basic white tee or a super-trendy jumpsuit. Prepare yourself (and your credit card) for some guilt-free shopping.
I have to admit something to you all: I'm an incredibly lazy dresser. Don't get me wrong, it's not that I don't like fashion, it's simply that mornings are hard enough without having to also figure out what impression I'm going to make on everyone I encounter that day. Like, I just had coffee. Don't force me to think about what you think I look like right now. And trying to assemble an outfit the night before never works, either—I can't be the only person who lays something out before bed only to wake up completely horrified that Last Night Cady thought this look would work. Right?
But a few years ago, I had a revelation. I was visiting my best friend in Chicago for what turned out to be a significantly more humid weekend than I had anticipated, and I found myself scouring the racks of Nordstrom looking for something that would work for our fancy-ish dinner plans but also would hardly touch my hot, hot skin at all and yet also be wildly flattering at the same time. You know, that old standby clothing item.
But as impossible as this task was and against all odds and reason, I found the thing I was looking for: a Wayf wrap dress (opens in new tab) ($148) in a cute but not cutesy floral pattern.
Here's the thing about a wrap dress: It is wildly flattering on almost everyone, can be professional enough (opens in new tab) for an office or saucy enough (opens in new tab) for date night, and yet takes nearly zero thought or planning to throw on. This particular one has a great layered skirt effect that I believe gives it a dramatic sense of ceremony when worn outside in a breeze. It makes me instantly Taylor Swift in the "Wildest Dreams" video.
I've worn this particular wrap dress to weddings in Seattle, to the New York Philharmonic, and to the best cheap dumpling house in Boston. I took my parents to dinner in Belize while wearing it, and donned it for a date night on a boat. Sometimes I wear it with a leather jacket and combat boots. Other times I'll put on strappy heels with it and gussy it up. This dress is solely responsible for the bond I share with my local dry cleaner, because prior to its purchase if an item I owned was Dry Clean Only, it actually meant Will Never Get Washed. (I'm gross, I'm sorry! I told you I'm lazy about clothes!) I actually dry clean this!
And that brings me to the wrap dress's ultimate virtue, and the secret Diane von Furstenburg probably doesn't want you to know (opens in new tab): Wrap dresses are basically jammies. It takes less than 15 seconds to put on and yet looks like a million bucks. On a very hot, humid, air conditioning-less summer day, you can roll out of bed, put on a wrap dress, and get on with your life with the barest minimum of hassle. It only looks high maintenance, which is the best case scenario.
Though this floral number gets a lot of varied use, it's inspired me to take up a collection of wrap dresses. I even have an iconic DVF one (opens in new tab) now, because I realized I could justify the purchase by wearing it all the time. In fact, I'm wearing a green wrap dress from ASOS (opens in new tab) as I type this.
I could evangelize further but I think you get the picture. A wrap dress is great for every body type, and especially great if you're lazy but you don't want to look like you're lazy. Namaste.
Wayf Floral Wrap Dress, $148 Shop It (opens in new tab)
RELATED STORIES
Cady Drell is a writer, editor, researcher and pet enthusiast from Brooklyn.