This Is How It's Done: The Designers of the New 'Wonder Woman' Merch Are All Women
A limited-edition collection featuring the superhero is hitting HSN.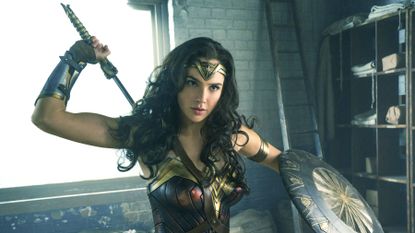 (Image credit: Warner Brothers)
Marie Claire Newsletter
Celebrity news, beauty, fashion advice, and fascinating features, delivered straight to your inbox!
Thank you for signing up to Marie Claire. You will receive a verification email shortly.
There was a problem. Please refresh the page and try again.
As if we weren't excited enough for the Wonder Woman movie coming out this Friday (starring our June cover star Gal Gadot), HSN is launching an entire Wonder-Woman-themed collection in collaboration with the film. And this isn't any ordinary collection—the designers selected to be a part of this are superheroes in their own right. MarieClaire.com chatted with three of the collaborators—Umaimah Mendhro of VIDA, Lisa Sun of Project Gravitas, and Benefit Cosmetics' Maggie Ford Danielson—to find out about their contributions to the line, what it means to be a modern day woman hero, and all things feminist.
RELATED STORIES
Umaimah Mendhro, the founder and CEO of her e-commerce website VIDA, uses her platform to help women become more empowered. She ensures that every single product that she sells is made responsibly and benefits someone's life in a meaningful way. "We enable the people that work in our factories to learn to read, and write, and do basic math," she explains. VIDA has also opened a women's department in their Pakistan factory, and launched two programs in their Turkey factory centered around women's rights, which was "basically attended by the entire factory." Education has been pivotal in her life and Mendhro strives to give it back to the women that she works with.
For Maggie Ford Danielson, the collection is about showcasing your best self to the world. "I think that in general the Wonder Woman character is very in line with what we've been doing with Benefit Cosmetics for over 40 years—being a strong female presence," she explains. "The modern Wonder Woman is all about female empowerment while still maintaining that sense of beauty, and showcasing that the two can go hand in hand."
While a cosmetics company might seem misplaced in a collection celebrating the true badass that you are, Danielson says that for the brand, that is simply not the case. "We're not about making people into something they're not. We're trying to showcase what they're most proud of," she says. "If you love your brows, let's make 'em pop. If you love your lashes, let's show 'em some extra love."
Project Gravitas is also on a mission to help women come into their own and letting them shine. "When we started the company four years ago, we really wanted to find a way to promote confidence," Founder Lisa Sun explains. "We're a confidence company, and nobody embodies confidence better than Wonder Woman."
"I have been the biggest Wonder Woman fan forever," she continued. "I've read every issue, I watched every episode. I've read The Secret History of Wonder Woman by Jill Lepore, and I've been obsessed with Wonder Woman for most of my life." Inspired by a lunch meeting with Diane von Furstenberg after the launch of her own 2008 Wonder Woman Collection, Lisa knew that she had to make one of her own. "This was a bucket list item, that someday I will make a Wonder Woman collection." And here we are.
The HSN special is set to air this Thursday, 6/1 at 9 p.m. EST. If you can't catch the TV event, you can shop the collection on HSN's website. And don't forget to enter our sweepstakes for a chance to win a private screening of Wonder Woman for you and 49 of your closest friends. (10 others will win merchandise from HSN's Wonder Woman collection.)
Go behind the scenes with Gal Gadot at our June 2017 cover shoot:
Follow Marie Claire on Facebook for the latest celeb news, beauty tips, fascinating reads, livestream video, and more.
Celebrity news, beauty, fashion advice, and fascinating features, delivered straight to your inbox!