TV Dinner: Running in Heels
Dine in with these recipes from stylish new Chicago restaurant Sunda and tune in to watch Marie Claire's new TV show, Running in Heels, to find out what really happens at Marie Claire.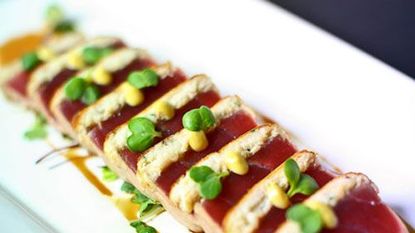 (Image credit: Courtesy of Sunda, Chicago)
CRAB CAKE-CRUSTED AHI
Chef Rodelio Aglibot, Executive Chef — Sunda
Serves 4
1/2 pound lump crabmeat, preferably Dungeness
2 teaspoons fresh ginger, grated
2 tablespoons fresh cilantro, finely chopped
1 tablespoon fresh chives, finely chopped
1/4 cup Panko bread crumbs
3 large egg whites
2 teaspoons cornstarch and 2 tablespoons water to make slurry
Kosher or sea salt
Freshly ground black pepper
2 (4 ounces) tuna steaks, about 1-inch thick
2 teaspoons vegetable oil
2 cups daikon sprouts or mixed greens
2 teaspoons sweet-hot mustard
1. To make crab cake mixture, combine crabmeat, ginger, cilantro, chives, bread crumbs, and 2 egg whites in a large bowl. In a little bowl, whisk cornstarch and water together with a fork to make a slurry. When cornstarch is dissolved, pour half into crab mixture, reserving rest for tuna. Fold ingredients together gently but thoroughly, taking care not to mash flaky crabmeat. Season with salt and pepper.

2. Beat remaining egg white until frothy and brush on top side of each tuna steak. Now, brush remaining cornstarch slurry over egg whites to create extra glue for crab cake to grab onto. Divide crab mixture in half and pat a layer on two pieces of tuna so it sticks and covers top. Wrap it in plastic and store in fridge at least 8 hours or up to overnight so crab and tuna can bond together.

3. Place a large nonstick skillet over medium-high flame, drizzle with oil, and just when it begins to smoke, lay tuna steaks in hot pan, crab-side down. Let cook for a full 5 minutes without moving tuna around, until crab cake has firmed up into a golden crust. Using a spatula, carefully flip tuna over and sear bottom side for 10 seconds, just until tuna flesh turns white. Remove from heat and place tuna on a cutting board. Cut crab cake-crusted tuna into even slices, about 4 slices per steak.

4. To serve, pile daikon sprouts on a plate and arrange tuna slices on top in a row. Dollop each piece tuna with a little bit of sweet-hot mustard.

BLACK COD IN RED CURRY MISO
Chef Rodelio Aglibot, Executive Chef — Sunda
Serves 4
Four 6-ounce black cod fillets
Marinade
2 cups mirin
2 cups sake
4 cups miso paste
2 cups sugar
1 teaspoon red curry paste
Garnish
1/2 cup red cabbage, finely chopped
1 green onion, thinly sliced
1. In a medium pan, bring mirin and sake to a boil to burn out alcohol. Add miso and simmer until smooth. Stir in sugar and curry and then let cool. Marinate black cod overnight in a tightly wrapped container.

2. Remove cod from marinade and wash. Broil fish to temperature of your liking and then garnish before serving.
COCKTAIL: CHIBUYA CROSSING
Sherrie Geslack, Mixologist — Sunda
2 oz TY KU
1 1/3 ounces white tea, honeydew, and mangosteen syrup
1 ounce passion fruit nectar
2 1-inch cubes of honeydew, muddled
Combine ingredients in a shaker with ice. Strain into a martini glass and garnish with a slice of honeydew and gogi berries.
Celebrity news, beauty, fashion advice, and fascinating features, delivered straight to your inbox!