What I Wear to Work: Jessica Herrin, Founder and CEO of Stella & Dot
She keeps it casual, while still making a statement.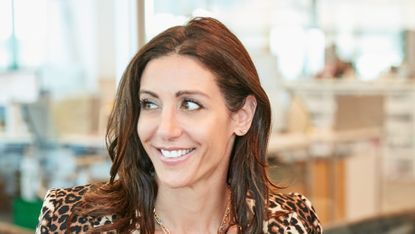 (Image credit: Courtesy of Jessica Herrin)
In a bi-weekly series, we're interviewing female executives, founders, CEOs—basically, boss ladies—on their "power suit" a.k.a. the outfit they wear every day for easy dressing to conquer whatever the job throws at them.
Upon meeting Jessica Herrin, one gets an immediate sense of her colorful style and her entrepreneurial passion. She founded Stella & Dot, after all. Herrin got her start in enterprise software where she "aggregated price and availability data for computers," and, while that wasn't exactly design school, it helped her create her first big venture: WeddingChannel.com, a gift registry website that was eventually bought by the Xo Group.
Though her first venture was commercially successful, it was a business that ran her life. Herrin knew her next company needed to leave her more personally fulfilled. She also wanted to give women a way to start their own business without making those same sacrifices, to offer them a way to earn with more flexibility and less risk. Herrin saw an opportunity to modernize the world of direct selling with better product and innovative technology tools that, at the time in the mid-aughts, didn't exist in the industry. She dove head first, focusing on her new company on the weekends while pregnant with her first child and working full-time. (She's now a mother of two girls.) After dozens of trunk shows to refine the concept, in 2007 Herrin launched jewelry business Stella & Dot with Blythe Harris, who came from a background in luxury fashion.
Herrin's love was DIY pieces led her to eventually add another arm of the brand called Keep Collective. "Some of our best-selling charms are unicorns, the solo cup, an avocado, or even our cute taco," she says. "They're $15. It's about storytelling and meaning, but it can be playful! Keep [Collective] is about fun and self- expression while Stella & Dot is more about dressing casual but in a chic way."
The business grew to include bags, accessories, even clothing. Fans can become a hostess, throwing shopping parties for their friends (and earning product for it), or an ambassador, sharing and selling Stella & Dot pieces to make a commission. "We know every woman is an influencer, not because she might have a large following on social media, but because her friends and followers care what she thinks and trust her authentic recommendations," says Herrin. These options allow women to have a side gig—part of Herrin's initial mission. She still has a couple of her own: On top of running Stella & Dot, Herrin wrote a book called Find Your Extraordinary and hosts a podcast called Self Made.
Get to know Herrin more, below, including what she wears to work (accessories are key, naturally) to feel confident and powerful.
Her Morning Routine
"I am definitely a lark and now an owl. I'm asleep by 10 p.m., but at 5 a.m. if you want to chat? I am your girl. Getting up early is critical as a working mother of two kids. I use that time to meditate, work out, drink my morning coffee, all by 6:45 or 6:50 a.m. Then I see my kids off to school by 7:20 a.m. I shower, get dressed for work, and most days I'm in the office from 9 to 6 and I'm always home for dinner. I do travel frequently for work, but I try not to do more than five nights a month to keep my family life in check."
Her Getting Dressed Strategy
"I have a dressing philosophy: I feel most confident when I am wearing something that fits and flatters. And, the outfit has to be casual, comfortable, and chic. I then dress it up with accessories and shoes. I look at my apparel as a canvas. I avoid trends that would make me a fashion victim for my body type. The trend might work for someone else, but not for me. When I'm traveling, I try to not check luggage, so I will mix and match and rewear. I definitely have workhorse pairs of denim, then varying tops and accessories that carry the change."
Her Work Uniform
"You can take the girl out of L.A., but not the L.A. out of the girl. I like casual glam because I am not preppy. Often it's jeans, heels, a bold necklace, earrings. Amen for high-waisted jeans. I love them. Frame is often my go-to and I have a pair of Derek Lam Crosby bottoms that have become a favorite. I also love DL1961 jeans—they're so soft it's like wearing pajamas. If I'm on a redeye somewhere, I can pull on those pants, put on some boots, and I'm dressed.
I also always have to accessorize. I ask myself: What piece will define the look? I always wear a statement necklace or earrings and gold charms. A lot of our jewelry pieces are versatile. A trick I have for bringing jewelry with you while traveling and not getting the necklaces tangled is to put the chain through a paper straw and clip it, then stick everything in a Ziploc bag with the clasps hanging out."
The Three Words That Describe Her Power Outfit
"Casual, chic, and comfy."
Her Motto
"There's nothing about you that you're not capable of doing. It takes hard work and persistence. It's not about pedigree or what happened to you last year, but about what you decide to do next. It's your actions and mindset that drive possibility. I don't think I was ever the most likely to succeed; I think I just hung on the tightest."
If you love Herrin's casual but glam style, shop from her favorite brands, here.
This article has been updated to more accurately reflect the distinctions between Keep Collective and Stella & Dot.
For more stories like this, including celebrity news, beauty and fashion advice, savvy political commentary, and fascinating features, sign up for the Marie Claire newsletter.
RELATED STORIES
Marina Liao is the former fashion news editor at MarieClaire.com, where she covered celebrity style (from Meghan Markle to Katie Holmes), fashion trends, and shopping advice, plus conducted original interviews with industry insiders. She's also had many opportunities to write content in other areas such as beauty, food, tech, and even home. Her previous fashion stints include POPSUGAR and Cosmopolitan.