What I Wear to Work: Elise Loehnen, Chief Content Officer at Goop
Elise Loehnen is Gwyneth Paltrow's right-hand woman.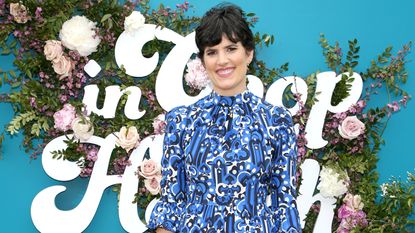 (Image credit: Phillip Faraone)
In a bi-weekly series, we're interviewing female executives, founders, CEOs—basically, boss ladies—on their "power suit" a.k.a. the outfit they wear every day for easy dressing to conquer whatever the job throws at them.
Gwyneth Paltrow's Goop lifestyle site offers its readers every type of content imaginable, from shopping recommendations (right now the site is showing me irresistible Chloé goodies in the "what's new" section) to a story on "A Weekend of Wellness in Austin." (It's like Paltrow can read my mind—I've been wanting to visit Austin!) Though I say Paltrow, it's more than likely her right-hand woman and Chief Content Officer, Elise Loehnen, who's digging deep into my psyche. Loehnen is responsible for leading the content strategy for the website and for feeding the hungry media machine with service-friendly stories.
"Gwyneth has always been interested in that type of content: Where is the best place to eat? Who makes the best products?" Loehnen tells me. "The website has never been about long reported features or our point of view on this event. It's about going to experts and getting the information that is of value to our readers."
That's why you'll find plenty of articles like that Austin piece or service-y post on the latest treatment to combat blemishes and breakouts. This content jives with Loehnen's skills; she was perviously an editor at brands like Lucky, Time Out New York, and Condé Nast Traveler. She joined the Goop team in 2014, after meeting Paltrow through a mutual friend and following the site since its 2008 launch. She says that Paltrow gives the team "permission to explore and push and look for what's next and new," when it comes to creating content. (How else would anyone have discovered that a village in Spain is for sale, if not for Goop including that in a holiday gift guide? I definitely clicked and read.)


"Gwyneth thinks in one-off ways and not what are the rubics and templates to follow and do over and over again," Loehnen says. "We certainly have those but that's not her first instinct. That's very much my instinct, being a packager and always thinking about side bars or series. Gwyneth doesn't work like that."
According to Loehnen, the content team has grown to about 28 people while the company, overall, has over 200 employees with a majority of the teams based on the west coast. "It's interesting to live in an entirely digital world where we can see the impact we create," says Loehnen. For Loehnen, who has insider access to just about every topic, from fashion to wellness, we were interested in how this power woman dresses for work. Here, she shares her favorite brands and how she tackles her day in style as a boss.
Her Morning Routine
"Typically, I am woken up by my children, so I rarely set an alarm. I have two little boys, three and six years old, so the three-year-old wakes up the whole house at 6 a.m. or 7 a.m., which is very luxurious. I don't wear a ton of makeup or use a lot of products in the morning because I try to take care of my skin. (Once a week, I use the GOOPGLOW glycolic glow peel pads and that's all I need. I am obsessed with it.) I always have a latte, usually with oat or almond milk, and hang out with the kids whether that's watching cartoons for 20 minutes or making their breakfast/lunch. Then I shower really fast—I have short hair for this purpose—and apply on some foundation and, fifty percent of the time, mascara, and lip tint."
Her Getting Dressed Strategy
"Initially, I brought so much stuff from my move to Los Angeles from New York City and I looked in my closet four years ago to find all these blouses, pencil skirts, and heels. I used to do a lot of television appearances when I worked for Lucky, so these clothes were relics from that previous career, but it's not who I am anymore. I have since Marie Kondo-ed my closet and now I have the same 10 outfits in rotation for however many months before I change out some things. I find this so liberating and also it's much easier to get ready in the mornings. I wear a lot of baby blues, olive greens, and black clothing, so I can easily mix the pieces and don't spend a ton of time getting dressed."
Her Work Uniform
"On a Monday, I usually go for a jumpsuit or a long simple dress. I like the ones by Bella Harvey or La DoubleJ, which are kind of wild, so it's something people will remember if they see it. That's why I prefer anonymous clean basics because you can wear them with a lot more frequency and they're built for that. I wear Stan Smith sneakers four days a week, I rarely wear high heels since I am 5'10. If not this outfit and it's colder, I will wear a sweater and Levi jeans or a pair of blue culotte dress pants. I like my pieces engineered with simplicity and clean lines while looking professional. I also like being comfortable and feeling like myself.
I have a signet ring I wear every day, it has a black leopard on the front and on the inside there is a Paulo Coelho quote: Encounters are planned by the soul. It's one of my core beliefs that every meeting is intentional and everything is a lesson. I also wear my engagement ring, wedding ring, and a Rolex that my parents had given me on my 25th birthday. I have a bunch of Jackie Aiche earrings, a Foundrae necklace, and one from Lito with an evil eye that I wear a lot.
For work, I use a Goyard tote that seems indestructible and made for hauling so much stuff. Currently in it, I have a laptop, two books, notebooks, a bag of random things to keep my kids occupied at restaurants, lip balm, vitamins, an embroidery bag because you never know if you want to sit and needle point. That's how I meditate in a way."
The Three Words That Describe Her Power Outfit
"Neutral, jumpsuit, and jewelry."
Her Motto
"There is a lesson in everything."
If you love Loehnen's easy-as-it-comes work style, get her aesthetic with the picks below.
For more stories like this, including celebrity news, beauty and fashion advice, savvy political commentary, and fascinating features, sign up for the Marie Claire newsletter.
RELATED STORIES
Marina Liao is the former fashion news editor at MarieClaire.com, where she covered celebrity style (from Meghan Markle to Katie Holmes), fashion trends, and shopping advice, plus conducted original interviews with industry insiders. She's also had many opportunities to write content in other areas such as beauty, food, tech, and even home. Her previous fashion stints include POPSUGAR and Cosmopolitan.