What I Wear on Repeat: My Tiger-Motif Hoodie
A zip-up with a distinctive print leaves a bold impression.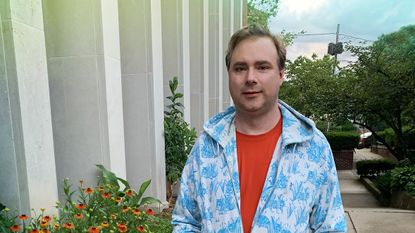 (Image credit: Courtesy)
In our biweekly series, editors share the item so versatile, so chic, so comfortable that they wear it over and over and over again—whether it be a basic white tee or a super-trendy jumpsuit. Prepare yourself (and your credit card) for some guilt-free shopping.

I don't gravitate towards flashy things. Yes, I have a few bold pieces in my closet for occasions where I don't mind pulling focus—karaoke night, a rock concert (remember those things?). I can fall in love with a spartan button-down shirt if the cut is just right, or a plaid that has a subtly interesting color combo. But the one thing I own that feels the most me is a hoodie from Original Penguin with a striking tiger-motif print. It must be about a decade old, a little warped, and pilling in places, but slipping into it still brings me as much joy as when I spotted on the rack in Original Penguin's New York City shop, a location that has since shuttered.
Truth be told, I hesitated to buy this zip-up, even as I was drawn to the cyan on gray pattern, such an unexpected color choice for a nature-themed design. It was a hundred times splashier than all the other retro sportswear filling the shop. It wasn't until I looked closely that I began to discern the tigers nested in the reeds—some are stalking, others lazing about, their stripes blending into the impressionistic wisps of vegetation. I decided to embrace these tigers.
Quite a few years after I found my beloved hoodie, I had another divine moment in a thrift shop. Peeking out between drab solid shirts, the same cyan tigers called to me, this time adorning a Penguin short-sleeve button-down shirt. To spot them among the dozens of racks jam-packed with apparel from every era felt like a fated moment. The shirt still had the original tags.
I've continued to add more patterned pieces to my wardrobe, stepping further away from my reliance on the usual solids, stripes, and plaids. My leopard print long-sleeve shirt gets compliments every time I feel extroverted enough to slip it on. I've also started to collect some '70s disco shirts with kaleidoscopic patterns—as loud as they are, the oversized collars flatter my proportions. I've come to appreciate how eye-catching prints invite people to look more closely. They can express an attitude or an energy that might not suit my mood on a typical day. But watch out! When I get the impulse to layer my tiger-motif hoodie with the matching shirt, all bets are off.
Add some bold prints to your wardrobe
Carl Kelsch is the Managing Editor of Harper's Bazaar. He's also a screenwriter whose short films of varying quaility can be found smattered among the interwebs.