Dr. Martens and Marc Jacobs Just Teamed Up to Make a New Boot
Smells like teen spirit.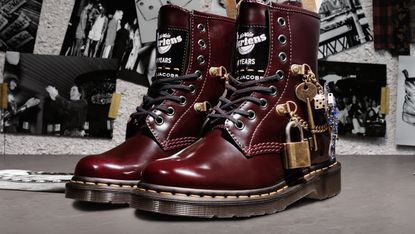 (Image credit: Doc Martens)
The '90s gave us the gift of grunge music: murky electric guitar, buzzy bases, loud drums with driving beats. The music was a sludgy mix of punk, heavy metal, and Hendrix distortion. Tragic lovebirds Kurt Cobain and Courtney Love were the poster children of the era. But it was Marc Jacobs who gave grunge music the fashion industry's backing. Always one to have his finger on the pulse, Jacobs helped transform this cult music genre into a style phenomenon.
In 1993, the designer teamed up with legendary boot brand Dr. Martens to create a new pair. Both rooted in anti-conformist ideals, the brands were a perfect match and the boot was a hit.
Twenty-seven years later, the two are once again collaborating on a new style. The 1460 remastered boot is covered in an eclectic mix trinkets. Adorned with locks and keys, dice and gems, this combat boot is equal parts charming and defiant.
Of the shoe brand, Marc Jacobs had much to say. "Dr. Martens has long been a symbol of individuality and counterculture." the designer quips. "[We] are united in a strong sense of authenticity and having your voice heard." The feeling is mutual—the shoe house maintains they were confident in this collab, citing Jacobs as "brilliantly unpredictable." What's more exciting than working with someone who "has always done whatever the hell he's wanted"?
Celebrity news, beauty, fashion advice, and fascinating features, delivered straight to your inbox!
Katie Attardo is the Accessories Editor at Marie Claire, covering all things fashion and jewelry-related.