Jennifer Fisher Hoops Have Amassed a Cult Following
I tried them out to see what all the fuss was about.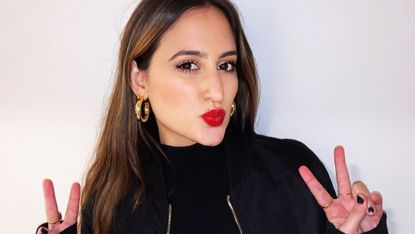 (Image credit: Katie Attardo)
Like a little black dress or a great pair of jeans, hoop earrings are a timeless staple. As Sandra Garcia writes in the New York Times, hoops date back 5,000 years to the African civilization of Nubia, now modern-day Sudan. In ancient Egypt, hoops were worn by both royalty and commoners, and those who were not royal were buried in the earrings in preparation for the afterlife. Later, hoops became a symbol of African and Latinx beauty; Garcia quotes André Leon Talley as saying "the hoop earring is a beautiful ethnic symbol." Fast-forward to the present day, and hoops are still used to enhance a woman's beauty and style. In the world of fashion, which features a revolving door of trends, this is no small feat.
Enter Jennifer Fisher, the woman behind the eponymous label that has become widely known for both her hoops and celebrity clientele. While not a pioneer of the hoop earring, Fisher is a pioneer in the jewelry industry, creating a line that started as a single charm and evolved into a wardrobe of over 320 hoop styles. Available in yellow, rose gold or silver, there's a colorway and texture to suit everybody.
"Hoops are the only style of jewelry that complements any face type or style of clothing," Fisher explains, "making them not only timeless and classic but also universally flattering." Today, Fisher is at the helm of an empire, entirely self-made.
There is a secret as to why her hoops are a cut above the rest: Each style is hollow and lightweight, but still maintains the appearance of a heavy earring. With five piercings in each lobe, a weightless hoop earring is a simple luxury that I'll never turn my back on.
Fisher and her team are also always accessible to her clients. "One important side note that most people don't know is that we have a re-plating service to keep your hoops looking new forever," Fisher notes. So even if you rock them with your bikini in the balmy summer months, your hoops won't have to suffer.
Her team is also committed to helping clients find the right style for their face shape. "Our sales team can send comparison shots to clients. In addition, Instagram is a great and effective tool to use, in the highlights section on my page I go through all of the hoop styles and show them worn in multiple ways." The latest way to style her hoops: Rock a mini style as both an earring and a mask-holder.
The takeaway: These hoops will help you channel your inner Sade but won't weigh down your lobes. A luxury that will stand the test of time.
Celebrity news, beauty, fashion advice, and fascinating features, delivered straight to your inbox!
Katie Attardo is the Accessories Editor at Marie Claire, covering all things fashion and jewelry-related.