What I Wear on Repeat: My Cropped Cashmere Sweater From Everlane
I'm not usually this bold...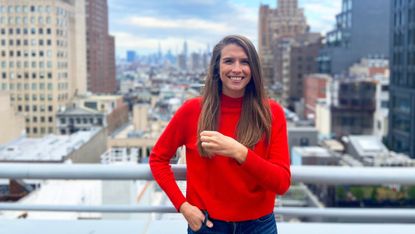 (Image credit: Scott Atha)
In our biweekly series, editors share the item so versatile, so chic, so comfortable that they wear it over and over and over again—whether it be a basic white tee or a super-trendy jumpsuit. Prepare yourself (and your credit card) for some guilt-free shopping.
If you peek in my closet, you won't find a lot of color. There's a range of creams and blacks and grays. Plenty of navy. But yellow or orange? Can't say I own one item in either of those shades. Pattern? Don't know her. (Unless, of course, you're talking about a breton stripe, but that's just two colors I already wear, alternating.)
I'm not a fashion risk-taker—I want to be, but whenever I dip a toe outside my comfort zone, I end up wasting money. The items wait, unworn, as I reach for a white button down yet again. I just feel better, more like myself, in neutrals.
Which is why I actually adore this bright red sweater. It acts as a neutral, but one that's unboring. This Everlane piece is bold, but still goes nicely with pretty much every bottom I own, including all washes of denim. I can build an outfit around it quickly and feel confident that I will stand out...in a good way.
The chili red hue is just one of the top's many stellar qualities. The cropped boxy cut is modern and quite flattering on my rectangular figure. Pull it on with a pair of high-waisted jeans or a pencil skirt, and—like that!—I appear to have a waist. It's a regular member of my casual weekend wardrobe, perfect for post-brunch errand-running (pre-Covid, of course), and an excellent addition to my office-wear arsenal (also pre-Covid, though it's cozy enough for WFH).
Speaking of cozy...it's 100 percent cashmere. And who doesn't like cashmere? (Plus, because it's from Everlane, you know it's cashmere that won't break the bank.) This top is so soft and comfy, you could just curl right up on the couch and doze off. (Forget the nap dress, may I introduce the nap sweater?) The weight is warm enough for winter, but you'll find me sporting this versatile and transitional item October through April.
Sadly, this season, Everlane isn't offering this style in the red shade that stole my heart. But I've pulled a few similar sweaters (boxy or bright—or both!) that will have you feeling the love.
Danielle McNally is a National Magazine Award–winning journalist. She is the executive editor of Marie Claire, overseeing features across every topic of importance to the MC reader: beauty, fashion, politics, culture, career, women's health, and more. She has previously written for Cosmopolitan, DETAILS, SHAPE, and Food Network Magazine.